Minecraft is a sandbox video game from Mojang Studios and was officially released in 2011. With several spin-offs since then, the Minecraft series is one of the most popular games of all time. It has sold over 200 million copies across all major gaming platforms. Minecraft currently has over 126 million monthly active users. Players can explore the 3D sandbox world in a first-person perspective to craft items, mine resources, fight against other players and build their own structures called Beacon.
Speaking of items, beacons are the embodiment of high class in Minecraft. In other words, beacons are extremely difficult to procure, and they cost about an arm and a leg. Now, most of the users out there don't know how they can build a beacon in Minecraft. So we decided to bright up a guide that will help the users with this. If you are one of those users searching for this, then you are in the right place. So let's get started.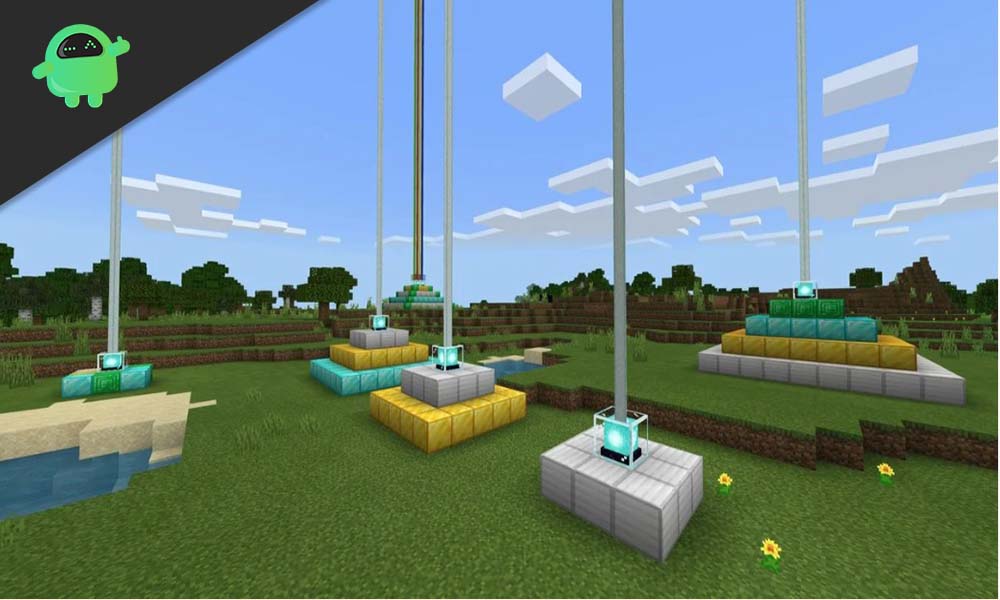 How to Build a Beacon in Minecraft?
Players can't simply purchase a beacon. They first have to fight and obviously win against one of the most notorious enemies in Minecraft and then use the remains to harvest the tricky Nether Star. Once this is done, the beacon has to be crafted and placed on top of a pyramid. And if it weren't difficult as it is, a regular pyramid with regular resources won't suffice for this. Only a certain type of pyramid made with the most precious and hardest to find kind of materials will do the job.
Apart from bragging rights, playing to become one of the rich players has other benefits too. Often richer players will experience better movement and increased mining speeds, and even a guiding marker that can light their path in case they ever get lost. These are valuable reasons for players to work towards the goal of being a rich player in order to obtain one of those expensive beacons.
Don't worry! In this guide, we will discuss how to find and build one of these beacons.
Crafting a Beacon in Minecraft
Crafting a beacon is fairly simple if players have the necessary resources. Players require:
Dome of 5 Glass Blocks
The base of 3 Obsidian Blocks
Nether Star
The first two are easy to get, but the Nether Star is challenging. In order to get the Nether Star, players have to first summon the Wither and then defeat it. The Wither is as dangerous as the Ender Dragon and should not be considered as an easy foe. Be prepared for the fight against the Wither as defeating it will result in a Nether Star being dropped. The more Withers players defeat, the more Nether Stars up for grabs.
Where to place a beacon in Minecraft
Once the beacon is crafted, the next step is to figure out where to place it. Apart from being a laser that shoots into the sky, the beacon gets additional powers once placed on top of a pyramid. In doing so, players within the immediate vicinity of the pyramid will receive huge buffs that are highly useful for their primary base.
A pyramid ideally has 4 levels, and in each level, there are more blocks. It has to be made out of iron, Diamond, gold or emerald and definitely can't be made out of ore. Fortunately, there is no specific layout or design pattern that needs to be followed as long as the pyramid is compromised of these 4 materials. Players must also ensure that there are no obstructing items blocking the sky view of the beacon. Transparent blocks or glass blocks are acceptable but nothing else
The pyramid is not limited to a single beacon per player. It can house multiple beacons, and this will earn additional rewards.
Type of Pyramids in Minecraft
As mentioned earlier, an ideal pyramid has 4 levels. Each level of a pyramid will entitle the player to certain rewards. The single-level pyramid will garner 20 blocks in any direction and one additional ability, either speed or haste. Now, if there are more blocks added, it can become a two-level pyramid. This will garner a second ability either Jump boost or resistance and increased the beacon range to up to 30 blocks in any direction.
By adding more blocks, will bring about the three-level pyramid that can add strength ability and increase the beacon range up to 40 blocks in any direction. The next and final level is the four-level pyramid. Here, players have an option to upgrade their primary levels or get regeneration ability. Naturally, the beacon range is increased to 50 blocks in any direction.
There you have it. That's pretty much everything players need to know about how to craft beacons in Minecraft.
This guide was to help the players of Minecraft who want to build beacons. We hope our guide will help you with beacons in the game. If you have any queries or feedback, feel free to comment down below with your Name and E-mail ID. Likewise, check out our iPhone Tips and Tricks, PC tips and tricks, and Android Tips and Tricks for more such tips and tricks. We urge you to participate in the $150 giveaway by subscribing to our YouTube Channel. Happy Gaming!