Need some app recommendations to help you edit videos on the go? If that is the case, you are absolutely in the right place! Read on to discover some of the best Android video editor apps for 2021 that you can use to edit videos on the fly!
Our smartphones have evolved into more than something we only use to place calls these days. Most of our lives depend on the technology around us, and smartphone has proved to be one of the most essential components of everyone's day. Be it to read the news, send important emails, or collaborate with your colleagues on Zoom or Slack, smartphones are highly capable devices.
While there are hundreds and thousands of apps for our phones that fulfill the same purpose, one area that many apps fail to bring out the best experience is with video editing. We have millions of good photo editing apps, but when it comes to editing videos professionally, only a select set of apps are able to deliver what they promise.
In today's guide, we will be going over some of the best Android video editor apps that you can use to edit videos on the go in 2021. Do note that most of these apps have a premium version, which when unlocked usually provides even greater editing freedom and tools. With that out of the way, let's have a look at the list!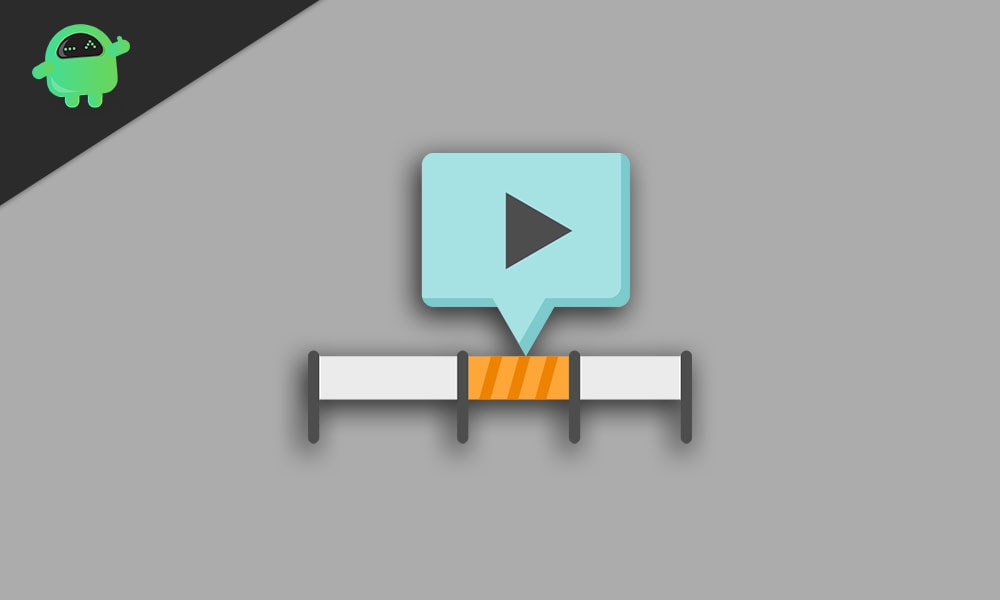 Best Android Video Editor Apps For 2021
1. Adobe Premiere Rush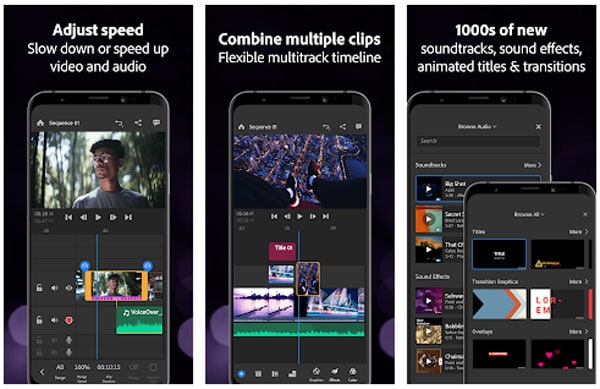 Kicking the list off, we have Adobe Premiere Rush, which is a relatively new video editing app for mobile. Premiere Rush aims at being the only app that you would ever need, not only to edit videos but also to shoot them. The built-in camera has useful features and guides that help you capture the best possible video using your phone.
Adobe Premiere Rush is very similar to one of Adobe's other video editing apps – Premiere Clip. It enhances the experience even further by providing even greater editing tools and freedom. The multi-track timeline is something that video editors will always appreciate since it makes the workflow very intuitive and easy.
Premiere Rush also comes with a library of several graphic templates and music that you can use to add some punch to your videos. Unlike most other video editing apps for Android, Premiere Rush has a powerful color grading tool that can get you just the look you were looking for in your video. Unfortunately, Adobe Premiere Rush is available for a very short list of devices at the moment. You can check if the app is available for any of your Android devices by following the link below:
Download Premiere Rush
2. KineMaster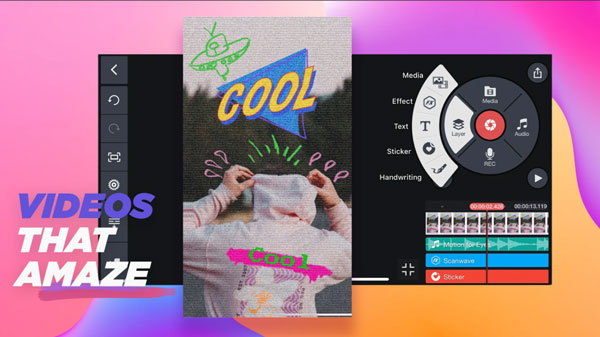 Next on our list of some of the best Android video editor apps is a name that you might have heard a million times -KineMaster. It happens to be inarguably one of the most popular video editing apps for mobile. With years worth of experience and updates, it is safe to say that KineMaster is the most powerful editing tool that you can get your hands on.
KineMaster is suitable for both beginners as well as people who want powerful editing features right in the palm of their hands. You might feel a little intimidated at first with the complex user interface that KineMaster has, but you also get used to it relatively quickly. KineMaster has every video editing tool you could think of such as merge, trim, transitions, audio layering, grading, visual effects, and the list goes on.
What we found the most impressive about KineMaster is its keyframe editing feature that virtually allows you to edit anything in, just like you could on a full-blown Windows or Mac computer. While KineMaster bugs its users a lot about grabbing the premium version that has a huge catalog of visual effects and transitions, the free version is honestly as powerful as you can get on mobile.
Download KineMaster
3. PowerDirector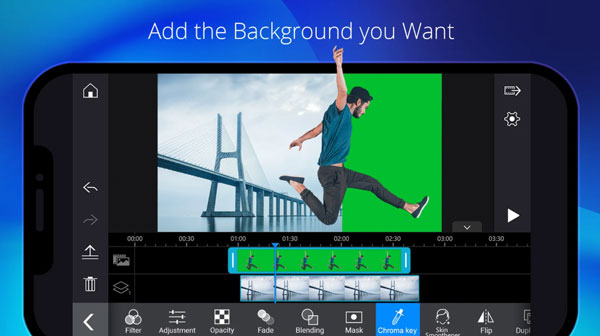 With over 100 million installs, PowerDirector is one of the most popular video editing apps that you can download for your Android device. Many people might recognize the name "PowerDirector" from its Windows counterpart, and the mobile version sure doesn't disappoint. PowerDirector is a free and powerful app that allows you to edit videos just the way you want them.
The key highlighting factor of PowerDirector has to be its lossless exports at resolutions up to 4K – something that most other apps don't support yet. Losing quality with exports is one of the scariest things an editor can face, and PowerDirector fixes that concern. You can find many other editing tools within the app such as animated titles, speed control, video stabilizer, voice changer, and much more.
PowerDirector also has a powerful chroma-key feature that allows users to edit using green screens and add any backdrop of their choice. That feature alone is very useful for people who rely on green screens a lot. The app also has a pleasant and easy-to-use interface that most new users can get accustomed to quite quickly.
Download PowerDirector
4. FilmoraGo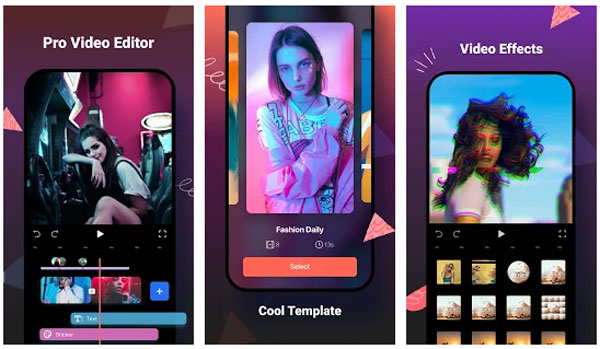 If you wanted a more casual approach to editing videos, maybe to share with your friends or other loved ones and did not want to learn the entire workflow of something complicated like KineMaster or Premiere Rush, this next one of the list might intrigue you. FilmoraGo is a great way to edit videos just the way you want them quickly and share them with your friends or family.
You can use FilmoraGo to quickly trim and crop your videos to match the various aspect ratios of different social media websites like Instagram, YouTube, and Facebook. There are about a zillion color presets and filters that you can apply directly to give a punch to your videos. FilmoraGo also has a giant library of music and audio effects that is available at your disposal.
You can also use the app to animate certain objects or text to make your video stand out even better on a social media post. There are various visual effects that can also contribute to the general aesthetic of your video. With the free version, you only get access to a few of the features and effects but you can still edit casual videos to share on social media. The premium upgrade unlocks all the filters and even gets rid of the watermark for you.
Download FilmoraGo
5. Vlogit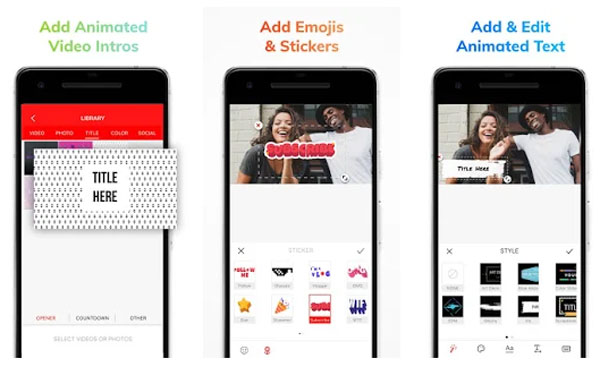 Ending our list of some of the best Android video editor apps for 2021, we have a special one for all the vloggers out there. With the rise of social media platforms such as Instagram Reels and YouTube Shorts, there has been an increasing demand for video editors tailor-made to edit vertical videos. Vlogit does just that.
You can find a bunch of cool animated openers for your vlogs and even add social media stickers to promote yourself on different platforms. Vlogit also has a powerful thumbnail creator that allows you to make some of the most eye-catching thumbnails you could think of. You can import videos, or several photos into your timeline and create a wonderful video out of it using the app.
The best part about using this app is the fact that it is 100% free with no time limit and no watermarks either! The app is still early in its development and is seeing several new updates that add even better features. If all you wanted was a powerful yet simple app to add some spice to your vertical videos, Vlogit is the place to go!
Download Vlogit
Conclusion
That's all folks! We hope you enjoyed our roundup of the best Android video editor apps to use in 2021! Which one among the list is your favorite, and how many of these Android video editor apps have you already known or have been using? Know other good video editing apps for Android that you feel people might find interesting and useful? Do let us know in the comments section below, we'd be delighted to hear from you guys!