The term COVID-19 stands for Corona Virus Disease 2019 Pandemic as declared by the World Health Organization. As we know, India is the second-most populous country, and the infection rate is relatively low. Some people credit the government for fast action to control the infection, whereas some credit the people who responded so well during the lockdown procedure. We come from the latter category and credit all our readers out there for staying at home and enjoying our content on your mobile or computer systems.
In the COVID-19 quarantine, people are advised to stay in their homes and maintain a social distance without face to face interaction. We also want to thank you for staying at home when it was difficult, but still, you managed the situation with your best. While thanking you for your patience, we have brought exciting applications and games that you can enjoy at home itself and become productive.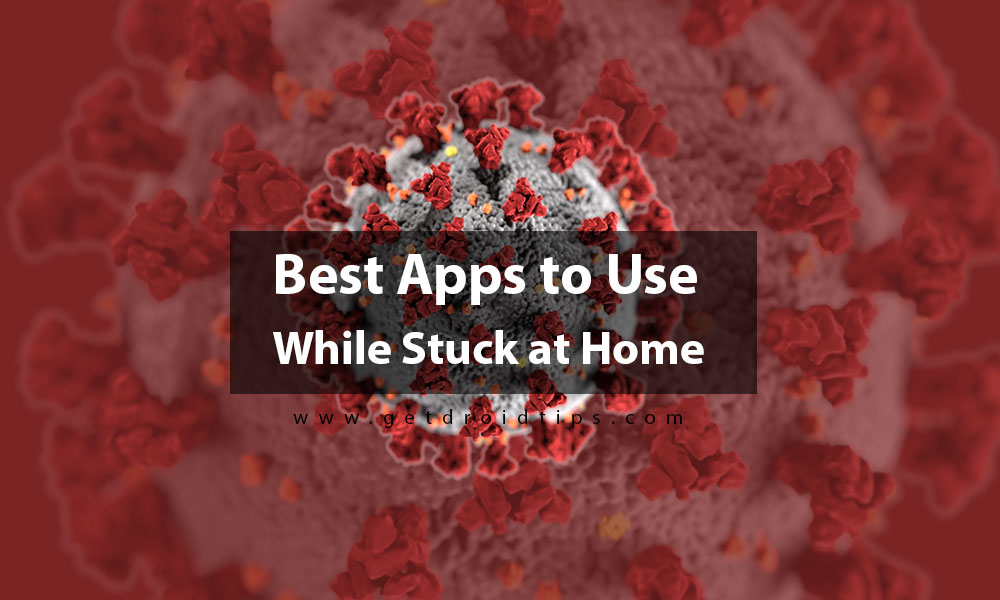 What to do When You are Stuck at Home?
With the Corona Virus outbreak in the country, everyone's life is being affected in one way or another. The most significant effect of corona in our eyes is that people are all staying at home. Some are working from home, but others are just sitting are bored with that. So if you are reading this, we are sure that you are in the same state of boredom and want to do something creative and productive. With that keeping in mind, many companies and firms have launched their services for free to entertain the audience who are staying at home.
So, starting off with, we have divided this article into different sections. In separate sections, we will discuss creative and exciting ways to let go of your boredom and make you an overall better person than you are. Literally speaking, you can take this as a motivation that will make you run out of your bed and do something cheerful. Doing these things will not only make you happy but also create a positive environment around you and your family as you can also include your family members in what you're doing. So, enough said, let's move on to our next part.
What Can you do?
While you're staying at home and not having any fun, or having tension about what you're doing, don't worry, we have got you covered, with the below-mentioned application, games, and meditation you can change your life and environment.
Learn a New Language
Staying home cannot be more fun without Learning a New Language. You can learn new languages while at home and when you meet you, friends, you can surprise them. Isn't it so much interesting? If you find this interesting, we have several applications waiting for you in the store. We have below-included applications that will teach you a new language with ease. Just continue.
1. Duolingo
As the name suggests, Duolingo is a multilingual application that can teach you multiple languages with ease and in less time. You can learn lots of languages like Spanish, French, Italian, German, Japanese and many more. You need to create an account on Duolingo, download the application on your smartphones, and start learning. Further, it offers premium courses at a low cost, which you can buy for several tests and exams that will improve your overall proficiency in the language. Duolingo also features race around the clock that allows users to take the test in a limited time, that makes it one of the most interesting learning application.
[googleplay url="https://play.google.com/store/apps/details?id=com.duolingo&hl=en_IN"]
2. Drops
This application is the same as Duolingo, just the difference lies in pricing, and some additional languages are also there. You have lots of options to learn different languages with the help of different tutorials available online. Drops let you play with languages, thus creating an enjoyable atmosphere around. With this application, we're sure you will never feel boredom and will always have something new to do. These Drops offer different platforms for you to learn languages like it operates on Android, iPhone, and even supports browser interface. So if you want fun along with learning, Drops is the application to go for.
[googleplay url="https://play.google.com/store/apps/details?id=com.languagedrops.drops.international&hl=en_IN"]
3. Babble
With Babble, you can learn all the languages available around the world. It is, by far, the most diverse language learning platform on the internet. Just like the other applications, Babble also supports Android, iPhone, and web browsers for learning. It has an interactive learning platform and feels a lot more intuitive than the above two. The most exciting feature about Babble is that it allows some online free demo teaching that is not available with the other applications. So we recommend giving it a try if you want to learn different languages in less than 5 minutes a day.
[googleplay url="https://play.google.com/store/apps/details?id=com.babbel.mobile.android.en&hl=en"]
4. Memrise
It is the most searched application for new Language Learning as it offers freemium language learning. Although the choice available are not the best in class but still, you are getting everything free. So if you mind spending a few bucks. Memrise is all you need for new language sessions. You can here learn languages from beginner level or alphabets and become a master later. The exciting thing with Memrise is that it offers a worldwide ranking system based on online tests. So give it a try as it provides complete value.
[googleplay url="https://play.google.com/store/apps/details?id=com.memrise.android.memrisecompanion&hl=en_IN"]
Perform Meditation
Nothing can be more relaxing than a peaceful meditation when you are stressed. We will discuss some meditation applications that can calm you as well as your soul to create a positive environment. Meditation further improves the concentration and learning abilities of an individual, making him more productive as well as active throughout the day. So if you think you need meditation, follow the below applications as they are the best.
1. The Mindfulness App
This application suits the beginners as well as the gurus as it has the things everyone will ever need during meditation. It offers a clean interface without any distractions and closes other disturbing background applications to create the environment of your choice. The Mindfulness App has a timer ranging form 5-30 minutes, and at that time, you will find the proper care and road to happiness.
[googleplay url="https://play.google.com/store/apps/details?id=se.lichtenstein.mind.en&hl=en_IN"]
2. Headspace
As the name suggests, Headspace creates a space between you and your soul literally, so that you can thing concentrate and be more productive. The most exciting feature of this application is that it contains peaceful soundtracks that you can hear before and after bed. In this way, it creates an all-round friendly environment. Further, it has got great reviews from users too.
[googleplay url="https://play.google.com/store/apps/details?id=com.getsomeheadspace.android&hl=en_IN"]
3. Calm
This is by far the best have we have used in this department. It is rated five stars by users on Android as well as iPhones. Now you can understand why it is so best. As the name suggests, calmness is its prime motto. It even features bedtime stories from great talented voices with which you can feel the inner peace. Literally, this application makes your soul breathe through you, and you can feel it. After a stressful time, this app has all the features to rescue its users. We recommend using this award-wining application and unlock the full potential in you.
[googleplay url="https://play.google.com/store/apps/details?id=com.calm.android&hl=en_IN"]
4. Stop, Breathe & Think
This application has the most advanced artificial intelligence algorithm, as it can recommend meditation according to your mood. It asks a few questions, with which it will decide what you need and how. The application interestingly understands the feeling like anxiety, restlessness, or tension of the users and gives them remedies like breathing deeply, thinking, and having a good sleep. If you have problems even with understanding yourself, go ahead and download this application. We guarantee it will cure you from inside.
[googleplay url="https://play.google.com/store/apps/details?id=org.stopbreathethink.app&hl=en_IN"]
Playing Best Free Games
Who doesn't likes playing games? And imagine if your favorite games are free, what would you do? You would've run and download those games on your smartphones. We are now listing probably the best games out there that will end your boredom and let you enjoy this lockdown.
1. Mini Metro
This award-winning gaming application was available at about Rs.800 early. But now it is entirely free. This game is all about designing a subway man with which the trains will run. And also think that the new design will run successfully or not, so you need to be wise enough. If you're into this type of field. This becomes a must download the game.
[googleplay url="https://play.google.com/store/apps/details?id=nz.co.codepoint.minimetro&hl=en_IN"]
2. Kingdom Rush: Frontiers
if you ever liked, Clash of Clans, then this is the game you should go for. It enables users to build their empires, defend it, and fight with other users. It has also updated its several contents with new tower upgrades and level 9 legendary heroes.
[googleplay url="https://play.google.com/store/apps/details?id=com.ironhidegames.android.kingdomrushfrontiers&hl=en"]
3. Angry Birds
This game is famous all over the world, as it is an award-winning game. In this game, you have to break the houses pigs who have captured the houses of the birds. The most exciting part is that the birds of different colors exhibit different destruction properties.
[googleplay url="https://play.google.com/store/apps/details?id=com.rovio.angrybirds&hl=en"]
4. PUBG Mobile
Players Unknown Battle Grounds is one of the most famous games out on the planet. Each and every person out there players this game with great enthusiasm. PUBG Mobile is available to both Android and iOS devices, and they also feature in-game voice communication and emotes to express what you're feeling this time. The only problem it faces is the high system requirements. This makes it a must-download game. So, get ready for the Winner Winner Chicken Dinner.
[googleplay url="https://play.google.com/store/apps/details?id=com.tencent.ig&hl=en_IN"]
5. Garena Free Fire
This game is absolutely similar to PUBG Mobile, it hosts 100 players in total, and the last one standing alive is the winner. It is a battle royale gameplay. But the best thing about this game is that it does not have such high system requirements as that of PUBG Mobile. So if you have a weak smartphone, and still want to enjoy PUBG like gaming. This is the option to go for.
[googleplay url="https://play.google.com/store/apps/details?id=com.dts.freefireth&hl=en_IN"]
Things to keep in Mind
Even after the lockdown procedure, many people are not finding their thing to be busy with. So with the request of them, we have brought this article for you. In case you feel any problem, you can comment and feel free to talk about the issues you are facing. Apart from all this, you can also spend your time watching movies and listening to songs. And, most importantly, revising the subjects of what you're studying. With these applications installed, you will feel relaxed. Thank You. Have a beautiful day