Fire Emblem Engage is a tactical role-playing game. Nintendo published it, and Intelligent Systems developed it. Because of the gameplay, everyone is just loving and having fun with the game. The variety of characters that are available in the game increases player excitement.
The characters in Fire Emblem Engage improve as you progress through the game. Ivy, the Crown Princess of the Fell-Dragon-worshipping country Elusia, is one of those amazing people. Things can only get better when she rides into your army and into your heart on a wyvern.
However, some users are searching for the best class for Ivy in Fire Emblem Engage. If you are also one of them then don't worry this guide will help you with it. In this guide, we will discuss about the best class for Ivy in Fire Emblem Engage. So, make sure you read the full article. Now, let's start the guide, without wasting any time.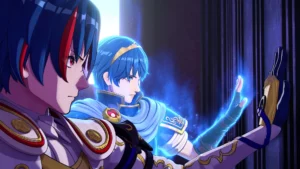 What are the Best Class for Ivy in Fire Emblem Engage?
First and foremost, Ivy is an excellent group. She is quite strong, yet she may not be able to compete with someone like Anna and Kagetsu. And she has two classes Sage and Lindwurm that suit her the most. Tomes and Staves are important to both classes, although their skills and ways of moving are different.
When Ivy enters combat with a tome, Sage grants Spell Harmony, giving her an attack boost according to the number of nearby allies who also have tomes. It is useful if you want to command an army with a lot of magic.
In contrast, Lindwurm provides Grasping Void. Ivy's tome attacks may result in additional damage that is equal to half of the enemy's magic stat thanks to this ability. Its dexterity stat is what sets it off. Ivy's dexterity is respectable but not outstanding. Even yet, if Ivy is the only Tome user you have, this power will be more helpful.
But the manner you plan to use Ivy should really make things clear for you. Ivy will largely serve as a backline Tome-user who prioritizes damage over everything else because the Sage class experiences the most growth, with an equal split between Magic and Resistance.
Ivy is able to be considerably more independent thanks to Lindwurm because she experiences stronger Defense stat improvement. This enables her to accompany another unit throughout the entirety of the combat, support that unit, and do damage when necessary. Using a Successeur Diamant or a Worldmaster Kagetsu, for example.
When we compare Ivy with Anna, Ivy is not as good of a Sage as Anna. She is more suited for filling in the gaps by flying in to assist your army when they need it or setting herself up so that she can snipe opponents from a distance. Because of this, Lindwurm just seems like a better fit for her.
The finest Emblem Ring for Lindwurm Ivy, if you decide to go that route, is Micaiah. However, a Sage Ivy will benefit from Celica's damage boosts.
Conclusion
This was all for the guide on Best Class for Ivy in Fire Emblem Engage. We hope that with the help of this article, you were able to know about the best class for Ivy. There are many more characters in the Fire Emblem Engage game. To know about their best class, do check out our website.
Also, if you have any queries or questions, do let us know by mentioning them in the comment section. We will try our best to solve them and provide you with a guide on it. Moreover, for more such helpful guides, do check out our website.