GarageBand is one of the best DAWs (digital audio workstations) available for Apple devices and is renowned by millions of users. It comes preinstalled with many Apple devices and is one of the most popular music production software used on Macs and iPhones. Unfortunately, if you are a Windows user, you lose the privilege of using GarageBand. This is where we show up with some of the best GarageBand alternatives you can download in 2021!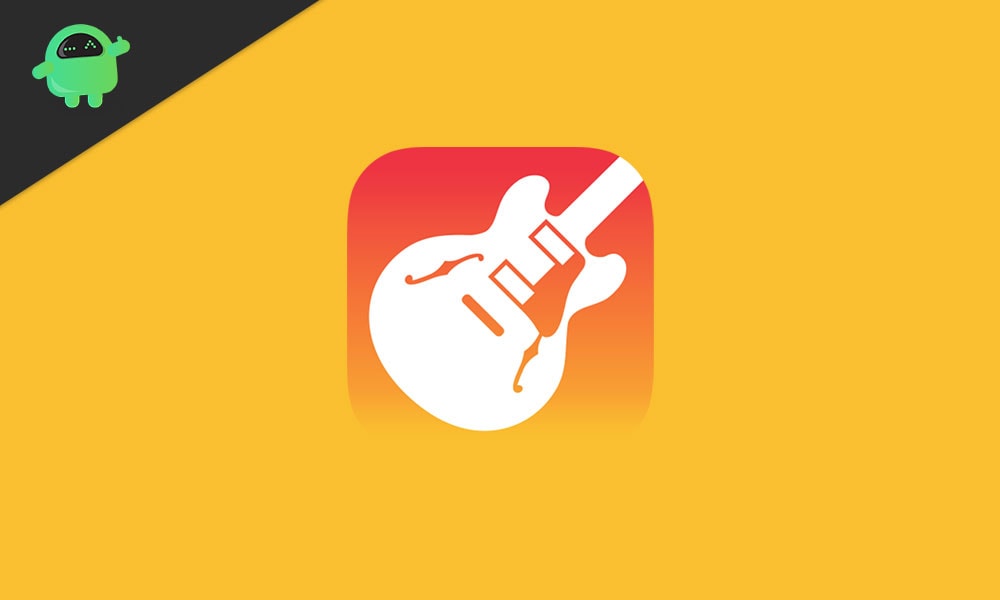 What makes GarageBand so popular?
Apart from being a highly polished piece of software created and managed by Apple itself, there are a few reasons why people love the preinstalled DAW that comes with their Apple devices.
GarageBand has a very easy-to-use and simple interface which makes it suitable for almost everyone to learn and adapt to. It's one of those apps that just get more fun as you continue using and exploring them.
A great UI and beautiful design are obviously to be expected from an app tailored by Apple. Its versatility and feature set make GarageBand a no-brainer option for every Apple user.
Demerits of GarageBand
As is the case with every app or piece of technology, GarageBand lacks big time in a few areas. Not only is it a tad bit demanding to run on older Macs and Apple devices, but it doesn't even have a workspace that suits serious professionals.
Once you go beyond the simple effects and presets, GarageBand starts to show its limitation in terms of a greater feature set. To add the cherry on top, GarageBand is only available for Apple devices.
The Best GarageBand Alternatives for Windows
Luckily, there are always alternatives to popular services and the list for good DAW software is quite extensive. We will be taking a look at some of the best free and premium alternatives to GarageBand that are available for Windows and macOS. With that out of the way, sit back, relax, and enjoy the read!
1. Cakewalk
Free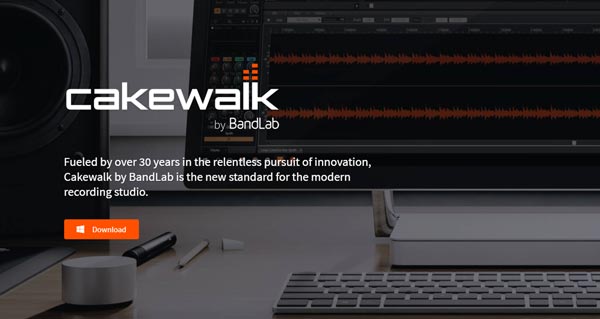 Cakewalk is hands-down the best GarageBand alternative available for Windows. Not only is it tenfolds powerful than GarageBand but is also completely free. Cakewalk has a professional look and design and is geared towards industry professionals. A piece of software that used to previously go for $600 that you can now get for free is quite the steal. Overall, if you've been wanting to learn how to make music using a DAW, Cakewalk is your best bet!
Download Cakewalk
2. Stagelight
Free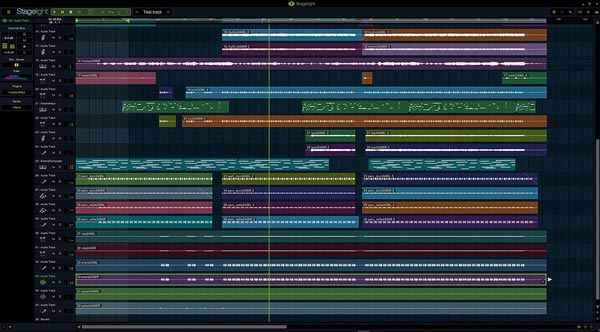 Stagelight is a perfect contender for GarageBand in that it follows a similar principle when it comes to its design and layout. It is available for Windows as well as Android devices. Unlike most other DAWs, Stagelight favors its own unique layout, which might infuriate long-term music producers. However, for people who are new to the concept of making music digitally, Stagelight has a very friendly interface and tons of tools you can make use of.
Download Stagelight
3. LMMS
Free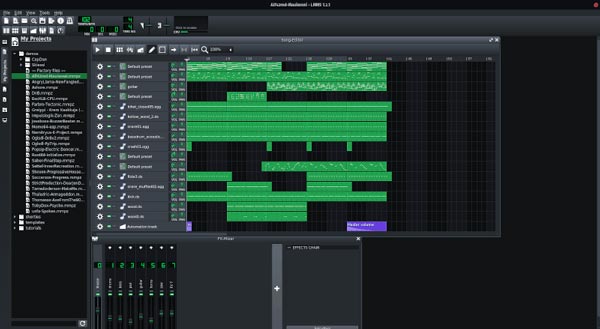 Next on our list is LMMS, which is yet another great alternative to GarageBand. It is most suitable for beginners who are just starting to get their hands dirty with DAWs. It is a free solution that offers a good set of features and effects. Some of its highlighting aspects include over 100 different effects, the ability to add unlimited tracks, and a simple user interface making it quite easy to learn.
Download LMMS
4. Ableton Live
$99 – $749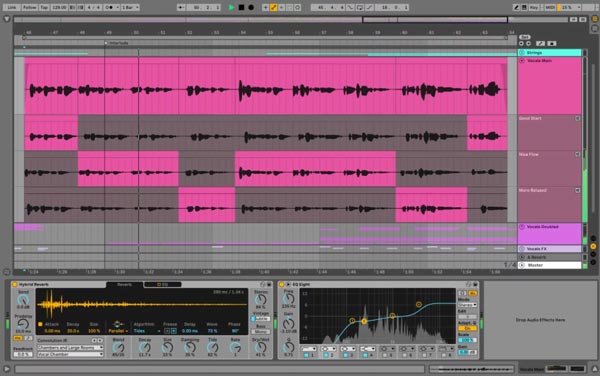 When it comes to live music production and playback, Ableton Live is easily the best option out there. It is an extremely powerful DAW that is mostly geared towards industry professionals who know what they're doing. This is not to say that new users won't enjoy the experience, after all, the UI is quite similar to the likes of GarageBand. Ableton Live has a huge userbase and therefore has a good number of tutorials and FAQs answered online. It has a huge library of effects and instruments, and support for MIDI editing as well.
Buy Ableton Live
5. Fl Studio
$99 – $499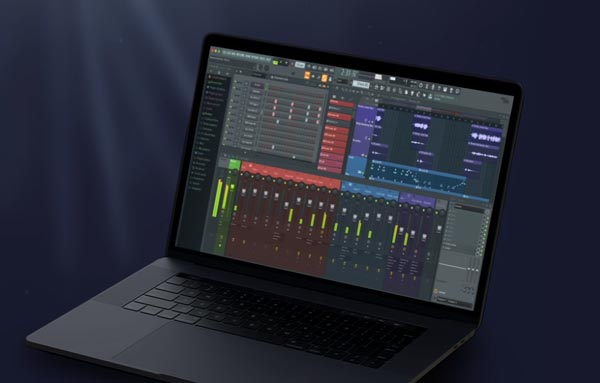 No other DAW would have been apt to end this list with. Fl Studio is a name that has become synonymous with music production. If you are a power user who needs the most powerful DAW software and doesn't mind shelling a good amount of money for it, Fl Studio is for you. It comes in a few variants with varying price tags to suit your requirements just right.
Fl Studio is used by many renowned digital artists and is well known for its flexibility in layout and workflow. In the event that you get stuck somewhere, Fl Studio has countless tutorial videos you can look up online thanks to its ever-growing userbase. Having a clear differentiation in terms of the feature set between the various versions it has, Fl Studio is also a good investment.
Buy Fl Studio
Bonus: Magix MusicMaker
Free | $59.99 – $69.99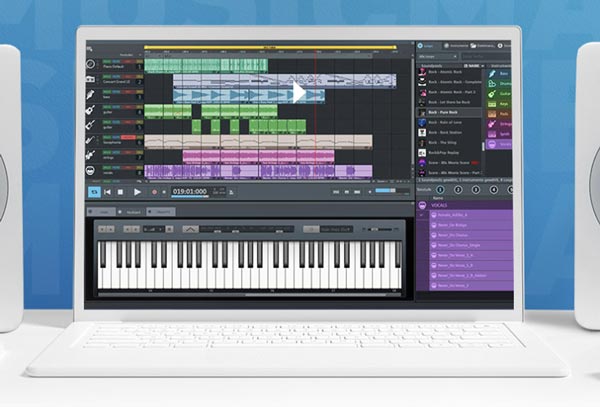 Magix MusicMaker happens to be a beautifully designed DAW available for Windows. Its flexibility and features make it suitable for both beginners as well as professionals who create music for a living. Magix MusicMaker has fun tools that allow you to create music quite easily with the help of song templates. There are various instruments that you can use such as rock drums, concert guitar, drum engine, bass machine, and even a cinematic synth. Magix MusicMaker comes in both 32 and 64-bit packages and has a free version that will suffice beginners wanting to learn to make music.
This DAW also comes with an intelligent selection of sounds, effects, and loops under the accurately dubbed "SoundPool". Combine this with the song templates that Magix MusicMaker offers, and creative blocks are no longer a thing. Just like most other professional DAW software, you can use your external instruments and MIDI keyboards to connect with the app and start playing more naturally.
Try Magix MusicMaker
Conclusion
We hope our guide was helpful in finding you the best GarageBand alternative for Windows 10. Most of the free options that we've talked about are honestly just as powerful, if not more than GarageBand. Which DAW did you decide to settle with? Do let us know in the comments below! Also, don't hesitate to share any other powerful DAWs that you feel we should have added to our list!