Today our guide will help players with the best loadouts for Call Of Duty: Warzone season 4 with all the latest guns added to the collection. So without wasting any time, let's get started with our complete guide.
The free-to-play battle royal video game released for Xbox One, PlayStation 4, and Microsoft Windows Call Of Duty: Warzone came up with four new exciting guns in season 4. Two of them are already available on Warzone, one is the Fennec SMG, which would be unlocked at tier 15, while the other one is the CR-56 AMAX assault rifle, which is unlocked at tier 31.
All players can win these guns for free in both Activision's COD: Modern Warfare and Warzone. And the other two Weapons may come in July update that is Rytec ANR and Kali Sticks.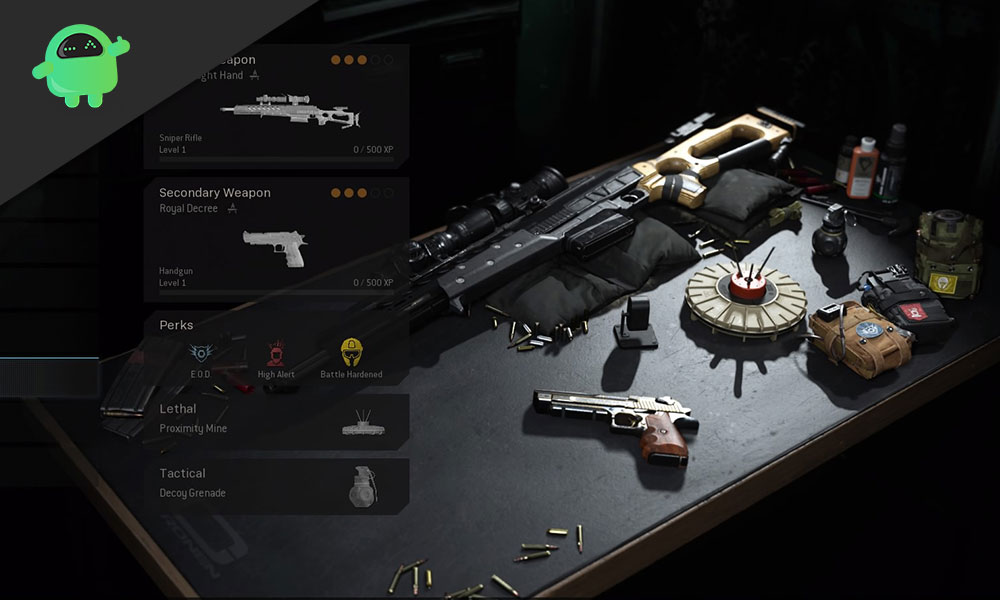 How To Customise Warzone Loadouts
Go to the Warzone main menu.
Search for the Weapon menu in the main menu then open it.
In the Weapon menu, you will see an 'Edit Loadout' option.
Open it, and you see your ten custom loadout slots.
From there, you can customize your loadout as per your need.
Always study these things whenever you customize your loadouts:-
The guns which you like using in previous matches.
Which equipment you find most useful for those guns.
Perks that you feel gave your enemies an advantage.
New Guns Best Loadouts in Season 4 Warzone
Rytec Amr:- It is a Sniper rifle that will join the party with Fennec and CR-56 AMAX later in season 4.  We will discuss the best loadouts for Rytec AMR as soon as we get information regarding this.
The Fennec loadout:- This newly added weapon is an SMG. It is ideal for close to medium ranged combats. The Fennec is suited best to smaller maps such as Rust and Shoot House. Players can also unlock a legendary blueprint for it in tier 85 during this new season. Fennec is also known by its popular name, Vector. The Fennec SMG has a very smooth recoil, and the firing rate is also high.
Attachments Setup For Fennec
Attachment
Used
Reason For Use

Muzzle (ZLR 18 Deadfall)

Monolithic Suppressor

It helps to keep the weapon silent

.

Barrel

ZLR Deadfall

Damage Range, Bullets Speed increases, and recoil control improve.

Underbarrel

Commando Foregrip

This grip helps to control horizontal recoil.

Magazine

40 Round Drum Magazines

Maximizing ammo capacity of the gun.

Rear Grip

Stippled Pistol Grip

It maintains control performing high-speed maneuvers.

Stock

Forge Tac CQS

 Helps in close-quarter fights.

Perk

Sleight of Hand

Reload Quickness

Laser

Tac Laser

Improve visibility and aiming
You can see the Fennec is a .45ACP ammunition gun, that can always be used as a secondary weapon. It has the same ammunition, just like the X16 Handgun Alpha, which helps you to carry more bullets of .45ACP. Let's look at the X16 Handgun Alpha attachment setup.
Attachment Setup For X16 Handgun Alpha
| | |
| --- | --- |
| Attachment | Used |
| Barrel | Vanguard Elite |
| Trigger action | Lightweight Trigger |
| Ammunition | 26 Round Mags |
| Rear Grip | Stippled Grip Tape |
| Perk | Fully loaded |
Perk Select:-
Tactical:- Heartbeat sensor
Lethal:- C4
CR-56 AMAX:- The newly added AMAX is an assault rifle with a more extended range. It is just like Scar and AK-47, which falls in the category of best assault rifles in Warzone. They have a maximum capacity of the 45-round mags. Players can also unlock the legendary blueprints for this when they reach Tier 100 in the new season.
Attachments Setup For CR-56 AMAX
| | | |
| --- | --- | --- |
| Attachments | Used | Reason For Use |
| Muzzle | Monolithic Suppressor | It helps to keep the weapon silent. |
| Barrel | XRX Zodiac S440 | Increase muzzle velocity and Stabilization. |
| Magazine | 45 Round Mags | Extended the magazine capacity to 45 rounds. |
| Scope | Tac Laser | Improves accuracy while aiming down sight. |
| Rear Grip | XRX CR-56 Rubberized W | Helps to recoil control |
| Stock | XRK Gatekeeper | Aiming Stability and Aim walking steadiness |
| Optic | VLK 3.0x Optic | Zoom level increases |
With an assault rifle, always try to use an SMG as a secondary weapon such as MP5, or you can also use Fennec. Let's take a look for its best attachments:-
Attachment Setup For MP5
| | |
| --- | --- |
| Attachment | Used |
| Muzzle | Monolithic Suppressor |
| Barrel | Monolithic Integral Suppressor |
| Stock | FTAC Collapsible |
| Rear Grip | Granulated Grip Tape |
| Magazine | 45 Round Mags |
| Underbarrel | Merc Foregrip |
Perk Select:-
Double Time
Overkill
Amped
Tactical:- Heartbeat sensor
Lethal:- C4
Our 4th weapon is the Kali Sticks, which is a melee weapon, but there is a condition to unlock it in season 4. You have to use the Knife and gather 3 Kills while sliding in 15 different matches. This new weapon will also be available later in this season.
That's all we have for you on the Best Loadouts For Call Of Duty: Warzone Season 4 Add All Loadouts. We hope this guide helped you. Check out our Windows Guides, Gaming Guides, Social Media Guides, iPhone Guides, and Android Guides for more great content. Subscribing to our YouTube Channel can help you win our $150 giveaway contest. If you have any queries or feedback, comment down below with your name along with e-mail ID, and we will reply shortly. Happy Gaming.