In this article, we have made a list of the top-notch Best Manga Read iOS Apps for 2023. In order to rank them, we considered a few factors such as the user interface, manga collection, and prices. Definitely, when you are looking for the best, they would come for a price. However, we tried to find out the best options in the minimum price range, and here is what we have for you.
In recent times, the demand for Manga has reached a whole new level. Not just in Japan, but anime and manga are now in worldwide demand. However, with the entire world shifting towards digital-friendly living, people nowadays hardly prefer reading from physical copies. We mostly prefer online platforms when it comes to reading manga. And fortunately, today there are a ton of such platforms in the form of websites or apps that lets us read comics, stories, manga, etc. So, finding a platform isn't a big deal anymore, however, finding the best one might be.
On top of that, if you are a clumsy one just like me, you might just not like to open a browser and search for mangas every time you want to read one. So, for people like us, getting a genuine Manga reader app is the best option. And in today's article, we are basically going to look at some of the best Manga read iOS apps you might love trying out. So, let's get started straight away.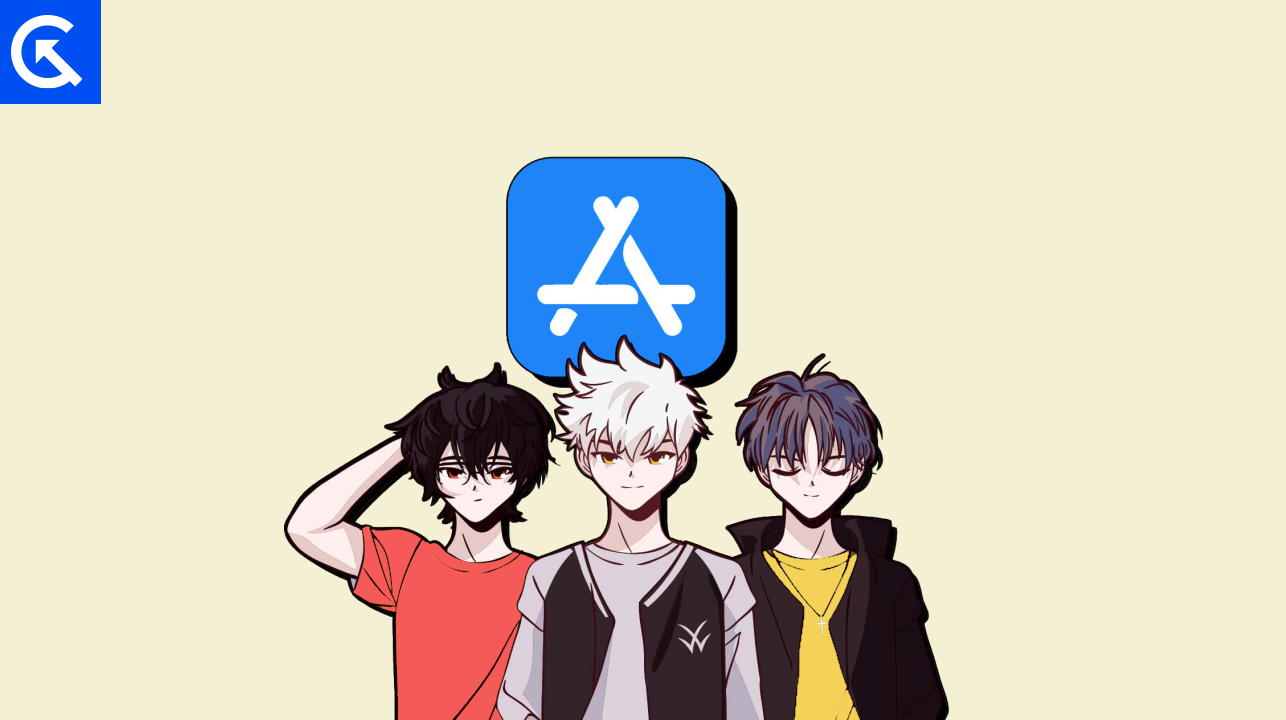 Best Manga Read iOS Apps for 2023
Apps basically narrow down our workload as there is no need to visit various websites looking for a manga. Instead, if you have a good manga reader app installed on your device, you can instantly open and start your reading. And talking about manga reader applications, there are again quite a great number of options to choose from. Yet most of them feel useless as they fail to deliver a satisfactory experience to the users.
1. Manga by Crunchyroll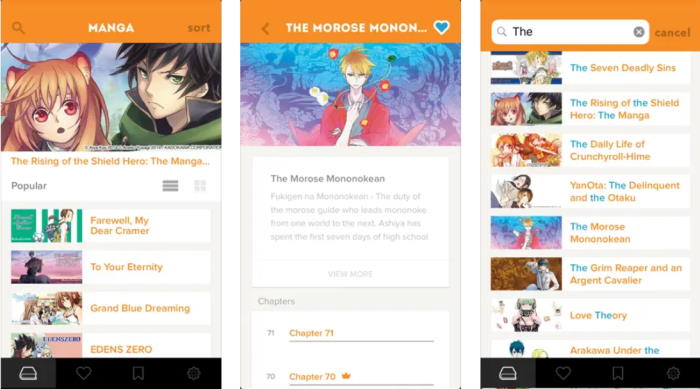 If you are an anime fan, you must have already heard about the very popular platform Crunchyroll. The app has a collection of a plethora of anime and is undoubtedly one of the biggest user bases. Now, coming from the same, Crunchyroll Manga is a dedicated app offering you a wide collection of manga. You can find the vintage ones as well as the recently released titles as well.
What's more interesting is its user-friendly interface. Crunchyroll Manga comes with a basic interface that seems easy to navigate and offers some essential filters to narrow down your search. You can search from a variety of categories, add to your favorites, and make your own collection. Besides, what really attracts users is the fact that it comes completely free of cost.
2. Manga Toon

Manga Toon is again another reliable option to consider when it comes to uninterrupted manga reading. Just as said, it has a massive collection of mangas. Additionally, you can also check out a wide variety of HD comics of different categories. The app focuses on providing an optimized mobile user experience that allows you to carry out your reading from anywhere anytime.
Apart from that, Manga Toon is a multilingual app that supports around 9 languages. You can read your favorite manga in either English, French, Portuguese, Bahasa Indonesia, Vietnamese, Spanish, Thai, Arabic, and traditional Chinese as well. Plus, you can also choose from reading your favorite mangas online or download them and enjoy reading offline.
3. Viz Manga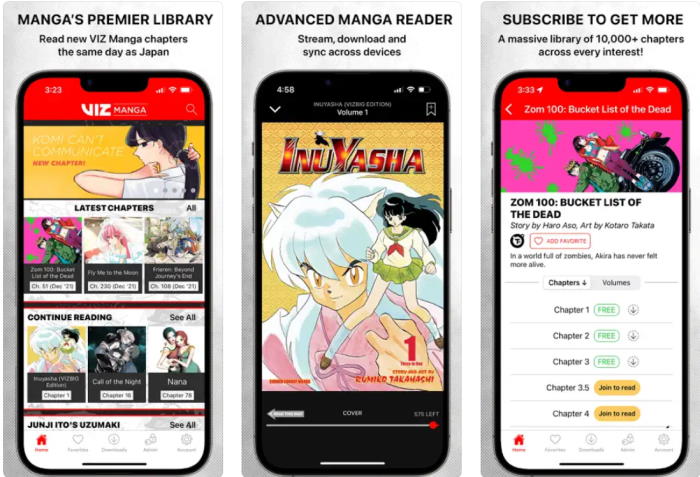 Viz Manga is one of the most highly rated manga-reading iOS apps available in the App Store. It has a rating of 4.9 and is probably the best manga reader app will you find. Just like the others, Viz Manga carries a huge collection of Mangas. This includes some of the most loved ones such as Tokyo Ghoul, Vampire Knight, etc. And if you think you can complete a whole catalog in no time, you surely need to try Viz Manga. Not only do they offer quality service but also update their collection frequently including all the recent releases.
4. Shonen Jump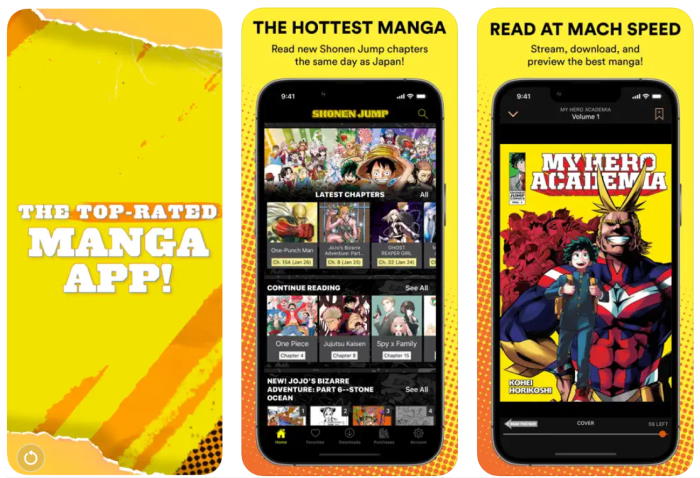 Next, we have Shonen Jump, a simple-to-use manga reader app for iOS. If you think you are a binge reader, try out the free version of Shonen Jump first. It lets you read 100 chapters per day. Not satisfied? Well, in that case, all you need to do is pay an amount of $ 2.99 per month, and you will unlock access to unlimited reading. You can experience uninterrupted manga reading from their massive library. Besides, the app comes with a very intuitive interface which makes reading a worthwhile thing.
5. Mangamo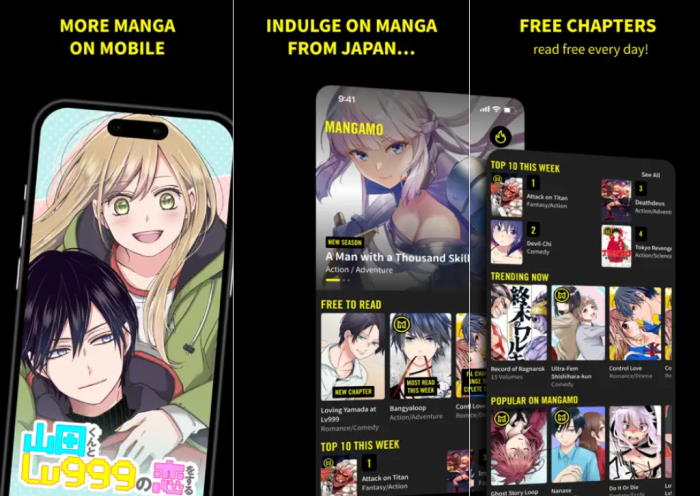 Generally, users look for sources that provide access to free manga unlawfully. And certainly, if you search for such an option, you will get plenty of them on the App Store. However, if you are against such activity and want to read manga abiding by the laws, you can go for Mangamo. The platform charges a minimal subscription monthly and in return offers you access to one of the largest manga libraries on the internet. Undoubtedly, you will get a premium service with a bunch of features to enhance your experience. But the interesting thing is, you can look for all the popular titles here.
6. Manga Plus by SHUEISHA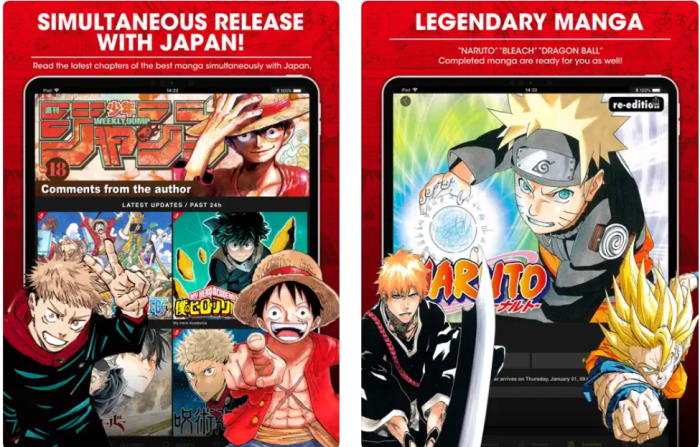 Last but not least, we have yet another extremely interesting manga reader iOS app. Manga Plus by SHUEISHA is basically the official manga reading app from Shueisha Inc. Being that, it has a collection of all the comics published by Shonen Jump.
The app carries a decent rating on App Store and is mostly known for offering quality service free of cost. Manga Plus has quite a massive library and keeps updating its collection with every new release in Japan. You can also find some popular mangas like Naruto, Bleach, Death Note, Tokyo Ghoul, etc.
Conclusion
And that is all about the best manga-read iOS apps you should try in 2023. While there are a lot more popular names you might already have on your mind, we have selected these names based on their library collection and the fun user experience they provide to all users. So, let us know if you would like to try any one of them. Also, comment below if you have a better alternative in mind.