Society today is witnessing a revolution in technology. Everyone round you is keen on being updated with latest technical utilities. A common practice in the run is switching to iPhone from Android. Switching tom iPhone is good, but it's the phone to phone transfer of data that is the ultimate cause of concern. You should indeed take care to ensure a proper phone data transfer to your new device to avoid risks of data loss.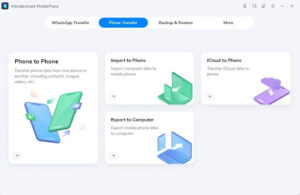 Importance of Phone Transfer
When going for a switch over between Android and iPhone, it becomes quite important to transfer your phone data into your new device, because in today's time, your smartphone is the access to all your necessary information in everyday life. You would certainly not prefer losing or mismanagement of your vital information, or begin to set up everything from the start in your new device.
Data transfer from iPhone to Android can be tedious at times, owing to the fact that both the devices allow selective backup and migration facilities. You may get access to some particular data transfer features on one device but not on the other. When transferring data, like media and messages from Android to iPhone, one of your most dependable options can be the MobileTrans – Phone Transfer application. Developed by Wondershare, this application promises you a quick and simple solution to all your data transfer concerns between the aforesaid devices. This application guarantees you complete data protection against loss risks and malware interference with quick transfer messages from android to iphone.
Here's what you need to do for transferring data using this application:
Step 1: Run iPhone Data Transfer Tool:
Download and run MobileTrans- Phone Transfer application on your PC. After a successful run, connect your Android and iOS devices to the PC through a data cable and ensure a successful detection of the devices.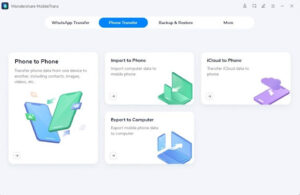 Step 2: Feature Selection
On the welcome screen, select 'Phone Transfer' and you can see the following program screen appears. Make sure your iPhone is the destination device. Choose to 'Flip the devices' if not so.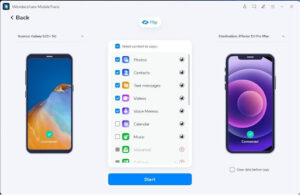 Step 3: Transfer Data
In the following window, you can see all the transferable items get displayed. Select the required files and click 'Start'. Ensure a stable and continuous connection among all the devices till the process gets completed.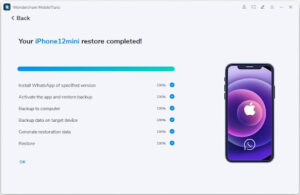 Alternatives to MobileTrans – Phone Transfer
Move to iOS Application:
Take the following steps to transfer data from Android to iPhone using this application:
Download the Move to iOS application in the Android phone from Google Playstore. Activate initial setup in your iPhone and select 'Move Data from an Android'.

Launch the Move to iOS application on the Android device and enable its Bluetooth and Wi-Fi connectivity. Place the devices in close proximity and select 'Continue'.

Enter the unique code displayed on your iPhone in your Android device to establish a secure connection between the two.

Once the devices get connected, you will be asked to make your data moving choices. Select your required data from the available options and wait till your selected data gets moved to your iPhone.
Features of MobileTrans – Phone Transfer
This one is a trusted iPhone to Android data transfer application on account of the following features:
This application ensures data transfer between the two devices without much concerned risk of data loss or mismanagement.

It offers a complete data transfer from your iPhone to the Android device, viz., chats, contacts, media, calendars, etc., so that you don't have to look for different tools for specific applications.

Being a user-friendly application, it supports an easy and convenient interface.

You can ensure a safe move without having to delete original data or going for a device reset.

It's compatible with Apple, Samsung, Sony and a number of other smartphones, tablets and desktops.

It's a quick and fast application that transfers your phone data to the destination device within minutes.
Conclusion
Migrating from Android to iPhone may be exciting in terms of technical upgrades and usage experience, but that's a later story. The first and foremost concern before going for a switch between the two is a secure and smooth data transfer to your preferred iPhone. When looking through data transfer tools, the MobileTrans – Phone Transfer is certainly the best choice you can make. This one is a safe and speedy tool to address to your data transfer needs without any hustle. You can transfer all your Android data into your iPhone in one go without the risks of data loss, security and privacy issues. Do give this application a try for migrating your data when you decide to get an iPhone for yourself.