Valorant is an upcoming free to play a first-person shooter game. The game is second from the house of Riot Games. If you have ever played League of Legends, then you would surely know how exciting games they make. And Valorant is no different. Unable to participate in the beta tester release, most of the users out there have become restless in their lives. But we want to assure them that the game is going to release soon to entertain all of you.
Now talking about the gameplay of Valorant, it is excellent. You have to deal with a lot of weapon load-outs, and it really has a lot of options for weapons. Many of the users were confused about which weapon to go for and which do not. So we decided to bring up a guide on the best weapons in Valorant. So let's get started.
Best Weapons in Valorant
Valorant has weapons divided into six categories. Namely, sidearm, shotguns, SMGs, rifles, sniper, and heavies. You can always carry one sidearm with a primary weapon out of the other four categories. Now we will discuss the best weapons that one can buy in the game Valorant. We are talking here about only the best.
Phantom & Vandal

Price: 2900
If you have played any other shooter games like Call of Duty, CS: Go or Players Unknown Battle Grounds, you may not be familiar with this name. But you mainly know these guns by the name of most popular M4 and AKM. Both of them costing around 2900, these are undoubtedly the best assault rifles that can accommodate you in any fight. Whether it is close-range or a long-range, these two weapons can handle quite well if you are comfortable with their recoil.
The Phantom has a higher speed than the Vandal. Phantom can fire 11 bullets per second rather than nine bullets per second of the former weapon. The Phantom is overall a great weapon but is questionable on consistent firing, and the damage is not relevant throughout. In this time, Vandal comes to help with consistent high damage.
Operator
Price 4500
The Operator is a Sniper and the most expensive weapon in the game Valorant. The power of this weapon is unquestionable and can kill your enemies no matter how far they are. If you pull out a headshot or even a body and your enemy will say goodbye. You cannot compare the Operator with any other weapon as it is a slow and stealth weapon, and before using it, you will need to find a hideout. From there, you can target your enemies. The rifles like Vandal and Phantom can also work well for lang-range, but when the enemies have shield put on their body, it becomes impossible for them to kill in the shot. So the Operator must be considered as one of the best weapons in Valorant.
Ghost  & Sheriff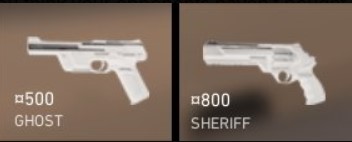 Price: Ghost: 500 Sheriff: 800
The Ghost and the Sheriff are sidearms and in other language pistols. The former being a semi-automatic and later being a single shooter per click. Preference choosing among these lye in the personal taste of the user. But the best thing we liked in Ghost is that it can kill an enemy with a single shot if you turn it on the head. But the Sheriff, on the other hand, can surprise the enemy by single, and deadlier shots one by one and two of them on the body is enough to finish them. However, aiming with the Sheriff is a little tight compared to Ghost.
Odin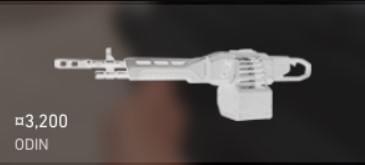 Price: 3200
Odin is a kind of heavy machine gun that can fire 50 rounds in one go with a lot of penetration power. The opponent, before thinking to fire on you, will be killed by this. We usually do not recommend this every time due to its portability issue. When the player holds is gun, his movement is interrupted and becomes slow. Moreover, you will lose the ability to get prone and hide. But as we are discussing the best guns, we should take it as the best all in one weapon than can handle all of the types of lighting scenarios with ease.
Wrap-Up
This was the best weapon guide for the players of Valorant. After reading our guide, they will be able to make a wise selection on which type of weapon suits their needs. We hope you find this guide helpful. If you have any queries or feedback, feel free to comment down below with your Name and E-mail ID. Likewise, check out our iPhone Tips and Tricks, PC tips and tricks, and Android Tips and Tricks for more such tips and tricks. Thank You.