A full-volume encryption BitLocker is designed to protect data by providing encryption for the whole volume hard drive for enhanced security. It is an AES encryption algorithm based on cipher block chaining or XTS mode with a 128 or 256 bits key.
Bitlocker protects your computer from unauthorized access from third vendors who don't have any information about your account credentials or decryption key. Today we have a guide for enable and set up BitLocker Encryption on Windows 10? So without wasting any further, let's get started.
Enable And Set Up BitLocker Encryption On Windows 10
BitLocker encrypts all your hard drive on your Windows 10 system. It is also available in other types of operating systems or versions of Windows, such as Windows 7, 8, and also servers. The only difference is that it's available for Pro, Enterprise, and Ultimate versions of Windows.
Also Read: How to Fix If BitLocker Fails to Encrypt Drive
System Requirements for Bitlocker
Your device must have a Trusted Platform Module(TPM) 1.2 or higher.
With TPM, you also need to have a Trusted Computing Group (TCG)- compliant BIOS or UEFI firmware.
BIOS or UEFI develops a chain of trust for the pre-operating system startup.
Also, the System BIOS or UEFI firmware needs to support a USB drive.
Your hard drive must contain at least two partitions.
Keep your device connected with a power cord and make sure you have enough battery throughout the entire process because it's a time-consuming process, and depending upon your data and size, it can take a very long time.
Steps to turn on device encryption with Bitlocker on Windows 10:
Sign in with an administrator account on Windows 10 Pro version. If you have Windows 10 Home edition, then you won't be able to use BitLocker.
Now go to the Start button. Open Settings, and there you'll see an option Update and Security click on it.
Tap on Device encryption. If there should be no option of device encryption, it means it isn't available. Then you may be able to use standard BitLocker encryption instead.
You need to Open the device encryption setting. If you see that device encryption turned off, then turn it on.
Enable Standard BitLocker Encryption
Open your system with an administrator account.
Go to the taskbar and search Manage BitLocker and then select it from the list shown after search.
Now under BitLocker Drive Encryption, tap on manage BitLocker.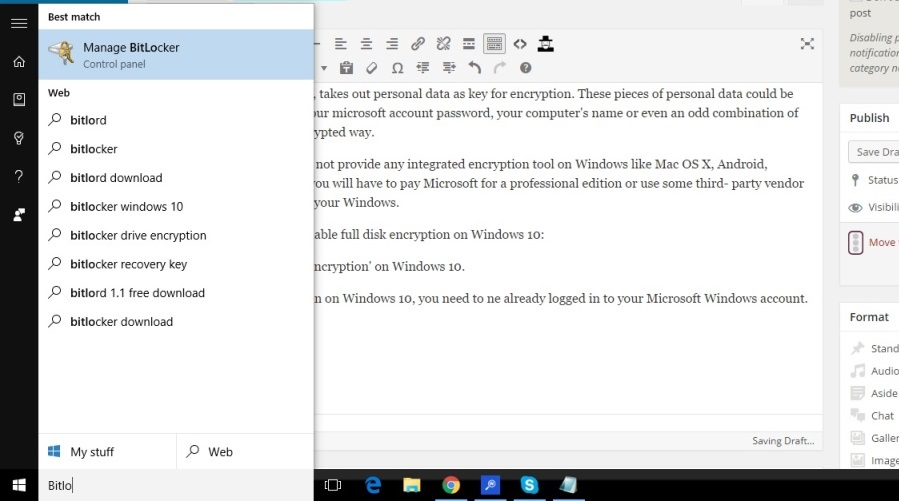 Tap on the turn on BitLocker and follow the instructions carefully.
If this option wouldn't be available on the list under the system and security, then it means it is not available on your windows version.
Use Bitlocker Device Encryption
Device encryption is available in Windows 10 Pro, Enterprise, or Education, and if want to know that if you can use the device encryption or not, then follow the procedure given below:-
In the search bar, type System information and then right-click on it and run as administrator.
Or another option is that tap the windows button from your keyboard and then look for Windows Administrator Tools, under which you'll find the System Information option.
Now at you'll see the Device Encryption Support option at the bottom of the System Information window.
If you an option, Meets Prerequisites, which means your device supports device encryption.
And if not, then you have to use standard BitLocker encryption instead.
Conclusion
Enabling BitLocker allows you to unlock your device with the physical USB key instead of the old fashion password. When you turn on the BitLocker drive encryption option on your main hard drive, then you'll get some extra additional options such as- Suspended protection, Backup your recover key, Change password, Remove password, Turn off BitLocker.