Looking for a new Custom ROM to try? Then, you are in the right place. Here we have listed all the supported device which will receive official and unofficial Bootleggers ROM support. If your phone is supported, then simply follow our guide to install the Bootleggers ROM on your phone.
Before moving to the list of Bootleggers ROM Supported device, let us know about the Bootleggers ROM and their feature. We tested this ROM on our Redmi Note 5 which resulted to be the best battery friendly and Good performance. Let's check out the features and have a closer look at the ROM.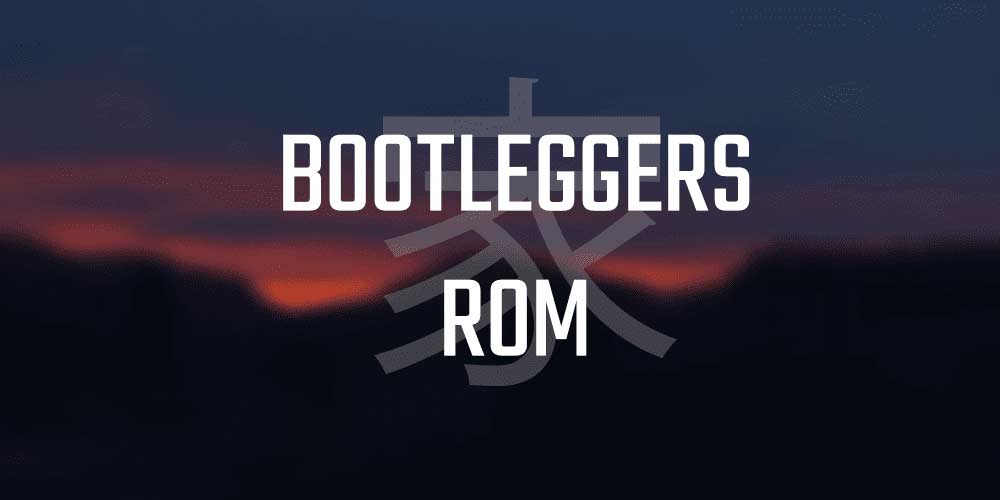 What is Bootleggers ROM?
Bootleggers ROM is an aftermarket firmware based on Ground Zero Open Source Project (GZOSP) and brings the latest Android 8.1 Oreo. The ROM comes with many new features and customization. First of all, this ROM is based on Android 8.1 Oreo and it has all the features such as Picture in Picture Mode (PiP), Split Screen, Dot Notification, New UI, and many more. If we dive into settings, this ROM brings a couple of other features such as Auto Face Unlock (device unlocks after successful face detection, no need to swipe), and they have added a new Bootlegger dumpster menu which enables you to unleash more customization option on your device.
Features of Bootleggers ROM:
Statusbar Customization
Launcher Customization
Quick Settings
Navbar features
Lock screen
Power Menu
Power and Volume key swap
Recent Apps customization
Notifications and Other miscellaneous features
This ROM is prebuilt with Magisk root. you don't have to flash or install any rooting apps to root your phone. If we talk about the UI, Bootleggers brings the latest Retro Music app for listening to music, MIX for exploring the storage, Via to browse the internet and ShishuWalls for downloading wallpapers among the collection of 1000s of walls.
Just like every other custom firmware, Bootleggers ROM also promises to deliver stable and smooth ROM which can easily customize and optimize even though if the device is a low range, mid-range or high-end smartphones and tablets. Along with stability and performance, the Bootleggers OS brings a lot of customization and feature to the Pure Android Experience.
Like we said, this ROM is based on Android 8.1 Oreo. Here is the quick recap of what's on Android 8.1 Oreo.
What's on Android 8.1 Oreo?
As you'd expect, Android 8.1 Oreo is the latest update of Android Oreo. It is an incremental update that builds out some of the new features found in the first version of Oreo, but there's plenty worth checking out. This doesn't mean Android 8.1 doesn't include the new feature because it does. Here are all the features of Android Oreo [8.0/8.1]
Features of Android Oreo:
Notifications Channels (8.0)
Picture In A Picture (8.0)
Multi-Display Support (8.0)
Keyboard Navigation (8.0)
Background Limits (8.0)
New Wi-Fi Features (8.0)
Better Icons (8.0)
Autofill (8.0)
Cheeseburger Emoji (8.1)
Neural Networks API (8.1)
Pixel Visual Core co-processing technology to third-party developers (8.1)
and many more
List of Supported Devices to get the Bootleggers ROM
How to install the Bootleggers ROM on any supported device:
Well, to install custom ROM, you must first unlock the bootloader on your device and install the latest custom recovery called TWRP. If you do have a TWRP Recovery and facing any trouble to install, then please make sure to install the latest image of TWRP version.
The installation process is simple to follow.
Pre-Requisite:
Instructions to Install:
Unlock your phone and install TWRP Recovery!
Download the below Bootleggers ROM Oreo for your device.
Now boot into TWRP Recovery, Here is the method to boot into Recovery.
Before installing Wipe System Data on TWRP Recovery (DO NOT WIPE INTERNAL STORAGE)
Guide to Flash Custom ROM using TWRP Recovery
If you don't want SuperSU rooting guide, then you can try Magisk on your phone.
Guide to Install Latest Magisk Root
[su_note note_color="#fffde3″]Note: If you already installed SuperSU, then make sure to follow our guide on How to Switch from SuperSU to Magisk. This guide will help you to easily revert the rooting and pass SafetyNet check[/su_note]
Upcoming Device List to Support Bootleggers ROM:
scorpio
XiaoMi Mi Note 2
surnia
Motorola Moto E LTE (2015)
nx569j
Nubia Z17 Mini
pme
HTC 10
sumire
Sony Xperia Z5 Dual
nx563j
Nubia Z17
peregrine
Motorola Moto G LTE (Unified)
nx549j
Nubia Z11 MiniS
otus
Motorola Moto E (2015)
nx529j
Nubia Z11 Mini
satsuki
Sony Xperia Z5 Premium Dual
osprey
Motorola Moto G (2015)
nx523j
Nubia Z11 Max (NX523J_V1)
jsglte
Samsung Galaxy S4 (China Mobile 4gLTE,GT-I9508V)
nx505j
Nubia Z7 Max
onyx
OnePlus X
markw
XiaoMi Redmi 4 Prime
nx511j
Nubia Z9 Mini/Z9 Mini Elite(Marshmallow Only)
ls990
LG G3 (Sprint)
g760l
Huawei C199
le_x2
LeEco Max 2 (Le X820) (Oreo rename as x2)
nx507j
Nubia Z7 Mini
land
XiaoMi Redmi 3S/3X
nicki
Sony Xperia M
nx510j
Nubia Z9 Max
kiwi
Huawei Honor 5X
n3
Oppo N3
mido
XiaoMi Redmi Note 4 & 4x
kingdom
Lenovo Vibe Z2 Pro
j5ltexx
Samsung Galaxy J5 (J500F/M/G)
ido
XiaoMi Redmi 3/Prime
i9305
Samsung Galaxy S III (GSM LTE)
lithium
XiaoMi Mi Mix
merlin
Motorola Moto G3 Turbo
m8d
HTC One 2014 Dual SIM
i9300
Samsung Galaxy S III (Intl)
mako
Google Nexus 4
huashan
Sony Xperia SP
hydrogen
XiaoMi Mi Max
hero2lte
Samsung Galaxy S7 Edge
jfltexx
Samsung Galaxy S4 (Intl)
ham
Zuk Z1
jason
XiaoMi Mi Note 3
hammerhead
Google Nexus 5
m8
HTC One 2014
ha3g
Samsung Galaxy Note 3 (SM-N900)
kenzo
XiaoMi Redmi Note 3
find7s
Oppo Find 7 (S)
natrium
XiaoMi Mi-5s Plus
falcon
Motorola Moto G (Unified)
find7
Oppo Find 7 (A/S)
deb
Google Nexus 7 2013 (LTE)
d857
LG G3 Dual SIM (D856/7/8/8hk/9)
hlte
Samsung Galaxy Note 3
d855
LG G3 (Intl)
condor
Motorola Moto E
chiron
XiaoMi Mi Mix 2
griffin
Motorola Moto Z 2016 (Unified)
g750c
Huawei B199
clark
Motorola Moto X Style
d802
LG G2 (Intl)
cherry
Huawei Honor 4/4X
che10
Huawei Honor 4X (China Telecom)
capricorn
XiaoMi Mi-5s
cancro
XiaoMi Mi-3w/Mi-4
bacon
OnePlus 1
dogo
Sony Xperia ZR
bullhead
Google Nexus 5X
axon7
ZTE Axon 7
z00d
Asus Zenfone 2
d2tmo
Samsung Galaxy S III (T-Mobile)
a6020
Lenovo Vibe K5/K5 Plus
addison
Motorola Moto Z Play
armani
XiaoMi RedMi 1s (C/W)
z00a
Asus Zenfone 2 (1080p)
zeroltexx
Samsung Galaxy S6 Edge
x3
Lenovo Lenovo X3c50/X3c70
zoom
Lenovo Lenovo Z90
zerofltexx
Samsung Galaxy S6
wt88047
XiaoMi RedMi 2
thea
Motorola Moto G 2014 LTE (Unified)
yuga
Sony Xperia Z
tulip
ZTE Axon 7 Mini
wt86528
Lenovo K31/A6010
santoni
XiaoMi Redmi 4X
nx595j
Nubia Z17S
vs985
LG G3 (Verizon)
z00t
Asus Zenfone 2 Laser/Selfie (1080p)
t0lte
Samsung Galaxy Note II (GSM LTE)
h830
LG G5 (T-Mobile)
victara_retcn
Motorola Moto X 2014 (China)
flo
Google Nexus 7 2013 (Wi-Fi)
z008
Asus Zenfone 2 (720p)
d803
LG G2 (Canada)
r7plus
Oppo R7 Plus
r5
Oppo R5/R5s (Intl)
d852
LG G3 (Canada)
g2m
LG G2 Mini
mint
Sony Xperia T
odin
Sony Xperia ZL
j5nltexx
Samsung Galaxy J5 (J500FN)
seed
Google Android One 2nd gen
tsubasa
Sony Xperia V
hayabusa
Sony Xperia TX
d2vzw
Samsung Galaxy S III (Verizon)
tomato
YU Yureka (AO5510)
jag3gds
LG G3 S
w5
LG Optimus L70
berlin
Huawei Honor 6X
suzuran
Sony Xperia Z5 Compact
jagnm
LG G3 Beat
d801
LG G2 (T-Mobile)
d851
LG G3 (T-Mobile)
d850
LG G3 (AT&T)
peach
ARK Benefit A3
lettuce
YU Yuphoria (YU5010)
taoshan
Sony Xperia L
d2spr
Samsung Galaxy S III (Sprint)
hammerheadcaf
Google Nexus 5 CAF
d800
LG G2 (AT&T)
herolte
Samsung Galaxy S7 Flat
ether
Nextbit Robin
h850
LG G5 (Intl)
z00l
Asus Zenfone 2 Laser (720p)
v500
LG G Pad 8.3
f400
LG G3 (Korea)
himaul
HTC One M9 (GSM)
d2att
Samsung Galaxy S III (AT&T)
kccat6
Samsung Galaxy S5 Plus
lentislte
Samsung Galaxy S5 LTE-A
libra
XiaoMi Mi-4c
a6000
Lenovo K30-T
nx531j
Nubia Z11
h811
LG G4 (T-Mobile)
h815
LG G4 (Intl)
sambar
YU Yutopia
mt2
Huawei Ascend Mate 2
flounder_lte
Google Nexus 9 (LTE)
flounder
Google Nexus 9 (Wi-Fi)
hiaeul
HTC One A9 (GSM US)
i605
Samsung Galaxy Note II (Verizon)
hiaeuhl
HTC One A9 (GSM Intl)
xt897
Motorola Photon Q
serrano3gxx
Samsung Galaxy S4 Mini (3G)
l900
Samsung Galaxy Note II (Sprint)
l01f
LG G2 (Japan)
a5dwg
HTC Desire 816
ks01lte
Samsung Galaxy S4 LTE-A
m7
HTC One (GSM)
vs980
LG G2 (Verizon)
quark
Motorola Moto MAXX
chm_cl00
Huawei Honor 4C/P8 Lite (ChinaTelecom)
serranoltexx
Samsung Galaxy S4 Mini (Intl)
nx503a
Nubia Z5S
i9100
Samsung Galaxy S II (Intl)
ghost
Motorola Moto X (Unified)
f460
LG G3 Cat.6(Korea)
targa
Motorola Droid Bionic
maserati
Motorola Droid 4
spyder
Motorola Droid Razr/Razr MAXX (CDMA)
umts_spyder
Motorola Razr/Razr MAXX (GSM)
mecdug
HTC One E8 (M8Sw/M8Sd)
t6
HTC One Max (GSM)
t6spr
HTC One Max (Sprint)
t6vzw
HTC One Max (Verizon)
tilapia
Google Nexus 7 (GSM)
nx40x
Nubia Z5 Mini
togari
Sony Xperia Z Ultra
obake
Motorola Droid Mini/Ultra/MAXX
sirius
Sony Xperia Z2
superior
Samsung Galaxy Premier (WCDMA)
superiorcmcc
Samsung Galaxy Premier (TD-SCDMA)
xt925
Motorola Droid RAZR HD (GSM)
z3c
Sony Xperia Z3 Compact
z3dual
Sony Xperia Z3 Dual
nx403a
Nubia Z5S Mini
z3
Sony Xperia Z3
xt926
Motorola Droid RAZR HD (CDMA)
ville
HTC One S
x9180
ZTE RedBull V5
xt907
Motorola Droid RAZR M
togari_gpe
Sony Xperia Z Ultra (GPE)
amami
Sony Xperia Z1 Compact
find5
Oppo Find 5
evita
HTC One XL
n1
Oppo N1
grouper
Google Nexus 7 (Wi-Fi)
hltespr
Samsung Galaxy Note 3 (Sprint)
e980
LG Optimus G Pro (All e98x GSM)
e975
LG Optimus G (Intl)
ferrari
XiaoMi Mi-4i
castor
Sony Xperia Z2 Tablet LTE
castor_windy
Sony Xperia Z2 Tablet WiFi
dlx
HTC Droid DNA
hltetmo
Samsung Galaxy Note 3 (T-Mobile)
g620_a2
Huawei G620-A2
l55t
Sony Xperia Z3 (TD-LTE)
honami
Sony Xperia Z1
m7vzw
HTC One (Verizon)
mb886
Motorola Atrix HD
jfltevzw
Samsung Galaxy S4 (Verizon)
ls980
LG G2 (Sprint)
i925
Samsung Galaxy Note 10.1 (Verizon)
i9500
Samsung Galaxy S4 (non-LTE)
jflteatt
Samsung Galaxy S4 (AT&T)
jfltespr
Samsung Galaxy S4 (Sprint)
jfltetmo
Samsung Galaxy S4 (T-Mobile)
jordanplus
Motorola Defy / Defy Plus
i9100g
Samsung Galaxy S II (G)
sprout4
Google Android One (4GB)
sprout8
Google Android One (8GB)
f320
LG G2 (Korea)
cp8675
CoolPad Dazen F2
n7100
Samsung Galaxy Note II (GSM Non-LTE)
I hope this guide was helpful to install Bootleggers ROM Oreo OS 8.1 Custom ROM on your phone.