Borderland Director's Cut add-on is here and brings significant additions to lit up the BL3 gameplay. Apart from additional story missions, new raid boss, and never released before behind-scene footage, a major highlight of Borderlands 3 Director's cut is the addition of three vault cards.
Vault cards pack new, more interactive challenges and tons of additional rewards. Our exclusive Borderlands 3 Vault Cards Guide has included everything you need to know about these vault cards. So read on.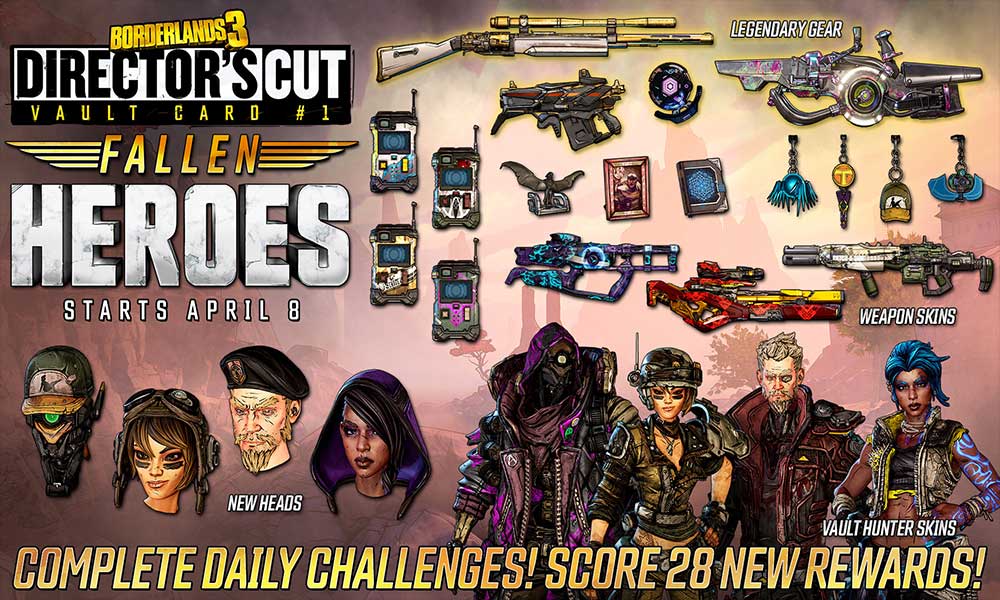 What is Vault Cards?
There are three vault cards in the new BL3 add-on. Each offers a unique gameplay opportunity and enables you to avail yourself of extra loot and XP. When active, you have a variety of challenges to take upon and earn rewards and XP.
When multiple vault cards are available, you have a choice to choose among them. You can access and activate a vault card from the echo menu. A new progression bar will appear just below your regular XP bar when you activate a particular vault card.
The Vault Card progression bar fills as you take on and complete the challenges. These challenges shuffle daily and weekly. As you complete the given challenges, you gain XP; these extra XPs reflect on your normal and vault card progression bars and fill it up.
The Vault Cards Rewards
You are playing hard and on a spree to take up as many challenges as you can. But how to avail the rewards that these vault cards promise? Remember the vaulted card progression bar, Every time it fills up; you are rewarded with a Vault Card Chest. These chests can contain anything from vault card keys, Eridium, cosmetics items, and exceptionally lucky, super rare diamond keys.
You can use the vault card keys to unlock additional cosmetics and legendary gears from the said vault card chest. Meanwhile, Eridium can buy you extra cosmetics and weapons, while diamond keys can potentially unlock the Sanctuary III diamond chests.
The major advantage of leveling up a vault card is that there is no limit on it. You can gain as many chests as you want. You just have to complete the challenges.
As there are multitudes of unique rewards, it's a good idea to keep leveling up and claim as many chests as you can. It's an excellent way to gather as many Eridium and Vault keys as you can get your hands on. Besides, there is always a possibility that you can rake in the much sought-after diamond keys.
Well, that's all we have got for you with our Vault cards guide. We hope this guide helped you and you liked it as well. Now, you should subscribe to our YouTube Channel. Don't miss out on our Windows Guides, Gaming Guides, Social Media Guides, Android Guides, and iPhone to know more.