U.S Government's Lifeline Assistance program allows buyers below Federal poverty Guidelines aimed to make communications services affordable for Low-Income consumers. This helps consumers to get monthly telephone service, Broadband internet access services or Voice-Broadband at an affordable price point. Also, some of those smartphones affected With Malware found but it is quite easy to Remove Malware from Android.
While There was a wide range of smartphones available to purchase at an aggressive price point, but some of those came with pre-installed malware. Which later can lock your device or that some of your sensitive information. This year on January 10, a Smartphone Unimax U686CL affected with hidden ads suggesting Trojan.HiddenAds.WRACT, This Malware runs quietly in the Background with adding App icon.
This Device offers via the FCC Lifeline Assistance program and Sold by Virgin Mobile's for $35 (₹2,501). Later the Smartphone taken by Malwarebytes LABS and test, Where they detect the malware known as Android/PUP.Riskware.Autoins.Fota.fbcvd is belonged to Adups collecting user data (China-based company) capable of log into your device and allow malware to installed unknown files it is own.
How General users Identify these Kinds of Malware?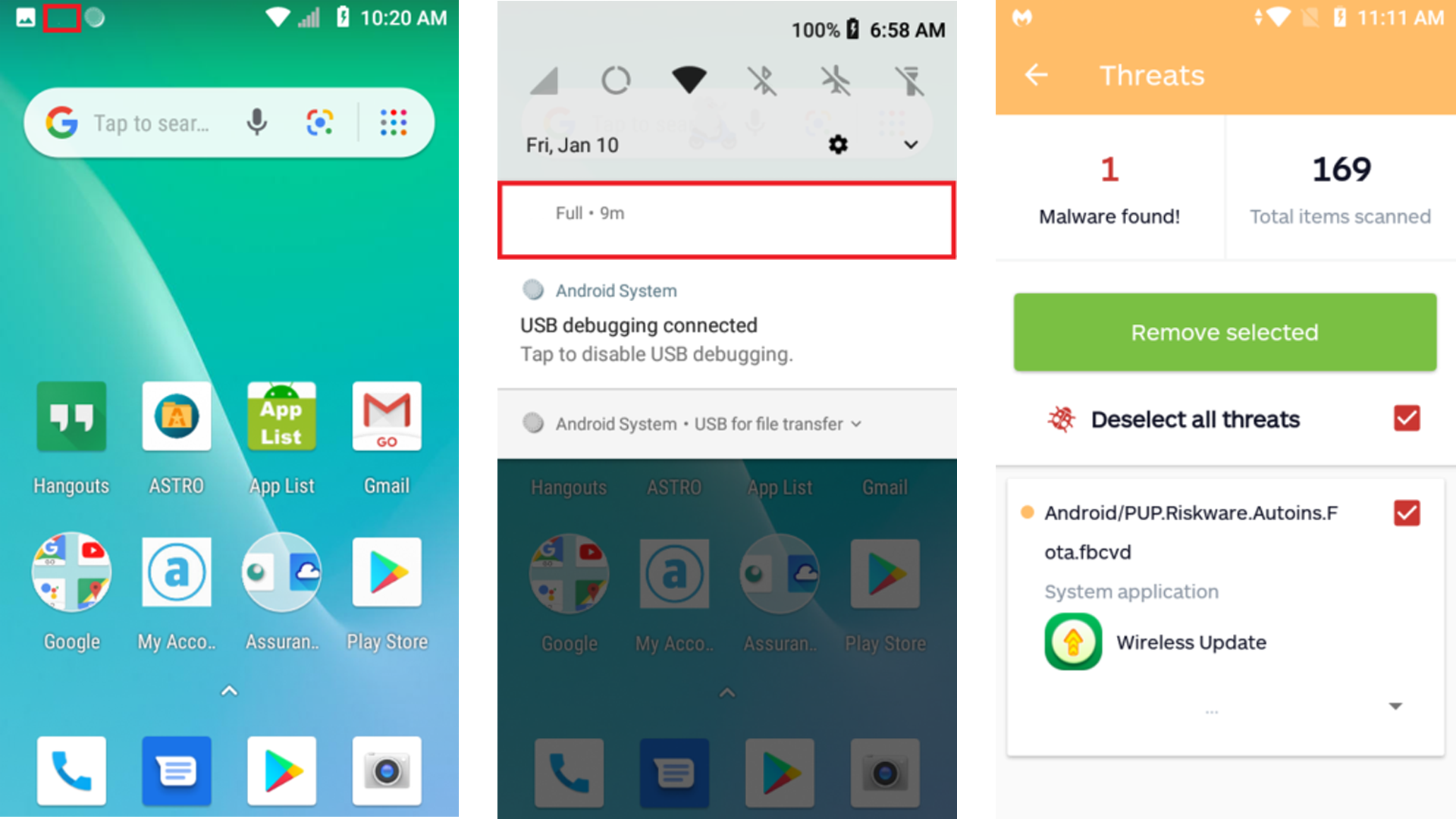 This device initially doesn't come with a Pre-installed malware but the device gets an update Where the OEM Push the Wireless update. Android is capable of Auto-Installing apps without user Consent and it sometimes looks handy. Whereas the Wireless update doesn't come with a User interface to check changes instead it's an OTA Update improving the experience and fixing bugs, but the device adds Android/Trojan.HiddenAds. start affecting your device.
First thing First, this kind of malware was running in the background and this malware appears in Notification panel with a Blank title name. On the other hand, You can not dismiss it from a notification. It Continues to remains on your Notification and running in the background but android allows you to check the notification details by simply pressing and holding the notification takes you to MORE SETTINGS to remove Malware from Android.
Furthermore, Where you can see the app icon on top alongside the app name, which doesn't the correct name of the app instead they use some other name. Which is a Re-named app. ie, Hackfile.cvc shared to you with a Name of GameFile.cvc but it still remains a Malware file. Here you have an option to uninstall and the app doesn't longer exist on your Android device.
Steps to Remove Malware from Android devices?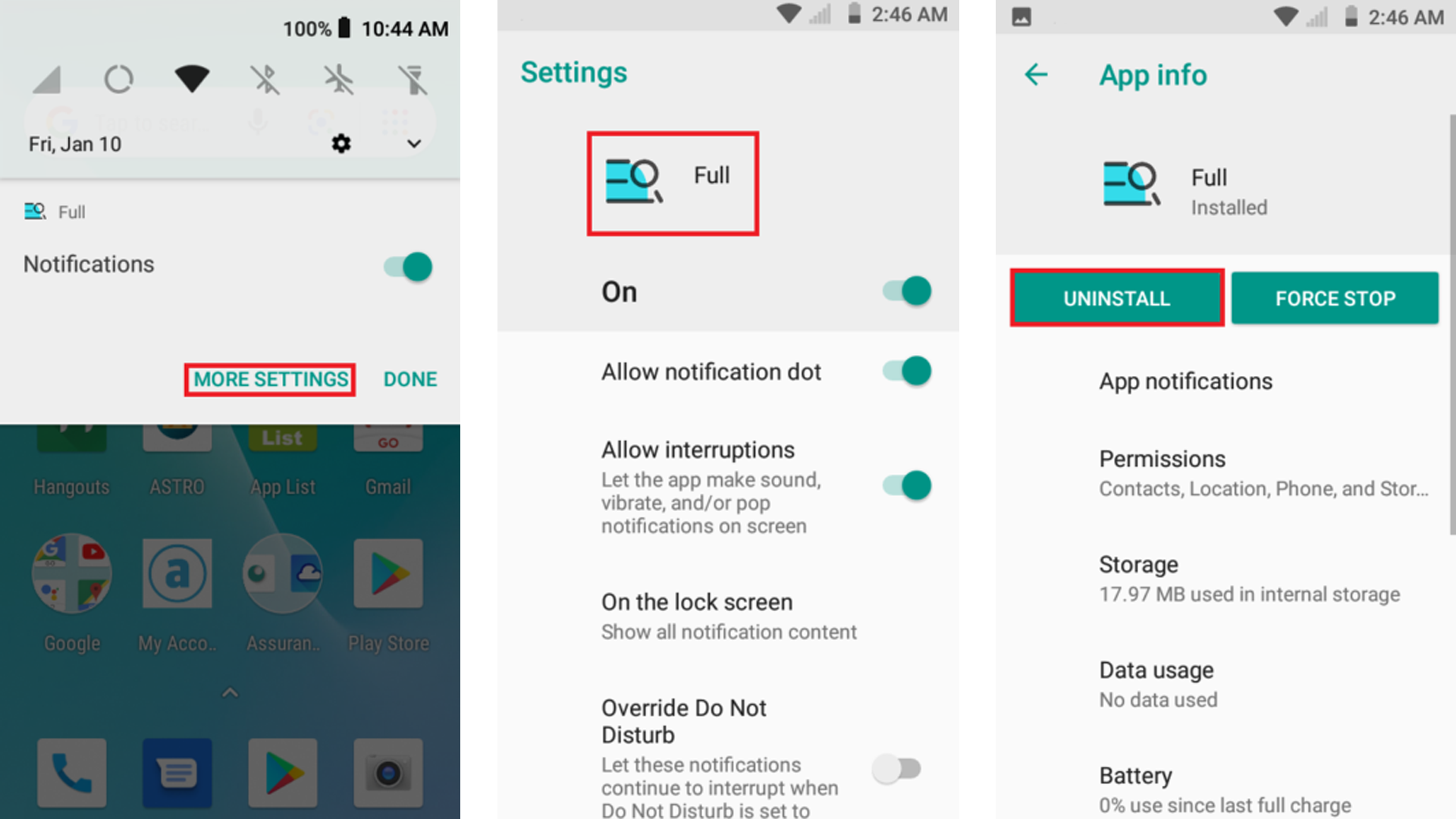 Open More Setting from the Notification panel.
(Tap and Hold on Notification by opening the Notification Panel to open more setting.)
Check the APK, If it is Malicious.
Uninstall the app, the app no longer exists on your device.
(Those app, Which is not safer to use were not available on Google Play store)
Moreover, You can also use Trusted Security app services to remove malware. The pre-installed security apps didn't warn you about the Security. In Case, if the malware found then it might come with the malware through an update.
Remember before Purchasing Cheap Smartphone?
According to Malwarebytes, Budget android smartphone comes with Pre-installed malware, especially Adware. Not to mention, it takes a few minutes to quickly search the report against your device on Google. The majority of the Cheap or budget Smartphone comes with Adware. Some of the popular OEM like ZTE and Archos shipped their android device with Adware.
However, Google is aware of this issue and some Pre-installed firmware difficult to address smartphones affected. Likely, these smartphones were not certified by Google (Play Protect Certified Android). Likely, If you notice something unusual then it is better to opt for another device.