Bugsnax is a world of bugs and insects. Your job is mostly to catch these bugs. The game presents you with various kinds of missions and quests dealing with these creepy bugs. There is a unique catching mechanism for every bug. The mysterious Shelda will present you with a mission that requires you to break one such Bugsnax.
This is a kind of creepy mission that is presented for the first time here in the game. Here is a guide instructing you about how you can crack open these Bugsnaxs. So let's get started.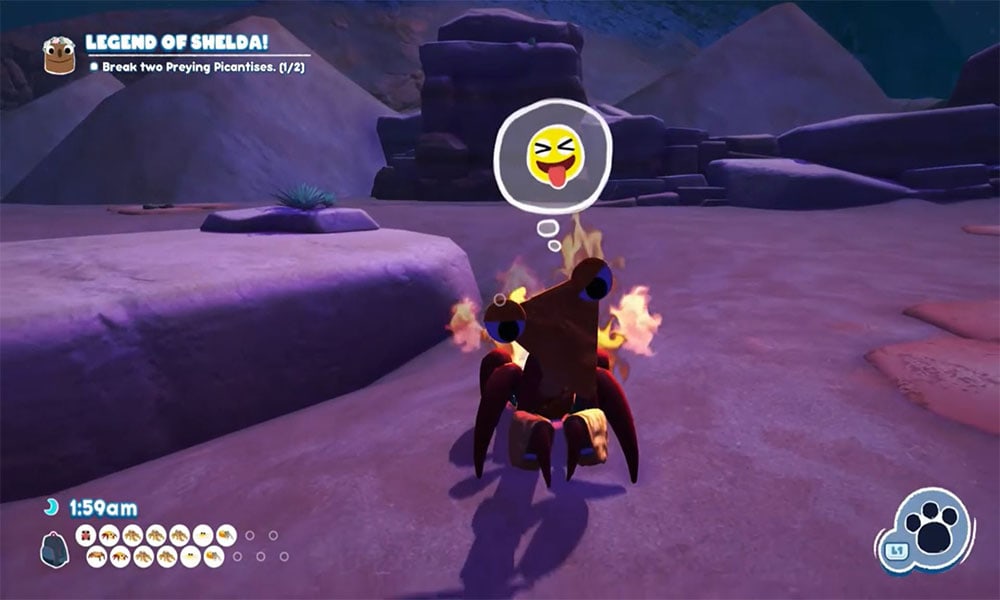 How to Break Preying Picantises in Bugsnax
Before you set on the mission of splitting the Preying Picantis, you need to do a few other things. First of all, fix the Cromdo's bridge and return him to the village. This will unlock the Sizzlin' Sands.
Now you need to reach the desert area of the island. Take the route along the bridge that you repaired in Scorched Gorge. You will see Shelda in the desert. She will give you many tasks, including the mission of breaking the Preying Picantis.
Preying Picantis is one of the breakable Bugsnaxs in the game. The term 'breakable' means that these bugs can be broken down, which changes these bugs into another type of creature. A Preying Picantis breaks down into many creatures. Press the R3 button to get a description of the Preying Picantis.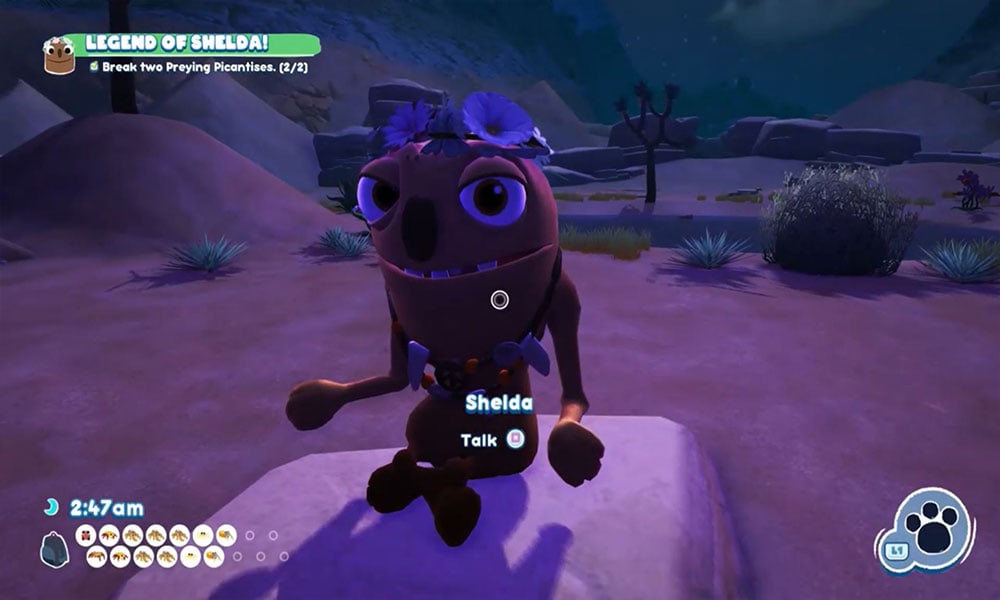 Preying Picantis is a natural opponent of another creature- the Loaded Spuddy. When these two are face to face, they take on each other. You can make these two fights using the Picantis' weakness for cheese and sauce. But a Loaded Spuddy cannot beak a Preying Picantis.
Instead, you need to draw the Picantis to the Sizzlin' Sands. For attracting this bug, draw its attention towards yourself. Go so close to the bug such that it notices you and starts chasing you. Now run straight to the pool of water that is in the middle of the Sizzlin' Sands. Once the bug touches the water and gets wet, it will get violent. The bug will now start attacking you and/or other surrounding Bugsnax.
A countdown timer starts ticking above the Preying Picantis' head from the moment it gets wet. Your job at this point is to protect yourself from this Bugsnax's attacks until the countdown ends as the timer finishes, the Preying Picantis bursts into multiple Bugsnax. The Preying Picantis is now considered as broken.
For completing the quest given by the mysterious Shelda, you need to break two such Preying Picantis. You will thus complete the 'Legend of Shelda' quest.
Well, that's all we have got with breaking of Preying Picantises in Bugsnax. For more gaming updates, subscribe to our YouTube Channel. Also, check out our Gaming Guides, Windows Guides, Social Media Guides, iPhone, and Android Guides to know more.