In this guide, we will show you the steps to bypass FRP on MediaTek devices using Infinity CM2. There are quite a few devices in the smartphone industry that comes with the MTK chipset. The likes of Xiaomi, Motorola, and Samsung all have their one or two offerings with MediaTek as the underlying SOC. These devices also come baked in with all the important prerequisites. Along the same lines, they have also adopted the crucial device protection mechanisms too.
Be it the PIN, Pattern or Password, or the Face and Fingerprint Unlock, you are likely to find all these security measures. Likewise, MTK devices also respect's Google's FRP lock and have enabled it across all their devices. However, if you end up forgetting your account password, then you wouldn't be able to pass this lock and hence access your device. Well, this is where this guide shall help you out. Today, we will be listing out the instructions to bypass FRP on MediaTek devices using Infinity CM2. Follow along.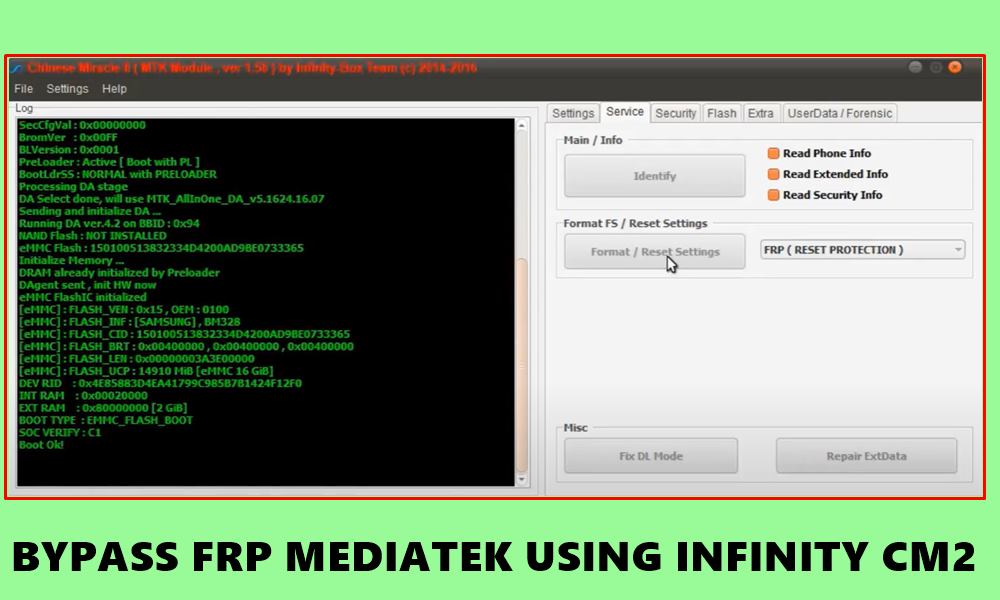 What is FRP Lock
When you sign in to your Android device via a Google account, FRP becomes active. Then the next time you format your device, the Factory Reset Protection gets enabled. As a result, you will only be able to access your device after typing in the Google account's ID and password that was last signed into this device. Hence, if an unauthorized user tries to get access to your device after performing a reset, they wouldn't be able to do so.
This added layer of security definitely proves to be quite a useful addition to the device. But what if the authorized owner of the device forgets his account credentials? Well, that could lead to quite a few issues as they wouldn't be able to access their device in the first place. Fortunately, there does exist a handy workaround to bypass this lock. And this guide shall make you aware of just that. So without further ado, let's get started with the steps to bypass FRP on MediaTek devices using Infinity CM2.
How to Bypass FRP on Mediatek Using Infinity CM2
Before proceeding with the instructions, make sure to check-mark all the requirements that have been mentioned below.
Prerequisites
First and foremost, make sure that the hardware dongle is connected to the PC.
Next up, download the Chinese Miracle 2 CM2MTK Tool. This will allow the hardware dongle to interact with the connected MTK device and hence carry out the FRP bypass process.
Finally, you should also have the MediaTek VCom Drivers installed on your PC.
That's it. These were all the requirements. You may now proceed ahead with the steps to bypass FRP on MediaTek devices using Infinity CM2.
Instruction to Bypass FRP on MediaTek using Infinity CM2
To begin with, extract the downloaded Chinese Miracle 2 CM2MTK Tool to any convenient location on your PC.
Then double-click on the CM2MTK.exe file to launch the tool.

Now click on the CPU/Platform/WorkMode section and select your chipset from the drop-down menu.

After this, go to the Service tab and select FRP (Reset Protection).
Then click on the Format/Reset Settings button and wait until you get the "wait for phone" message.

Now connect your device to the PC via USB cable and the tool shall be able to identify the connected device.
The FRP Removal process will now begin and should be completed within a few seconds.

Once done, you shall be notified of the same. You may now remove your device from the PC and close the tool as well.
So with this, we conclude the guide on how to bypass FRP on MediaTek devices using Infinity CM2. If you have any queries concerning the aforementioned steps, let us know in the comments. Rounding off, here are some iPhone Tips and Tricks, PC tips and tricks, and Android Tips and Tricks that deserve your attention as well.