In our busy and working life, email becomes one of the most reliable and easy to use the platform to communicate with others especially to share official documents, letters, applications, other files, and more. Setting up an email account, logging in, and connect via an internet connection will provide you a platform to get connected always from your work or business. But some of the users Cannot Send Email Through Mail app on iPhone 11. Check out some of the workarounds to fix this issue.
To get notified with new emails on your iPhone, you will require an active internet connection whether it can be mobile data or Wi-Fi. However, some times users can't send emails via a specific mail app which seems quite irritating. Make sure to check the mail servers are working properly or not and the push notification is always turned on for your working email account.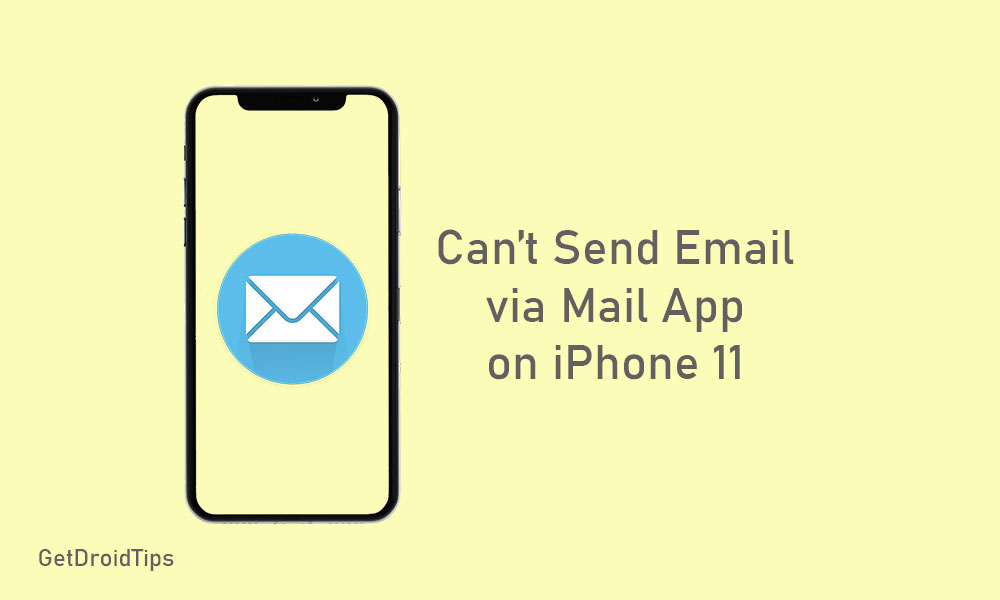 Steps to Fix Cannot Send Email Through Mail app on iPhone 11
Try to log in and check the mail account and try to send emails via any browser. If everything seems fine, that means the email server is working fine. In that case, your iPhone 11 has some software-related issues which you need to fix by following some of the steps below.
1. Reboot your iPhone 11
Long-press the Power/Side + Volume Up keys simultaneously for a few seconds.
A Slide to Power off bar will appear on the screen then release both the buttons.
Now, drag/slide the bar to turn off your iPhone 11.
After waiting for a couple of seconds, press and hold the Power/Side button until the Apple logo shows up.
Now, check whether you can send emails via the mail app or not. If not, then follow the next step.
2. Refresh Internet Connection
Some times, refreshing the internet connection on your device will fix most of the online services related issues.
From the iPhone home screen, go to the Settings.
Tap on Wi-Fi or Mobile Data and turn off the toggle.
Wait for a few seconds and turn it on again to check the mail app issue.
3. Check Outbox Folder
If you know, all the unsuccessful sent emails are saved in the Outbox folder on your mail account. So, if your sent emails are failed to deliver, you can see all. But if the outbox folder is empty or you can't see you recently sent emails, that means all those emails are successfully delivered. But your mail app on iPhone didn't notify you.
Go to the Mail app > Tap on Mailboxes from the upper right side > Tap on Outbox.
4. Check your Mail App Settings
Go to the iPhone Settings.
Select Passwords & Accounts > select your email account.
Then tap on your email address to review the account information that also includes the incoming and outgoing email servers.
5. Check Screen Time for Mail App
Tap on iPhone Settings > select Screen Time.
Tap on Content & Privacy Restrictions.
If prompted, put your Screen Time passcode to continue.
Tap on Allowed Apps > find the Mail app and make sure it's turned ON.
6. Reset Network Settings
Go to the Settings on your iPhone.
Tap on General > scroll down and tap on Reset.
Select Reset Network Settings and enter the passcode if asked.
Then tap on Reset Network Settings again to confirm the process.
Restart your iPhone 11 and check the mail app now.
7. Delete and Add the Email Account
If nothing works for you, try to delete the email account from the mail app and add it again.
From the Home screen, tap on Settings.
Tap on Passwords & Accounts.
Choose the email account which one to delete.
Tap on the Delete Account option.
Now, again add it back by following the steps below.
Go to Settings > select Passwords & Accounts > tap on Add Account.
Select the email provider from the list.
Put your Email ID and password > tap on Next.
The Mail app will verify your email account.
Next, select the details from your email account and tap on Save.
However, you can also manually add your email account from Settings > Passwords & Accounts > Add Account > Other > Add Mail Account > Input all the details > tap on Next to add email id > tap on Done.
That's it, guys. We hope you've found this guide useful. You can comment below for any queries.