DNS (Domain Name System) is a readable format for the IP addresses. Changing the DNS address basically improve the IP address readability, increases speed, enhances security, better privacy, and more. It's easily possible to change the DNS address or its settings from the Wi-Fi router or PC. Meanwhile, some of the advanced Android device users are asking How to Change Android DNS Settings in an easy way. If you're also one of them, don't worry. Here we've shared a couple of ways to do this.
It'll be quite difficult and inconvenient to use an IP address every time instead of a friendly domain name system. Obviously, your browser can also serve you better by accessing the domain name. Usually, people prefer to continue using the default DNS server that can be provided by their respective ISP (Internet Service Provider). Meanwhile, Google DNS servers and some other third-party DNS servers are quite faster than your localhost. Additionally, the third-party DNS servers are more safe and private too.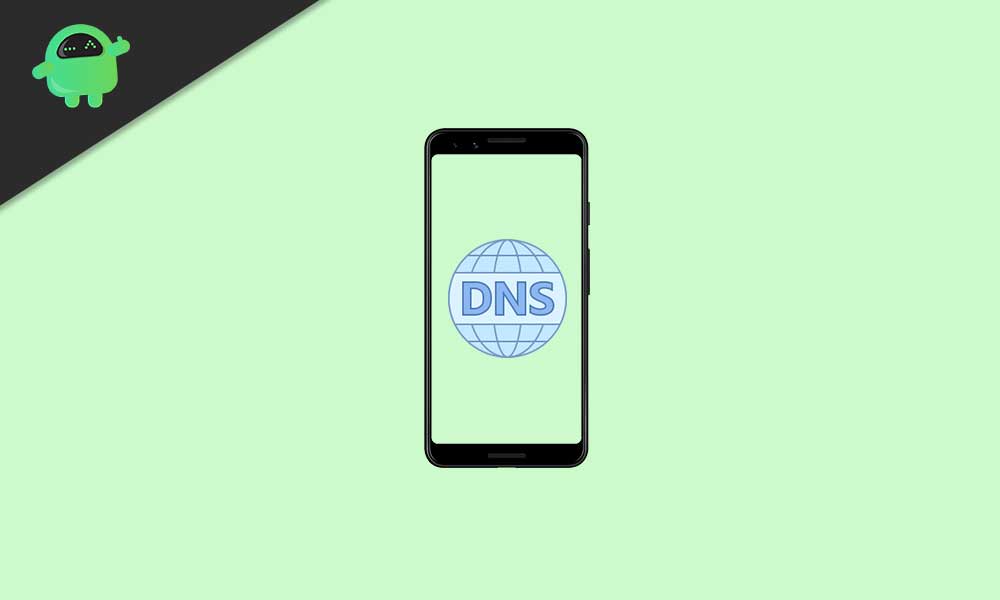 What is DNS?
The Domain Name System (DNS) is similar to the phonebook of the Internet. That means humans can easily remember and browse through domain names instead of a machine-friendly IP address. Each and every domain name has its own unique server ID where the website link and data gets stored. For example, if you type 104.26.2.111 into the URL address bar and search it, the getdroidtips.com website will open.
Now, you should ask yourself which one is more convenient or easy to remember? The domain name or the direct IP address. So, the domain name translates or converts the direct IP address to an interactable IP address that web browsers can easily load via using internet access.
Advantages of Third-party DNS
While most people use default DNS servers provided by their ISP, third-party DNS servers can serve you better depending on your closest location for a faster and reliable internet speed. Meanwhile, some ISPs also record and keep tracking of your browsing history and other private info to sell them to third-party companies without informing you. Therefore, using a third-party DNS address can help you serve better privacy and security apart from the wide-access of region-specific online content, etc.
It's also worth mentioning that some of the well-known third-party DNS providers like OpenDNS or Quad9 can also provide you real-time protection against malicious sites and other kinds of malware or suspected cyber threats. To recall, the much popular OpenDNS provider also offers a custom web filtering option, blocks access to open any website using the direct IP address, parental control feature for your kids, and more.
Must Read: What is PS5 Error NW-102307-3 | How to Fix DNS server can't be used?
How to Change Android DNS Settings
So, the process is tricky as changing the DNS settings on Android devices fully depends on which Android OS version is running. Though the Android 9.0 Pie or higher OS version running devices offer a simpler way, Android 8.1 Oreo or previous generation Android devices will take a few extra efforts to change the DNS settings.
Now, you should check the Android OS version on your handset before following the guide. To do that, go to the device Settings menu > About [About Phone] > Here you can see the Android OS version. Keep in mind that depending on your device brand, the Android OS version checking steps may slightly vary. Once you're aware of which version your device is running, you're good to go to follow the steps below according to the Android OS version.
1. Change DNS Settings on Android 9.0 Pie or Higher
Make sure that not all the third-party DNS servers may get compatible because Android 9.0 Pie or higher version running devices support DNS-over-TLS. To change the settings:
Go to the device Settings > Tap on Network & Internet.
Select Advanced > Go to the DNS section.
Mostly it will show you as an 'Automatic' if in case, you haven't configured it manually.
So, tap on the DNS section > Tap on Private DNS provider hostname.
Type a TLS hostname (dns.google) if you want to set up a Google DNS. [If you want to set any other DNS then do accordingly]
Tap on Save to apply changes.
That means your DNS section will now show you a Private DNS with the TLS hostname.
2. Change DNS Settings on Android 8.1 Oreo or Lower
Though the Android 8.1 Oreo or lower version running devices don't support changing DNS servers for cellular networks, you can use it for your Wi-Fi connection or network. So, you'll need to change the DNS servers every time whenever you connect to a wireless network. To do this:
Make sure that the Wi-Fi connection is turned on. If not, go to the device Settings > Wi-Fi and turn it on.
Now, go to the available or connected Wi-Fi networks list.
Tap on the arrow icon or i icon depending on your device brand. (You may need to long-press the Wi-Fi network name)
Tap on Modify network > Advanced settings > Go to IP settings.
In most cases, the IP settings will show the DHCP (Dynamic Host Configuration Protocol) option.
Tap on it to edit and select Static.
Now, you have to manually fill up all the necessary fields like IP address, preferred DNS address, Wi-Fi router's gateway, etc.
Finally, save changes and restart your device.
Note: You will find all the info related to your Wi-Fi network from your Wi-Fi router's homepage that you can log in via the web browser. Therefore, make sure to do this method only if you own your Wi-Fi router. Keep avoiding to use public or shared Wi-Fi for sure.
That's it, guys. We assume this guide was helpful to you. For further queries, you can comment below.