With the advancement in technology, modern-day smartphones have also evolved immensely. Smartphones are now slimmer, have a foldable design, bezel-less display, high refresh rate, better protection, and whatnot. We are also getting the best display's on a smartphone thanks, to modern inventions. And keeping a brilliant wallpaper that not only decorates our smartphone display but enhances its appearance and looks of the phone is something that I do, every time I get some spare time. I am sure there are several people who are into customization and replace the wallpaper on their phones very frequently.
This guide is meant to up the level of your customization as in this post, we will share with you a guide on how to change the Android wallpaper automatically on your phone. If you are also looking for ways to change your wallpaper automatically then, this guide is just for you. We will take a look at some of the popular apps that let us do change the wallpaper automatically on our Android device. So, that being said, let us get straight into the article itself: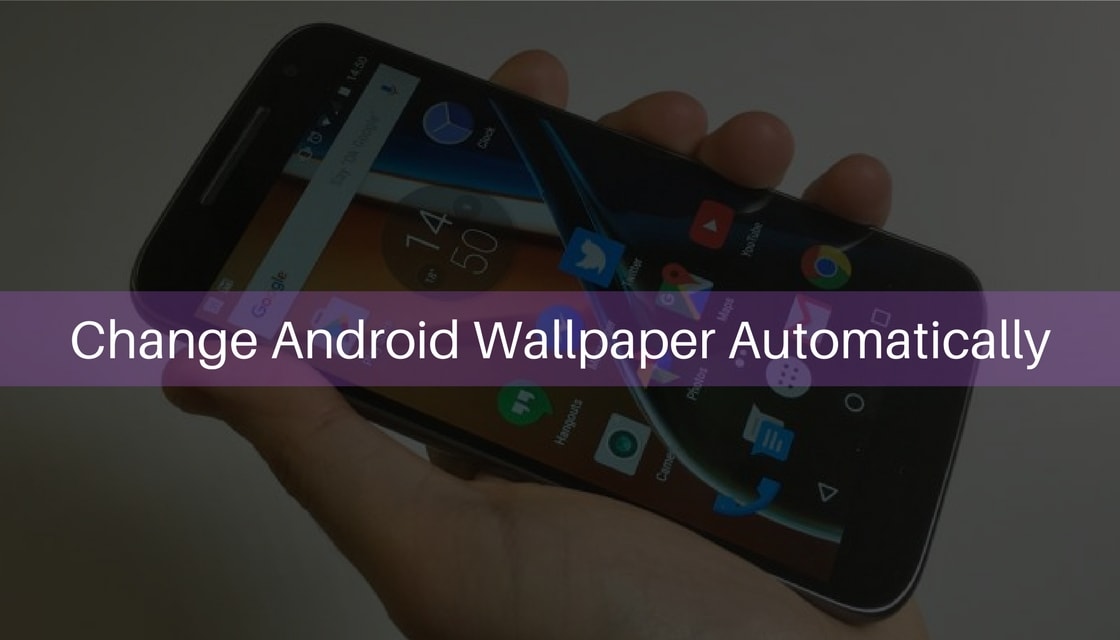 How to Change Android Wallpaper Automatically
Below is the list of apps that you can install on your phone to change the wallpaper of your phone automatically:
Tapet
If abstract is your thing, then this app is for you. You will find numerous abstract wallpapers for your phone and it automatically generates new wallpapers and changes them automatically to give your device a new look more frequently. All the images are random and are created online so there is no need to download all the wallpapers to change them automatically. You can set the automatic wallpaper changer frequency on an hourly or daily basis.
[googleplay url="https://play.google.com/store/apps/details?id=com.sharpregion.tapet"]
Auto Change Wallpaper
As the name suggests, these apps let you change the wallpaper automatically on your home screen. The fun part is that there are no limitations to the number of images that you can choose. You can select the entire gallery if you want and the app will keep changing the wallpapers on your home screen. Not only home screen, but this app also lets you change the images on your lock screen automatically too. The app contains ads, however, the number of tweaks that it provides justifies the ads on this app.
[googleplay url="https://play.google.com/store/apps/details?id=viet.dev.apps.autochangewallpaper"]
Casualis: Auto wallpaper change
Another popular auto wallpaper changing application available on the Google Play Store is the Casualis. This app like other, lets you change the wallpaper automatically. You can change the wallpapers every 1, 3, 6, 12 hours or even 1, 3, 7 days frequency. There are over 3000 high-resolution images available for you to download. Moreover, this app also lets you change the wallpaper by shaking your phone.
[googleplay url="https://play.google.com/store/apps/details?id=ph.url.tangodev.randomwallpaper"]
Waller
A new app in the block is Waller. The app itself contains a variety of HD wallpapers and you can automatically change the wallpaper of your choosing based on time of the day. The wallpapers that are changed are automatically downloaded on your SD Storage which can be a good thing when sometime the automatic wallpaper changer presents you with you a nice wallpaper but can be a bad feature if you do not wish to stack your storage with wallpapers.
[googleplay url="https://play.google.com/store/apps/details?id=com.wallpaper.waller"]
Wallpaper Changer for Reddit – Auto Wallpapers
You might have come across various wallpapers on Reddit, that look gorgeous and you wish to set them as your home screen wallpaper. And if you are looking for it then this app is just for you. The app does serve its purpose and is pretty sleek and minimal. There are tons of wallpapers to choose from and new wallpapers are added frequently from Reddit. You can edit and filter the images, sort them and set the wallpapers to change automatically from hourly to daily.
[googleplay url="https://play.google.com/store/apps/details?id=com.bryanwalsh.redditwallpaper2″]
So, there you have it from my side in this post. I hope you guys liked this post and were able to change the wallpapers of your device automatically using these apps. However, note that there are other apps as well and let us know in the comments if you have a favorite one apart from the above-mentioned ones. Until the next post…Cheers!