Today in this guide, we will walk you through the necessary steps to Change CSC in Samsung Galaxy Watch 6 / 6 Classic. The Samsung Galaxy Watch 6 was released recently on 11th August in the Global Market. If you have waited for the product long enough, we hope you have it by now. And if you have already set it up, then you must know about CSC as well. CSC basically stands for Country-specific code. This is a significant feature offered by Samsung that you will get to see in all their Smartwatches.
CSC verifies the device and unlocks a lot of features and facilities for us. For instance, it enables various types of updates from the company as well as the government side. You will be updated and know about the various benefits offered by these parties. Besides, you will also receive software updates based on this CSC only.
As it seems beneficial on one side, it also brings some disadvantages with it. To be more specific, CSC verifies your country and enables those features available in your region. However, if you have any requirements and unfortunately the feature is not available in your region, you will not be able to use it either. But thankfully, we can bypass such limitations by simply making appropriate changes in the CSC. So, if you want to know how to make any change CSC in the Samsung Galaxy 6 Classic, then here's a complete guide for your help.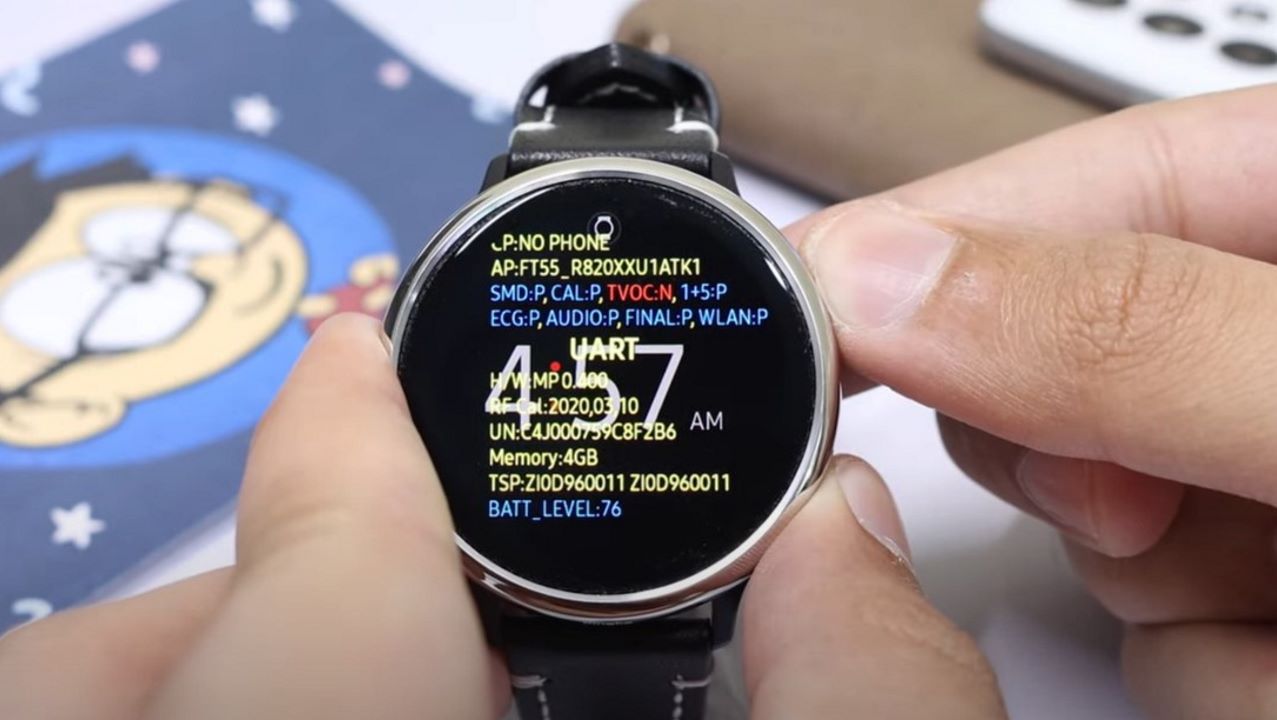 How to Change CSC in Samsung Galaxy Watch 6 / 6 Classic
Changing the CSC (Country Specific Code) on a Samsung Galaxy Watch 6 or 6 Classic is not a simple and straightforward process, as it involves modifying some settings that are typically controlled by the device's firmware
Warning
Tampering with system settings to change CSC codes can void your warranty or even lead to potential issues with your device. Therefore, proceed with caution, and consider seeking professional help if necessary. GetDroidTips will not be held responsible for any unintended consequences, including data loss or device malfunction.
Here is a step-by-step process to change the CSC on your Samsung Galaxy Watch 6 or 6 Classic. It is advised to back up all your important data and charge the watch to at least 70% before following the below steps for extra caution. You can do this by going to the Galaxy Wearable app on your paired smartphone and selecting the appropriate backup options.
Method 1: By Developer Mode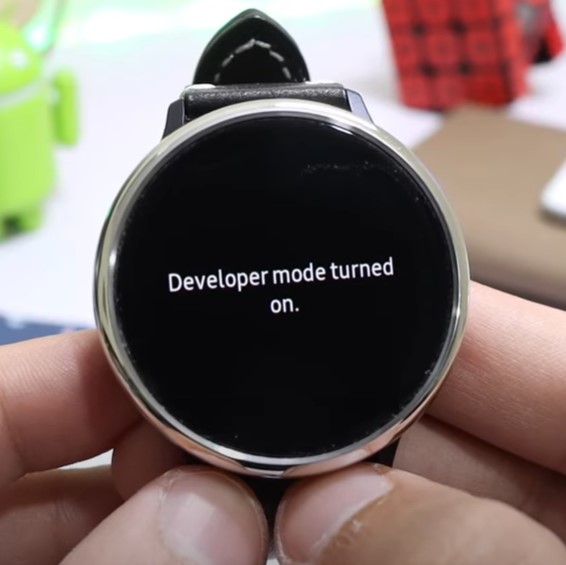 In this method, we will access the hidden developer settings within the device and change the CSC code accordingly. Developer settings are typically used by software developers for debugging and testing purposes. By enabling it, you gain access to additional settings including the the option to change CSC codes.
Open settings and navigate to "About watch" > "Software" > "Build number." Tap on the build number several times until you see a message saying that Developer Mode has been enabled.
Go back to the main "Settings" menu, and you should see a new option called "Developer options". In that menu, look for an option related to changing the CSC or region settings.
Follow the on-screen prompts to select your desired region or CSC code. Please keep in mind that this option may not be available on all devices or firmware versions.
After changing the CSC, restart your Samsung watch and enjoy the benefits of the newly set up CSC code firmware.
Method 2: By Watch Dialer
In this method, we will use the dialer to launch the firmware check & testing mode. Here you will be able to change some of the system settings including the CSC code. Please be cautious and remember that this process may not work on all devices or firmware versions.
Open the Samsung phone Dialer app on the watch and dial *#272*719434266344#
*#272*719434266344#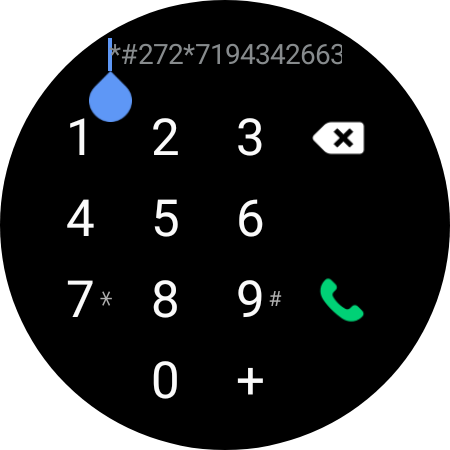 A warning sign will appear, accept the warning.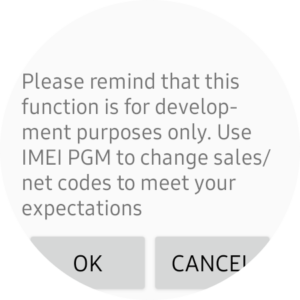 Now you can change the CSC code to your desired location. It's a one-time change, so be careful, You can not revert back to any other CSC
Below is the list of CSC codes for respective regions and carriers.
Global Samsung Country CSC Codes
AFG = Afghanistan
TMC = Algeria
ARO = Argentina
ANC = Argentina
CTI = Argentina (Claro)
UFN = Argentina (Movistar)
PSN = Argentina (Personal)
TTR = Austria
DRE = Austria (3 Hutchison)
MOB = Austria (A1)
MAX = Austria (T-Mobile)
TRG = Austria (Telering)
XSA = Australia
OPS = Australia (Optus)
TEL = Australia (Telstra)
VAU = Australia (Vodafone)
SEB = Baltic
BNG = Bangladesh
PRO = Belgium (Proximus)
BVO = Bolivia
TEB = Bosnia and Herzegovina
BHT = Bosnia and Herzegovina (BH TELECOM)
ZTO = Brazil
ZTA = Brazil (Claro)
ZTR = Brazil (Oi)
ZTM = Brazil (TIM)
ZVV = Brazil (VIVO)
GBL = Bulgaria
BGL = Bulgaria
MTL = Bulgaria (MTL)
VVT = Bulgaria (VVT)
CAM = Cambodia
CAU = Caucasus Countries
CHO = Chile
CRC = Chile
CHL = Chile (Claro)
CHE = Chile (Entel PCS)
CHX = Chile (Nextel)
CHT = Chile (Telefonica)
CHV = Chile (VTR)
CHC = China (Open China)
CHM = China (China Mobile)
CTC = China (China Telecom)
COO = Colombia
COM = Colombia (Comcel)
COE = Colombia (ETB)
COB = Colombia (Movistar)
ICE = Costa Rica
DHR = Croatia (Bonbon)
CRO = Croatia (T-Mobile)
TWO = Croatia (TELE2)
VIP = Croatia (VIPNET)
CYV = Cyprus
CYO = Cyprus (Cytamobile Vodafone)
ETL = Czech Republic
O2C = Czech Republic (O2C)
TMZ = Czech Republic (T-Mobile)
VDC = Czech Republic (Vodafone)
CDR = Dominican Republic
DOR = Dominican Republic (Orange)
EBE = Ecuador
ECO = Ecuador
EGY = Egypt
VFJ = Fiji (Vodafone)
XEF = France
BOG = France (Bouygues)
FTM = France (Orange)
SFR = France (SFR)
DBT = Germany
XEG = Germany (1&1)
DDE = Germany (Congstar)
VIA = Germany (O2)
DTM = Germany (T-Mobile)
VD2 = Germany (Vodafone)
EUR = Greece
COS = Greece (Cosmote)
VGR = Greece (Vodafone)
TGU = Guatemala
PGU = Guatemala
CGU = Guatemala (Tigo)
TGY = Hong Kong
XEH = Hungary
TMH = Hungary (T-mobile)
PAN = Hungary (Telenor)
VDH = Hungary (VDH)
INU = India
INS = India
XSE = Indonesia
XID = Indonesia
THR = Iran
MID = Iraq
TSI = Ireland
MET = Ireland (Meteor)
3IE = Ireland (Three)
VDI = Ireland (Vodafone)
ILO = Israel
CEL = Israel (Cellcom)
PTR = Israel (Orange/Partner)
PCL = Israel (Pelephone)
ITV = Italy
HUI = Italy (H3G)
TIM = Italy (TIM)
OMN = Italy (Vodafone)
WIN = Italy (Wind)
JDI = Jamaica
CWW = Jamaica
SKZ = Kazakhstan
AFR = Kenya
KEN = Kenya
KTC = Korea (KT Corporation)
LUC = Korea (LG Uplus)
SKC = Korea (SK Telecom)
BTC = Libya
LUX = Luxembourg
VIM = Macedonia
MBM = Macedonia (T-Mobile)
XME = Malaysia
MRU = Mauritius
IUS = Mexico
TMM = Mexico (Movistar)
TCE = Mexico (Telcel)
TMT = Montenegro
MAT = Morocco (MAT)
MWD = Morocco (MWD)
NPL = Nepal
PHN = Netherlands
DNL = Netherlands (Ben NL)
TNL = Netherlands (T-Mobile)
VDF = Netherlands (Vodafone)
NZC = New Zealand
TNZ = New Zealand
VNZ = New Zealand (Vodafone)
ECT = Nigeria
NEE = Nordic countries
TEN = Norway (Telenor)
ATO = Open Austria
PAK = Pakistan (PAK)
PBS = Panama
TPA = Panama
PCW = Panama (Cable & Wireless)
CPA = Panama (Claro)
PNG = Papua New Guinea
CTP = Paraguay (Claro)
PSP = Paraguay (Personal)
TGP = Paraguay (Tigo)
PET = Peru
PNT = Peru (Nextel)
SAM = Peru (SAM)
PVT = Peru (Viettel)
GLB = Philippines (Globe)
XTC = Philippines (Open Line)
SMA = Philippines (Smart)
XTE = Philippines (Sun Cellular)
XEO = Poland
DPL = Poland (Heyah)
IDE = Poland (Orange)
PLS = Poland (PLUS)
PRT = Poland (Play)
TPL = Poland (T-mobile)
MEO = Portugal
OPT = Portugal (Optimus)
TPH = Portugal (TPH)
TCL = Portugal (Vodafone)
PCT = Puerto Rico
ROM = Romania
COA = Romania (Cosmote)
ORO = Romania (Orange)
CNX = Romania (Vodafone)
SER = Russia
KSA = Saudi Arabia
ACR = Saudi Arabia
WTL = Saudi Arabia
XFU = Saudi Arabia (STC)
TSR = Serbia (Telekom)
MSR = Serbia (Telenor)
TOP = Serbia (VIP)
XSP = Singapore
MM1 = Singapore
SIN = Singapore (SingTel)
STH = Singapore (StarHub)
ORX = Slovakia
TMS = Slovakia
SIO = Slovenia
MOT = Slovenia (Mobitel)
SIM = Slovenia (Si.mobil)
XFE = South Africa
XFA = South Africa
XFV = South Africa (Vodafone)
CRM = South America (Moviestar)
NBS = South America (Open Line)
SEE = South East Europe
PHE = Spain
XEC = Spain (Movistar)
AMO = Spain (Orange)
ATL = Spain (Vodafone)
SLK = Sri Lanka
VDS = Sweden
HTS = Sweden (Tre)
AUT = Switzerland
SWC = Switzerland (Swisscom)
BRI = Taiwan
THL = Thailand
TTT = Trinidad and Tobago
EON = Trinidad and Tobago
TUN = Tunisia
SEK = Ukraine (Kyivstar)
XSG = United Arab Emirates
LYS = United Arab Emirates
VIR = United Kingdom
BTU = United Kingdom
EVR = United Kingdom (EE)
H3G = United Kingdom (H3G)
O2U = United Kingdom (O2)
VOD = United Kingdom (Vodafone)
XEU = United Kingdom / Ireland
TPD = Unknown
ANP = Unknown
COD = Unknown
MNX = Unknown
UFU = Uruguay
UPO = Uruguay
CTU = Uruguay (Claro)
CAC = Uzbekistan
XXV = Vietnam
MTZ = Zambia (MTN Zambia)
Once done, restart your galaxy watch and You will now get a confirmation, tap OK. That's it, the CSC has now been changed
Method 3: By Firmware Flash
One last method is by flashing the stock firmware on your Samsung watch. Once you do this, you will be able to re-set up the CSC code. In this process, you have to flash older firmware using NetOdin, change the CSC using csc-manager and update the firmware back in your Galaxy watch to the latest after you changed the CSC.
Should I Change CSC in Samsung Galaxy Watch 6/6 Classic?
We all know that the CSC is used for verifying the country and providing the features that are available in that country. So, through the use of CSC, the brands block or give access to some of the features. Therefore, if you know that Samsung Pay which is a feature of the Samsung Galaxy Watch 6 might not be available in your country due to some reasons.
But, you can easily use this by making changes with the CSC of your Watch 6/6 Classic. So, we will be mentioning the steps through which you will be able to change the CSC of your Samsung Galaxy Watch 6 and will be able to use Samsung Pay and other premium features that are currently available only in selected regions such as USA.
Conclusion
Generally, most users keep going smoothly after setting up their watch for the first time. However, a lot of times we may have requirements for features that are not available in our country. Hopefully, if you come across such a requirement anytime in your life, then this is how you can access it by changing your CSC in the Samsung Galaxy Watch 6 Classic. And finally, if this article helped you find the answer you were looking for, let us know about your feedback. We would love to hear from you.