Changing the default web browser is a very convenient way when it comes to Android. Finally, the option to change the default browser on iPhone and iPad has arrived at iOS 14 and iPadOS 14 officially. It's worth mentioning that the default web browser app is always set to the Safari browser on all Apple devices and there was no option to change it manually in earlier versions.
Now, you can easily switch the web browser to Chrome, Firefox, or any other third-party web browser from Apple's default Safari browser. No doubt, Safari is one of the most popular and web-optimized web browsers in the market. Some of the privacy-concerned smartphones or desktop users even use the Safari browser on non-Apple devices as well. However, Google Chrome is the most loved web browsers across the globe and across the platforms.
So, if in case, you want to change the default browser to Google Chrome or any other installed web browser app like Firefox or Duck Duck Go browser on your iPhone or iPad then you're on the right page. It seems that changing the default browser on iOS 14 or iPadOS 14 is just a couple of taps away.
How to Change Default Browser on iPhone and iPad
Note:
Not all web browser apps on the iPhone or iPad supports Default Browser App option. Currently, Safari, Chrome, Firefox, Duck Duck Go browsers only support this option on iOS 14 or iPadOS 14.
Head over to the Settings app on your iPhone or iPad.
Scroll down and tap on the specific installed web browser app that you want to set as default. (It depends on you)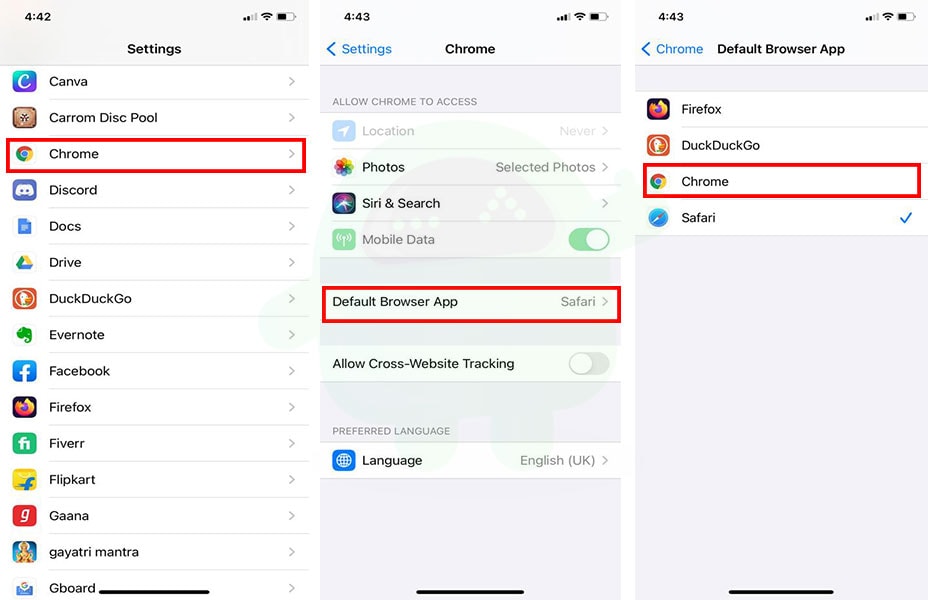 Once you tap on Firefox or Google Chrome or Duck Duck Go, you can see the Default Browser App option.
From the list of installed browsers, you just need to simply tap any of your preferred browser apps to make it default.
You're done.
However, if in case, you want to go back to the Safari browser to make it default, then follow the same steps as mentioned above and select Safari.
That's it, guys. We assume this simple guide was really helpful to you. Feel free to ask in the comment section below for further queries.