If you use Gmail to signup on various websites, then Google provides a mechanism to check for unsafe passwords. In this guide, I will explain to you how to use this and check or change a password that is vulnerable to hacking. Most people who create their accounts on various websites never use a strong password. This makes their profile exposed to hackers.
Every day we come across news of hackers breaking into social networking platforms. When a password is weak, a hacker can easily guess it. There are even tools that can literally find out the vulnerable unsafe password for them. So, the trick is to create such a password that is hard to crack. First, let's check whether the accounts that you have on various sites use a strong password.
Change Unsafe Passwords in Your Google Account
Here is the step-by-step method you should follow to check for unsafe passwords.
Go to passwords.google.com
Click on Go to Password Checkup


On the next screen once again click on Go to Password Checkup
To verify that it's you who is trying to access this service, you have to enter your Gmail password


Then you will see the result regarding whether your passwords have been compromised, if they are unique and if there is any unsafe password

As you can see from the screenshot above, I have one account in a certain app/website whose password is weak.
Now, simply click on Change Password.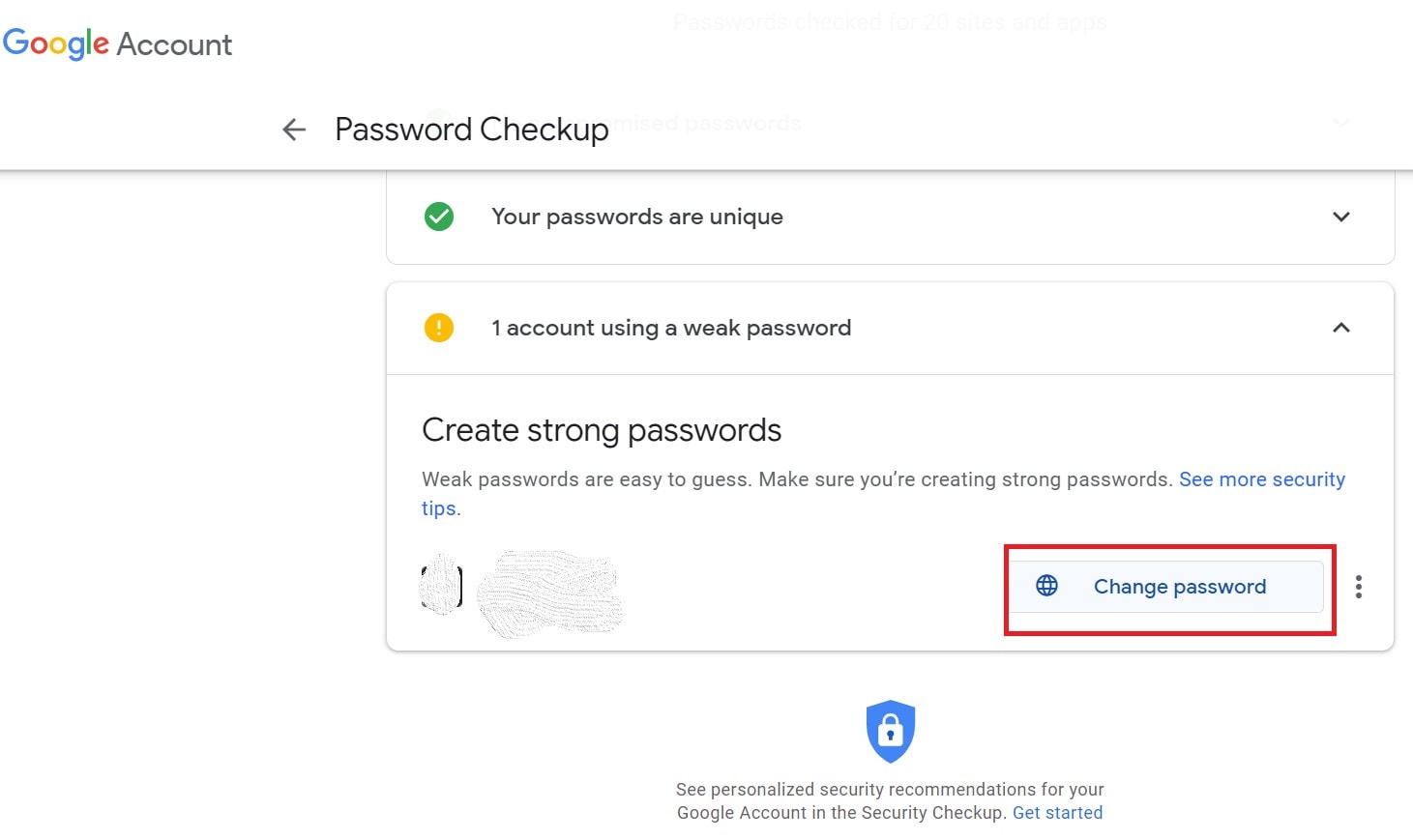 You will be redirected to the same website where you have an account with an unsafe password. There you can access your profile and change the password from weak to strong. You may also use the Forgot password option to change the weak passwords to a fresh yet strong password.
Some Pointers While Creating A Strong Password
Remember the points I have mentioned below.
Do not use a name or nickname in the password
Always use a mixture of capital letters, small letters, numeric and special character
Never repeat the same password for multiple websites. If a hacker gets access to one account on any one website, he will easily access all the other accounts you have on other websites.
While signing up to any website using Chrome browser, it will definitely suggest a strong and unique password that you can set and the browser will remember that as well.
So, that's all about how to change unsafe passwords that you have set on various websites using your Google account. Follow the steps above and check for vulnerable passwords. Then change those unsafe passwords and convert them into strong ones.
Want More Guides,