Samsung introduced the Galaxy Watch 3 in the Unpacked event in August. With the launch of this new-gen smartwatch, the company also included the ECG measurement right from their wrist. Notably, Samsung recently got the FDA clearance to bring this feature for Galaxy smartwatches. Moreover, this was previously limited only to the home country of South Korea. However, after the FDA approval, Samsung brought this ECG (electrocardiogram monitoring app) for Galaxy Watch 3 and Watch Active 2 as well.
Also Read: Fix: Spotify on Samsung Galaxy Watch not Working
The new ECG measurement feature is now arriving on the Galaxy Watch 3 and Watch Active 2 via a software update. So, if you own any of the watches, then you are in luck because you can take ECG tests right from your wrist. The new ECG measuring feature is live on the Samsung Health app. If you have not yet received the update, then it is about time that you check Google Play Store for the update of the Health app. In this post, we will give you a stepwise guide on how you can check ECG using your Galaxy Watch. So, without any further ado, let us jump right into it: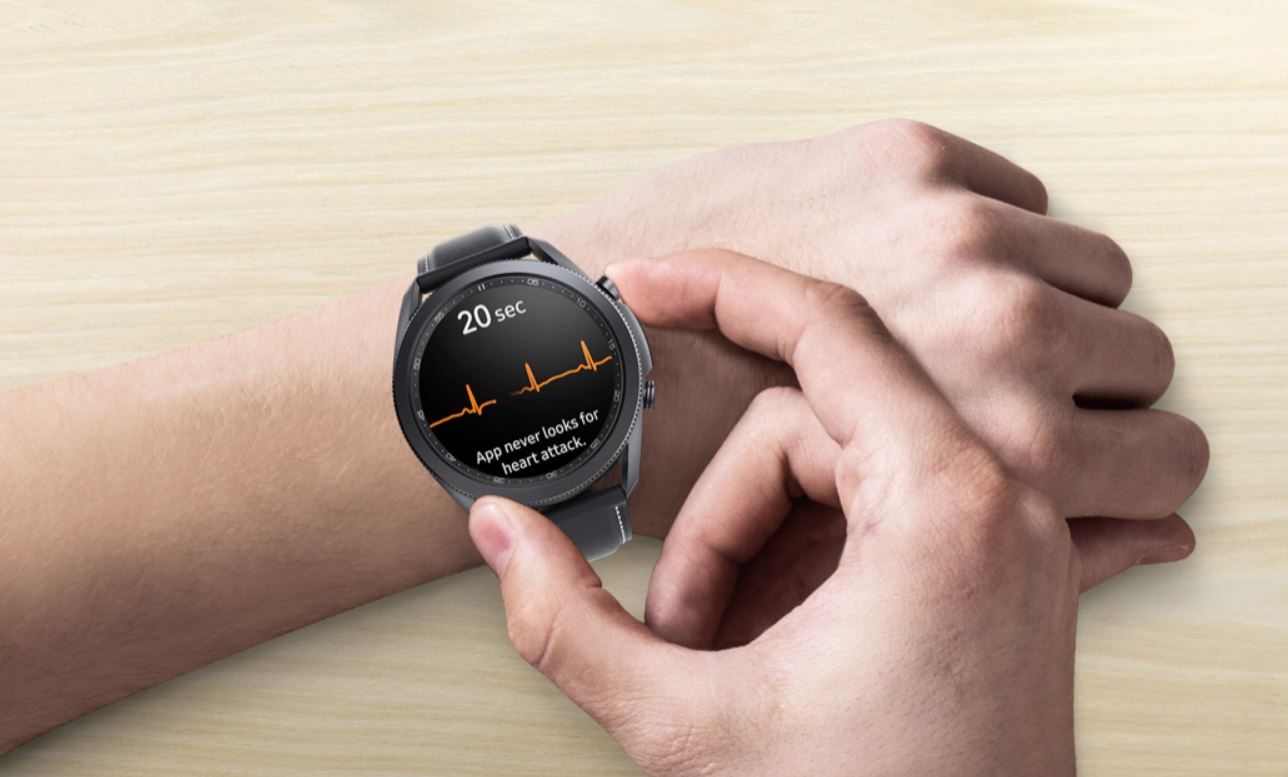 What is ECG?
Now, it is very important to understand what scenario ECG is useful or basically, what ECG means. ECG stands for electrocardiograms. It measures your heart rate over a period of time and checks for any irregularities. This new feature is now live for all the Samsung Galaxy Watch 3 or Active 2 users on the Health app. This FDA approved feature is one of the best inclusions for any smartwatch owner. Besides, you do not need any additional equipment in order to get your ECG done.
Notably, if there are any irregularities in your heart rate, then this is not a good sign. Moreover, it indicates that there is some serious pending health issue. ECG support on the Galaxy Watches will help you identify the symptoms and get yourself checked or diagnosed. Besides, the new ECG support also makes it more convenient for the users to get their ECG done right from the comfort of their homes. Which is better in the current pandemic scenario as well.
The Galaxy Watch ECG feature is also capable of detecting the Atrial Fibrillation or AFib notifications. For the unaware, AFib happens to most of the people with abnormal heart rates. It can increase the risk of complications and can lead to severe outcomes like heart blockage, heart failure, blood clots, etc. So, it is better advised that everyone should get their hearts checked or ECG done over a regular period of time.
How to Check ECG on Your Samsung Galaxy Watch?
Well, before we begin, you need to make sure that you have installed the latest version of the Galaxy Health app. And not only the latest version of the app, but also check if there is the ECG feature available on your Health app or not. The update is rolling out in batches, meaning that it will take some time before it arrives for every user. Moreover, you need to have the supported devices, i.e. the Samsung Galaxy Watch 3 and Active 2 in order to get your ECG done. If you have not yet received the update then you can change your region to the US.
Once you have done that, follow the steps below in order to know how you can monitor or get ECG done via your Samsung Galaxy Watch 3 or Watch Active 2:
The first step in order to get your ECG done is to pair the devices. You need to pair up your Samsung Galaxy Watch with the latest version of the Health app. This will store all your ECG results on your Android smartphone. You will be then able to track your heart rhythm over a period of time and show it to the doctors for diagnosis.
– To pair up your Galaxy Watch with your Galaxy smartphone, turn on the Bluetooth on your Watch and phone.
– Launch the Galaxy Wearable app on your phone and connect your Watch.
– Pair your Galaxy Watch following the on-screen instructions.

The Samsung Health app will automatically detect the connected Galaxy Watch. The app will then ask you for permissions like "'Use this watch to measure your blood pressure and ECG." You have to allow this permission as it will use it for ECG.

You will be then asked to create a profile and enter all your health details like name, date of birth, etc.

On the Health Monitor app, and tap on the ECG button.
And then hit the Get Started button.

You will be shown a proper guide on how this new ECG feature works. Follow the instructions in order to get accurate results out of this feature.

Now you have to select the wrist on which you are wearing the Galaxy Watch.

Once that is done, you are all set to perform your ECG test via your Galaxy Watch. Tap on Done to finish the process.
You can follow the on-screen guide to take a proper and accurate ECG test.

On your Galaxy Watch, open the Health app which should be available on the app drawer.
Scroll down on the list of functions and select ECG.
Tap on OK.
You will be then asked to place your finger on top of the right button on your watch to begin ECG reading.

A timer of 30 seconds will countdown as shown in the image below:

Once the reading is complete, you will be shown the ECG results. You can view the entire result on your Galaxy smartphone as well via the Health app.

That's it!
For your convenience we are also including the official tutorial video on how you can take ECG reading via your Samsung Galaxy Watch, below:
Supported Devices
Here is the list of Samsung smartwatches that are currently compatible with this new ECG measurement feature. However, note that you need to update the Samsung Health Monitor or Health app in order to use this new feature:
Samsung Galaxy Watch 3 45mm (R840XXU1BTHA/R840OXA1BTHA)
Samsung Galaxy Watch 3 41mm (R850XXU1BTHA/R850OXA1BTHA)
Samsung Galaxy Watch Active 2 (R820XXU1CTH8)
Samsung Galaxy Watch Active 2 (Verizon) (R825USQU1BTH9)
Wrap Up!
So, that's it from my side in this detailed post on how you can take ECG readings on your Galaxy Watch using the latest features introduced by Samsung on its Health app. Besides, make sure that you have the updated version of the app because this new feature is currently available on the latest version of the application.
For more such awesome coverage, you can head over to our check out our Windows Guides, Gaming Guides, Social Media Guides, iPhone, and Android Guides to read more. Make sure to subscribe to our YouTube Channel for awesome videos related to Android, iOS, and Gaming. Until the next post…Cheers!