The Android smartphones are at its peak of popularity now. There came a lot of operating systems for mobile after Android, but none were able to get the success Android got among users around the globe. The success of Android is nothing but the regular updates they release for their devices. Every new Android version comes with better features which provide users better experience. Over the years Android was able to increase the user experience to a better level. The seamless update feature became part of the Android from the Android 7.0 Nougat. But for some reason, many Android devices don't have this support added. But there are few devices which come with seamless update support. Here s a guide to check Seamless Update support on Android devices.
The Seamless update feature is developed by Google to help users update firmware easily. Devices with this feature added will have two partitions instead of the single partition available with other devices. One of the two partitions will be kept inactive. So when an update arrives it will be downloaded and installed on the inactive partition. After the installation, the device is booted into the other partition giving the user the new updated experience. In this way, users can still keep on using the device and the updating will happen in the background. This feature will also help users to avoid problems caused by errors during the update.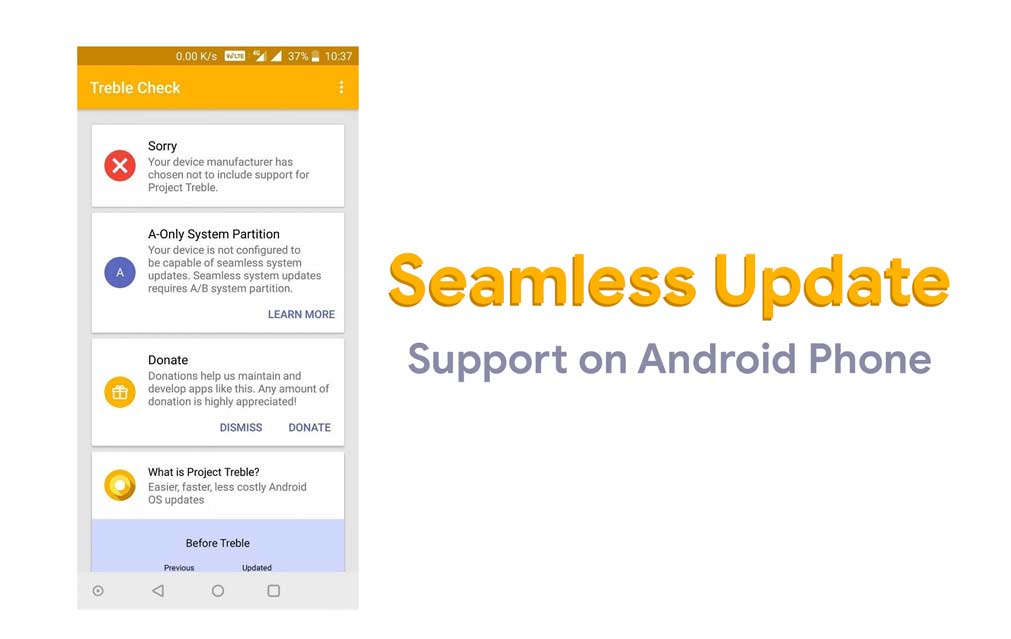 Guide to check Seamless Update support on Android devices
Seamless update support is not available on all Android devices available today. A few devices including Google Pixel devices, Xiaomi Mi A1, Moto Z2 Play etc have the seamless update support. In this guide, we will walk you through the steps to check if your device supports seamless update feature. You will need ADB shell to follow the checking.
First of all, Download and Extract or install ADB Fastboot tools on your PC.
Now download and install the Android USB drivers on your PC
You can now connect your phone to PC using USB Cable.
Once you are connected, Open the ADB Fastboot folder (In my PC, its located in C: Drive)
In the folder, Press and Hold Shift Key and click Right Mouse button anywhere on the screen
You can now open the command window (Powershell)
Enter the commands "getprop ro.boot.slot_suffix " or "getprop ro.build.ab_update " and if no output appears you can confirm that the device doesn't support seamless update. If the device supports this feature a string will appear as output.
I hope this guide was useful to find if your phone is supported to receive Seamless Update.