After the success of Honor 6X, Huawei launched the latest smartphone called Honor 7X with FullView display. This is the second smartphone to sports FullView display from Huawei Honor Series. If you are planning to buy this beautiful budget smartphone by Huawei, then you should know that smartphone may cause some issue which can be easily resolved. Here are the Common Huawei Honor 7X Problems and How to Fix it.
Talking about the specs, Huawei Honor 7X features a 5.93-inches display with a screen resolution of 2160 x 1080 FHD+. It has an aspect ratio of 18: 9. On top of it has a 2.5D curved display and a unibody metal design. It is powered by Kirin 659 processor clubbed by 4GB RAM. It has 3 variant of Internal storage to select: 32GB, 64GB, and 128GB. You can even expand the expandable memory up to 256GB. Honor 7X Sports a 16MP + 20MP dual camera at the rear and 8MP camera at the front for selfie shoot. It has a 3,340mAh non-removable battery.
Whether you've seen the Honor phones released internationally or are just getting interested in the Honor 7X on its own, there's a good amount of information to take in about this budget-friendly device.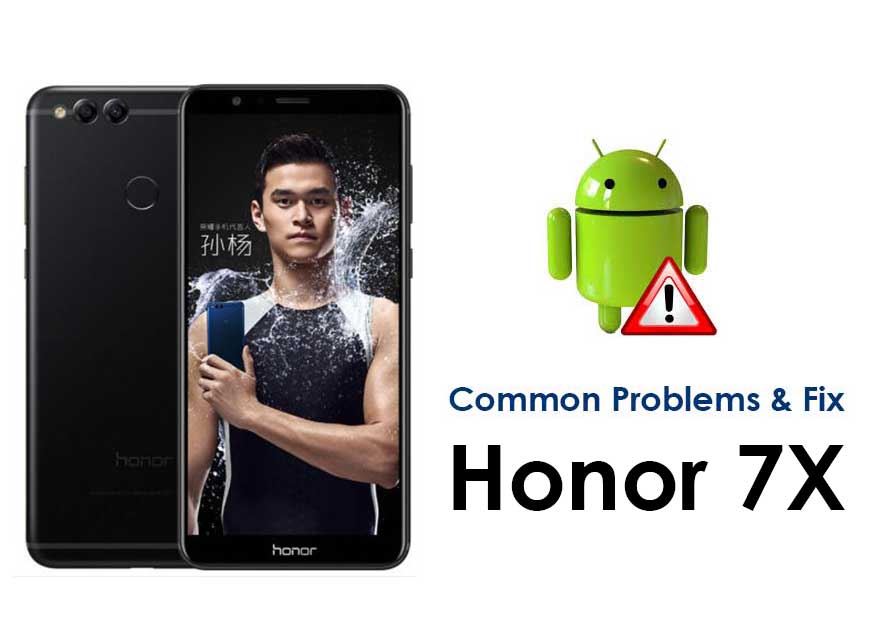 This is an amazing smartphone which has all the features which you expect from an expensive and high-end Device. There are so many features which could impress you. E.g. you can enjoy:
Watching Movies & Videos
Playing games
Internet Surfing
A Fingerprint Scanner on the back and more.
Also, this phone has some great features like:
Great Performance
Low budget
A lot of Incredible Features
But unfortunately, this smartphone has some problem detected. A lot of people have a complaint regarding some issues about this smartphone. However, these issues were only because of some small software glitch faced by the users. Also, these issues can be solved. So no worries if you have this device and this article is about how to fix Honor 7X.
Steps to How to Fix the Common Huawei Honor 7X Problems
Here in this article, I would like to share all those Honor 7X problems and also their fixes to make your journey with this smartphone easier. I have listed some common Honor 7X problems faced by the users along with their fixes. So continue to read my article and get Huawei Honor 7X Solutions.
Problem 1: Bad Quality of Front Camera
Users are not satisfied with the performance and low light solutions of its front camera. To get the best pictures, find the below steps, although we cannot counter the hardware constraints.
Solution:
While taking a picture, make sure you have an adequate amount of light in the area. That's mean you should position yourself in some light to have a good picture.
Negligible light goes through to the sensor, due to the small aperture of a smartphone camera. Therefore, we get grainy pictures because of lowlight photography.
Problem 2: Earpiece Sounds Robotic
The speakers of earpieces/hands-frees sound robotics and on the time of a phone call, it sounds metallic too, some users have complained.
Solution:
Go for another good quality earpieces for doing a phone call.
Try to do another way. During a phone call press the volume up button to make the sound louder.
This will help to make the other person more audible and will not remove the robotic tone of hands-free.
Problem 3: Bluetooth connectivity issue
If Bluetooth is not working on your Huawei Honor 7X, you can try the following instructions.
Solution:
Turn off the device and turn it on again: This often solves the problem, the same applies to the two devices, the Bluetooth device, and your Smartphone or Tablet, for the latter, to enter the configuration and disable the Bluetooth or put it into mode Airplane is enough, remember to turn it on again.
Remove the device from the list and add it again: Also a very useful tool, if the connection is made and you have communication problems, it cuts the audio, it cuts the connection, this can help to solve it, and it enters the configuration of your Huawei Honor 7X, searches the connected devices and removes the one causing the problem. Sometimes connecting the Huawei Honor 7X with several devices one after one could be the reason for this issue. After this, repeat the pairing process.
Always make sure that the Bluetooth connection is discoverable on your device, as well as on the other with which you are connecting your device.
Last option is factory reset if above don't work for your device.
Problem 4: Too much bloatware
Huawei has managed to control their desires to completely fill up the smartphone with their own apps and software. However, there is still around 800 MB of bloatware on the smartphone. Here is what you can do to solve that.
Solutions:
Thankfully, Huawei is aware that not many people are going to appreciate the apps they have installed on their smartphone, so they have kept the bloatware to a minimum. So, once recheck all the apps from your 'installed apps' section and uninstall the useless apps from the device which helps in saving the storage space and improving the performance as well. By long pressing on the app, you will get an option to uninstall the app and just follow the on-screen instructions to do so.
Clear App Cache and Wipe Cache partition: Cache is the most important thing which shouldn't be ignored as it causes the performance issue in the device. Every time you open or use a specific app, the cache gets stored in the background, and all you need to do is clear it in time. So, open each app from the installed apps in settings and tap on 'Clear Cache' option to remove the cache.
If you are unable to install some system apps, you will either need to root your smartphone or simply endure them. There's not much we can do on an unrooted smartphone.
Problem 5: SD Card Remains Undetected
One of the Huawei Honor 7X problems noticed is that after inserting the SD Card to it, sometimes it's not even detected, claimed by users. If you have already inserted an SD card into the slot and it is still not being detected, you can try out the following Huawei Honor 7X Solutions.
Solution:
Firstly, Insert the SD card again after restarting the device.
Try to insert your SD card into another smartphone or use a card reader to insert it into your PC and Make sure Your SD card is working properly.
Try to format the SD card on the computer first and then insert it in Huawei Honor 7X.
If this doesn't work, try using another microSD card.
If the problem still arises, take your smartphone to the service center as there might be something wrong with the microSD card slot.
Problem 6: Unable to eject the SIM tray
Some users have reported that they were not able to eject the SIM tray out of their smartphone. There can be several reasons for that to happen.
If you are not able to eject the SIM tray, you can follow the steps below.
Solution:
Make sure you using the SIM tray tool provided with the Huawei Honor 7X. It is in the same box the smartphone shipped in depending on the region, it may be in a cardboard envelope.
If you don't have the SIM tray eject tool, you can even use a paperclip to eject the tray from the smartphone housing.
Do not try to pry the tray out; otherwise, you'll damage it permanently. The only way to take it out is by putting the tool into the small slot located beside it.
If the tray is still not coming out, you'll need to take your smartphone to a certified Huawei technician.
Problem 7: Unresponsive Touchscreen
Many users have reported about the inaccuracy in the touchscreen.
Anyways, this issue can be handled easily. Read here and find the Huawei Honor 7X solutions possible. To fix Honor 7X problems linked with the touch screen, follow the instructions below:
Solutions:
Try to restart your Huawei Honor 7X and check if the problem is solved.
Make sure you are not wearing mittens or gloves and in case you are wearing them, don't forget to enable the glove mode.
Go to Settings < Smart Assistance < Glove Mode.
Make sure your hands are clean and not wet.
Make sure the screen is totally clean and there are no oil or dust particles.
There could be a software problem in some cases and the touch screen is unable to perform its tasks.
Try to reset your factory option, if nothing works.
Problem 8: Overheating and battery drain issue
Overheating and battery drain problem is the most common issue found in Huawei Honor 7X smartphones. We all already know that most of the users these days use smartphones either for playing high-performance video games or streaming online videos of high resolution. Such use of smartphones leads to overheating and battery drain issue in these devices.
Lets us discuss how to fix such problems in Huawei Honor 7X Smartphones.
Solution:
Do not use the smartphone while it is put on charge.
If you are streaming high-resolution videos on a channel like youtube, you can lower the resolution which could resolve the problem of overheating.
Huawei Honor Smartphones comes with an installed app of Huawei which user can uninstall if it is not being used by them.
You can go to settings> battery and battery setting usage to see which app is using how much battery and uninstall that particular app.
You can put a limit to the number of games you have installed or play on Huawei Honor 7X.
After uninstalling unnecessary apps from Huawei Honor 7X user can perform a Factory reset.
Problem 9: Slow performance
Huawei Honor 7X smartphone comes with Qualcomm Snapdragon 616 processor which gives an average performance to these devices. Some users still face slow performance issues in these devices.
Let's us discuss how to resolve these issues in Huawei Honor 7X Smartphones.
Solution:
You can restart your Huawei Honor 7X.
Do regular updates of your smartphone as new updates come with some bug fixes over the older version. You can go to Setting > about phone and software to update your smartphone.
Huawei Honor 7X comes with developer option. In the developer option, you can lower the animation setting which will resolve the performance issues. Also, go to setting > About Phone and tap build number to 7 times to enable developer option. After scrolling down you will get animation setting to reduce the animation.
Also to increase the performance you can turn on the power saving mode and select the normal mode. This will help in increasing the performance.
Uninstall the unnecessary apps from your device.
After uninstalling unnecessary apps from Huawei Honor 7X user can perform a
Factory reset.
Problem 10: Wi-Fi issue
Lots of users have issues related to Wi-Fi in Huawei Honor 7X. The device is not connected to Wi-Fi, access is denied to a particular network, poor and slow wifi connection.
Lets us discuss how to resolve Wi-Fi problems in Huawei Honor 7X.
Solution:
You can restart the router and modem connected with your Huawei Honor 7X. Also, restart your Huawei Honor 7X device.
You can remove the power source connected to your Huawei Honor 7X device and wait few minutes and again connect the power source with the device.
Regular updates are available for Huawei Honor 7X device.you can go to settings > about phone and software to update your smartphone.
Go to Settings>Wi-Fi> configure to get the mac address of your device connected to Wi-Fi network so as to ensure your whether your address is supported by the router or not.
You can also check whether power saving mode is enabled in Huawei Honor 7X which automatically turns off the Wi-Fi Network to save some percentage of battery power.
At the end, you can do a factory reset if any above issues are not resolved.
Check Related Post
Conclusion
So, there you have it. Above listed points was the most common Huawei Honor 7X problems reported by the users. With those problems, I also provide Huawei Honor 7X Solutions also. Hopefully, more won't be surfacing anytime soon.
Now you know how to fix Honor 7X issues, one normally would find in a Huawei phone.
I hope that your Honor 7X will serve you very well. If you are facing any of the listed Honor 7X problems, just follow the instructions mentioned here and get rid of it immediately.
If you have any kind of questions regarding the smartphone feel free to ask us in the comments below.