Technology in the present time is superior to ever before. When it comes to smartphones, we have so many examples around us. Thanks to some of the best manufacturers who have contributed a lot in bringing the devices which are friendly with users in every aspect. Well, you might have no idea but some smartphone providers are simply the best and they have always offered quality at the lowest possible price. I am talking about Huawei smartphones. They are widely demanded in the present time. The strong emphasis given by them on features and design has made them counted in the well-known smartphone providers across the globe. One of their recent devices is the Huawei P smart. In this post, I will boost your knowledge about the common Huawei P Smart problems and fixes to enable you to have the best experience with your gadget all the time.
The Huawei P smart is a device that was announced in December 2017 and it has been made available to buyers recently. One of the best things about this gadget is it runs on Android Oreo 8.0. Despite having the latest Android version, it has been reported by a few users to have some minor issues in it. The fact is it's nothing to worry about because these bugs are pretty common in almost every Android gadget. Later or sooner, anyone can have them in the gadget, and rather than taking your device to the nearby authorized repair shop, you can troubleshoot them manually. There is nothing much you need to do than follow the information about the common Huawei P Smart problems and fixes mentioned in this post.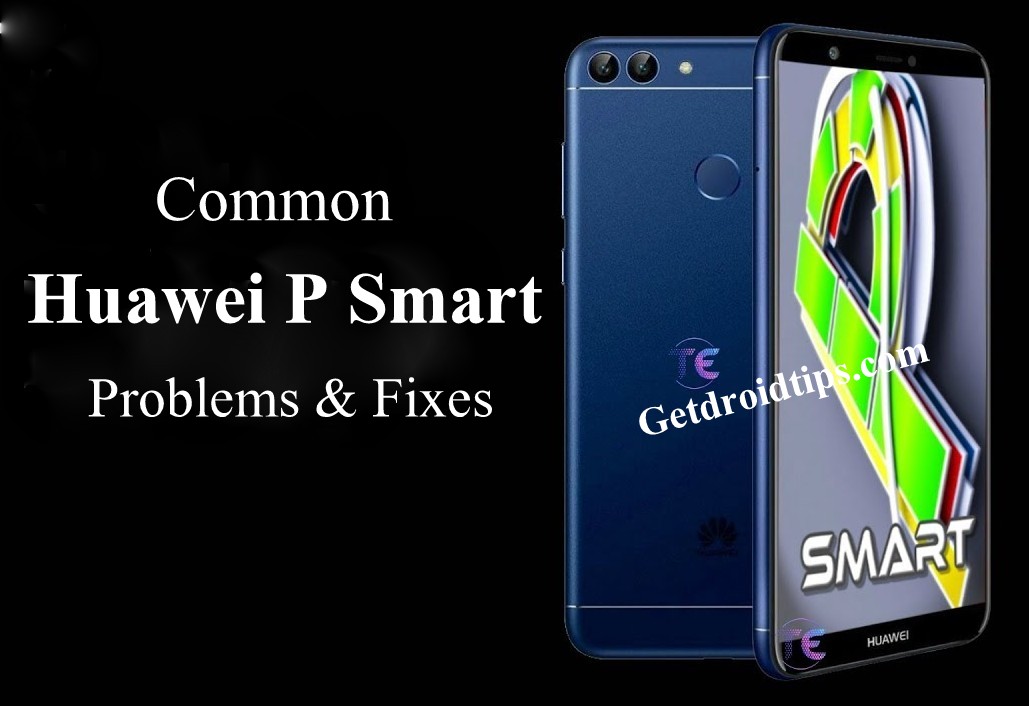 Let us first have a quick review of the hardware and other specifications of this amazing gadget. It has been loaded with a 5.6-inch full HD screen. You can have 2160 x 1080 screen resolution from the same simply. When it comes to processor, it has been equipped with a powerful octa-core processor. The phone has been launched in two variants having RAM and ROM combination of 3GB 32GB & 4GB 64GB. The 13MP primary camera and 8MP secondary cameras have been provided to capture quality snaps and videos.
This device allows you to extend the storage space by upto 256GB through a MicroSD card. The 3000mAh battery lets you use this device for most of the time during a full day once you charged it. Although these specifications are good, the device has been reported by a very few users to have some of the common issues in it. I have provided the best available information on common Huawei P Smart problems and fixes in this post to let you avoid most of the concerns you are having with it. Check it out below.
Common Huawei P Smart problems and fixes
Everything about the common Huawei P Smart problems and fixes mentioned in this post finds its source from the trusted and well-known platforms. Therefore you can simply make sure of having the outcomes in the way you want. However, you cannot held getdroidtips.com responsible for anything that goes wrong with your gadget due to your own negligence while following this guide.
Connectivity issues
The Wi-Fi connectivity and the Bluetooth connectivity are among the essential features in any smartphone. In case there is an issue in them, the fact couldn't be denied that you cannot perform many of the tasks that highly matters. The strange fact is finding the connectivity issues are not always easy because they could be due to multiple reasons. Also, these kinds of issues are generally mistaken with other issues. The following information simply lets you avoid this problem in the easiest manner. Check it out.
Bluetooth connectivity issues (common Huawei P Smart problems and fixes)
Simply restart the device and see if the issue is gone
Try removing the device from the list and add it again
Make sure Bluetooth connection has been set on visible for all the devices
Uncheck the power saving mode
Clear cache if the problem is still there
You can now try restarting your phone to see if the problem is gone
Try deleting some old profiles if problem is still there
Last option is factory reset if above don't work on your device.
Wi-Fi connectivity issues (common Huawei P Smart problems and fixes)
Open device Settings first and click Connections and tap on Wi-Fi simply.
Wait until device finds the available connection and display them on the screen
Choose the appropriate connection and simply click to forget it
Search again and tap on the same connection to connect your device with it.
Last, make sure the router is working properly
Fingerprint scanner not working
The Fingerprint scanner is a feature that has become the all-time favorite for many users of Smartphones in the present time. This is because it simply let them enhance the device security and privacy upto a very good extent. However, in case you are unable to use it just because of some minor issues, you can try the following.
There should be no dust or grease on your fingers
Try deleting the existing fingerprint and add it again. You may need to have your security key for this which you set at the time of adding it.
Don't keep all your eggs in one basket. In order words always add more than one finger print. This is useful in emergency situations.
bring your device to nearby repair shop if problem is still there
No SD card detected
If your device is unable to detect a MicroSD card, you cannot directly blame the gadget. This is because the problem could be in the card also. Therefore, before reaching to any conclusion, it would be good for you to follow the below instructions and methods. You will probably find yourself in a position to avoid this issue simply.
Your card should be under 256GB GB. First make sure of this first as the device can only handle memory card within this limit
Check if there is any compatibility issue of phone with the card
Try remove your memory card from device and insert it again after restarting it
Format the SD card and insert it again in the device (Don't forget to take backup)
See if another card is working properly on your device.
Check if there is any physical damage on the SD card.
Bad camera quality (common Huawei P Smart problems and fixes)
The Huawei P Smart is one of those gadgets having a dual rear camera and a powerful selfie shooter. However, it is true that many factors can influence largely the quality of pictures. It is not always necessary that cameras are faulty. The problem in most of the cases is due to some of the basic reasons. You can simply avoid it through the guide mentioned below.
Always use the default camera snap in case you are using any other
The shooting mode should be relevant depending on the conditions such as light and visibility
You might be using the mobile phone cover. If so, make sure it doesn't cover the camera too
Remove the transparent cover from the screen
Set camera resolution to high-resolution pictures
Install all pending updates
Clean the camera lens gently against any dust
Check there is enough space for storing pictures on the device
Clear the cache of the camera app
Focus properly before capturing the image
Quick Battery draining & slow charging
For those who have quick battery drainage and slow charging a major problem in their Huawei P smart need not to worry actually. This is because these issues can simply be made go if you know the best available methods for them. It is necessary that you should follow the steps carefully and properly to find the exact cause of the issue and to avoid it.
Install all latest updates on your device.
Remove the memory card and see if the problem is gone
Always use a genuine charger
Turn off notifications for the apps which are not useful
Keep Bluetooth and Wi-Fi OFF when not in use
The battery should be inspected properly for physical damaged
The charging port should be clean
Always Impose a strict upper limit on the data and screen issue
The brightness level of the phone should be under a limit
Set the automatic timer to OFF display. This can also help saving the battery
Charge the device battery only after consuming it completely
Make sure charger is connected properly with the device
Update the apps if you haven't
Disable all third party apps. This can be done by taking device into the safe mode.
Make sure apps are not running in the background when not in use
The mobile SIM cards need to be cared. Although they remain inside the phone most of the time, it doesn't always mean they don't experience problems. Improper handling and many other factors can give rise to SIM related problems in any device. Try the below listed methods and instructions that are useful in this matter
Insert the SIM card properly in the device
Properly inspect the SIM tray for any physical damage
Make sure your SIM is in proper working condition
Replace your old SIM before you put it in a new device
There should be no compatibility related issues
Take your device to a repair shop if problem is still there
Overheating problems
Although most of the devices are free from the overheating problems, a few users are experiencing it with Huawei P smart. If you are one among them, there is nothing to panic. There are several ways to avoid this issue. However, it would be good for you to keep it in mind that heating upto some extent is tolerable and safe but if your device is heating too much, you need to contact the official support. Try the following methods first.
Remind when the problem exists. If you installed any apps after that, try removing it immediately
Don't go for multitasking
Don't use unauthorized charger
Impose a limit on brightness level. This is because screen emits more heat in many cases
The device RAM shouldn't be engaged in heavy tasks as it also releases a lot of heat
Don't connect any accessory with your device which is not genuine
Clear the cache and see if the issue is gone
Update all the apps you have installed in case you didn't
Your carry case might also be responsible for this. You need to make sure of this as well
Earpiece Sounds Robotic
This is the problem which is related with the sound quality of the device and probably no one wants to compromise with the same. Try the following instructions if you are facing this problem with your gadget.
Always use quality earphones if you are using any other than the one which comes with the device
Make a phone call and press the volume up button. This will make the sound louder
This way you can simply make sure of favorable fortune
Unresponsive Touchscreen (common Huawei P Smart problems and fixes)
One of the major factor about the touchscreen is OS related issues can highly influence the same. Many users think they are hardware issues and often went to get it repaired. However, simply updating/re-installing the OS can avoid this issue. Other methods that can help you to deal with most of the issues dealing with this problem are listed below.
Restart the device and see if the problem is gone
Make sure device is fully up to date
Touchscreen problem could be due to OS related problems also
Make sure the battery is charged when you try to turn it on
Remove gloves and mittens in case you are wearing them
There should be no oil and dust particles are there on the screen
Remove the screen protector and see if the issue is gone
Perform a factory reset if it is still there
Doesn't recognize Windows 10
The failure to recognize the PC connection by a smartphone seems to be a very daunting problem/situation. However it's not. You might have no idea but the fact is a lot of factors are there which directly or indirectly influence this. Before you take your device to an authorized repair shop, try the methods which are listed below.
Open Settings and scroll down to click About Phone.
Tap on it and then tap on Build Number several times till a pop-up is there
After getting a message "you are now a developer", you can check an option will be there in the settings. This option is "Developers option"
Simply go for USB debugging to enable it
Make sure all latest USB drivers are there on your device
Change the USB configuration to MTP after connection
Performance issues
Having the best hardware specifications in the phone doesn't simply mean that it cannot face performance issues. Probably performance goes down with time and smartphone users have top reasons to change their device. However, brand new devices are expected to have this issue. In case you are facing them with this Huawei device, you can avoid it simply with the following instructions and methods.
See if the device storage is fully filled or not. If it is, delete some data
Make sure there is no virus on your device
Update all the apps
Avoid using your phone when you put it on charging
It is suggested to remove all the third-party apps you have installed on your phone
This is everything that you should know about the common Huawei P Smart problems and fixes. Probably you can avoid all the problems with the methods listed above. Else, you need to contact the official support. To know more about the common Huawei P Smart problems and fixes, feel free to comment on the below section.