There would hardly be any smartphone lover in the present time who is not familiar with Redmi. This Chinese manufacturer has attained success in a very short time period. All credit goes to a simple strategy. The same is to offer the best possible quality by keeping the price as low as possible. There is nothing wrong to say that Redmi is now the third most discussed brand after Apple and Samsung. A very large number of users have appreciated the products provided by Redmi. The biggest factor that has attracted the attention of users is the top class features which they offer in the lowest possible price. One of the recent smartphones provided by this Chinese manufacturer in the International smartphone market is Redmi 5. In this post, I will introduce you to the common Redmi 5 problems and fixes.
This phone has been equipped with several features. Although it works on latest MIUI 9, still the problems are common. It has been loaded with the 1.8 GHz processor. There are two variants of this device and they are 2GB/16 GB and 3GB/ 32GB. However, Redmi 5plus give buyers options to choose from 3GB and 4GB RAM. The Redmi 5 comes with 3300mAH battery while the Redmi 5 plus has 4000mAh battery fixed in it. As far as the matter of performance is concerned, this is probably an amazing device that can be trusted in the long run. However, understanding everything about the Common Redmi 5 Problems and Fixes would still be a good option.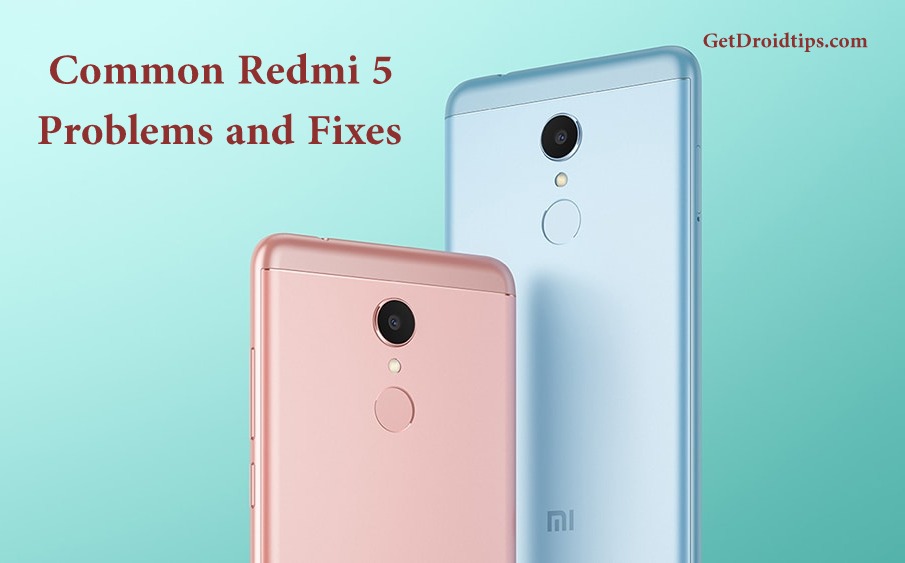 There are certain new things that have been seen in this device as compare to other models of Redmi. The biggest factor is the use of 18:9 display which has attracted the attention of so many users towards it. There are various improvements in the camera quality and the processing speed by the manufacturer. Although it has been launched recently, there are a few users who have reported some minor glitches in it. Most of the issues are related to OS and can easily be fixed. Thus, if you are a user of this amazing device and want to fix them, the common Redmi 5 problems and fixes are discussed below.
Common Redmi 5 Problems and Fixes
Most of the problems are due to minor glitches in the OS as already mentioned. Thus you need not to worry about anything.
Connectivity issues
Connectivity issues generally include Wi-Fi and Bluetooth problems. Actually. both are essential features of any device. If they don't work, there is nothing wrong to say that a device is totally useless. Therefore it is always better to fix these problems whenever you find they declare their presence. Before you start proceeding with anything, make sure the Wi-Fi router you have is turned ON. Check the same for your device also. If you successfully connect your device to Wi-Fi and frequent disconnection is the problem you are facing, this solution can still be trusted for this. Restart your device and the router and see if the problem related to Wi-Fi and Bluetooth is gone. If not, check out the below guide.
Wi-Fi issues
First of all, go to Settings, click Connections and then click Wi-Fi.
This makes Redmi Note 5 automatically scan for the available networks and will display them on the screen.
When the first scanning has ended, tap for a few seconds on the Wi-Fi you want to connect and forget it.
Then, tap on the same network you want to connect and you're done. When you select an open network, there is no need to enter the password.
Bluetooth Problems
Make sure no power saving mode should be enabled.
Turn the Bluetooth of your device ON and OFF.
If the problem is still there, Open Bluetooth Settings and clear the cache.
Restart your Redmi 5.
If there are multiple profiles, then maybe you have exceeded the limit of profiles you can save. Thus, you need to delete old and profiles no longer in use.
Poor camera quality
Most of the problems related to camera declare their presence when the device is used in low light conditions. Make sure appropriate light is available when you capture your best moments. There are various shooting modes in the options. Make sure you select the one that suits the current light conditions or the environment.
Windows 10 doesn't recognize the Redmi 5
Many users have reported that they are not in a position to connect their device with their laptop. Well, if you are one among them, probably it would be difficult for you to transfer the data in the PC. However, you need not to worry about anything. Check out the following solutions against this issue.
Open device Settings and scroll down to find About Phone
Keep tapping on Build Number several times till a pop-up appears
The pop up will say "You are now a developer."
You can check a new option will appear in the Settings and i.e. Developer Options.
Open it and then tap USB debugging to enable it.
You may have to reboot the phone once.
Plug in the phone and change USB configuration to MTP.
Performance issues
If you think your device is not performing in the way it needs to be, there is nothing to worry. The fact is there can be certain reasons for this. First of all make sure you don't have any third-party app installed on your device. If so, disable it simply. Make sure you have enough empty space in the device. Filling all the memory can sometime largely affect the performance. If the problem still exists, take your device on the safe mode.
Slow charging
Among the most common Redmi 5 Problems and Fixes, this is exactly what a lot of users have reported. Well, if slow charging is also an issue to your device, there is nothing much you need to do. Simply pay attention to the following one after one.
Make sure your charging adapter is on proper working condition. Try charging another device with it. If there is no time gap, probably the issue in it the adapter
Make sure your connecting cable is in proper working condition
Clean the connector on your device gently with a cloth. We recommend you to perform this task safely. We don't bear any responsibility if you cause any damage to the device due to any reason while trying this.
Check if the power socket is in proper working condition.
Make sure all the apps in the background are closed.
If the problem still exist, you need to perform a hard rest or need to get it checked at a n authorized repair shop
Apps not working properly
A few users have reported that the apps when connected to mobile data don't perform well or doesn't work at all. If this is a problem with your device to, try the following
Go to Settings-more networks-mobile network-access point names.
Tap on APN for your network.
Change the APN Protocol to IPv4 or IPv4/IPv6.
Well, if you are facing this issue, you need to first make it sure that the SIM you are using is in proper working conditions. If it is, begin with simply restarting your device and see if the problem is gone. If not, you need to make sure that the frequency of the network provider is compatible with your device. Check if your SIM is working fine on another device. Make sure your SIM is not physically damaged. If you are using your older SIM on the new device, it is suggested to you to get it replaced from the nearest customer care office.
Battery draining quickly
Try following if you are facing quick battery drainage issues
If your device battery is draining too quickly, the most common factor is installation of a third-party app. As already mentioned, you need to disable it by taking your phone into the safe mode.
Make sure all the apps are closed and not running in the background.
See if all the installed apps are up to date or not. If not, update them immediately
Make sure your device too have all latest updates installed on it.
Redmi 5 overheating
While using your device if you experience this problem, remember not all the problems can be due to the same reason. There could be certain reasons for this. Check out below instructions to fix this problem.
Make sure you clear the cache for all installed apps
Update your device to the latest version if you haven't
Charge your device with the recommended charger only (the one that comes with the device)
Make sure there is no extra burden on RAM due to any reason
So this is all about common Redmi 5 Problems and Fixes. I am sure it will be helpful for you to understand and solve the common Redmi 5 Problems and Fixes in an easy manner. If you are facing any other issue also, do let us know. If you are using Redmi 5 plus, you can proceed with this guide without worrying about anything.