After a mess with WhatsApp Privacy Policy, plenty of users have shifted to the Signal app to protect their personal data and get actual end-to-end encryption. It basically solves all the privacy-related issues that become a major question on Facebook-owned WhatsApp messenger for a while and becomes a popular chat messaging app now. Here we're going to share a couple of Common Signal Login Problems and Solutions.
Yes! It seems that even after getting an overwhelming response from the privacy-focused users (both new users and WhatsApp users), the non-profit foundation-based Signal app service is somewhere that lacks the race when it comes to a stable and worry-free user experience.
Obviously, it needs some time for developers for making this service more stable and smooth. But plenty of users are reporting that they can't log in to the account.
Common Signal Login Problems and Solutions
One of the most common issues that several Signal app users are facing is not receiving the verification code or call on their devices after providing the mobile number. This issue can happen on any platform such as Android, iOS, or Desktop. If you're also facing the same issue then make sure to follow the troubleshooting steps below: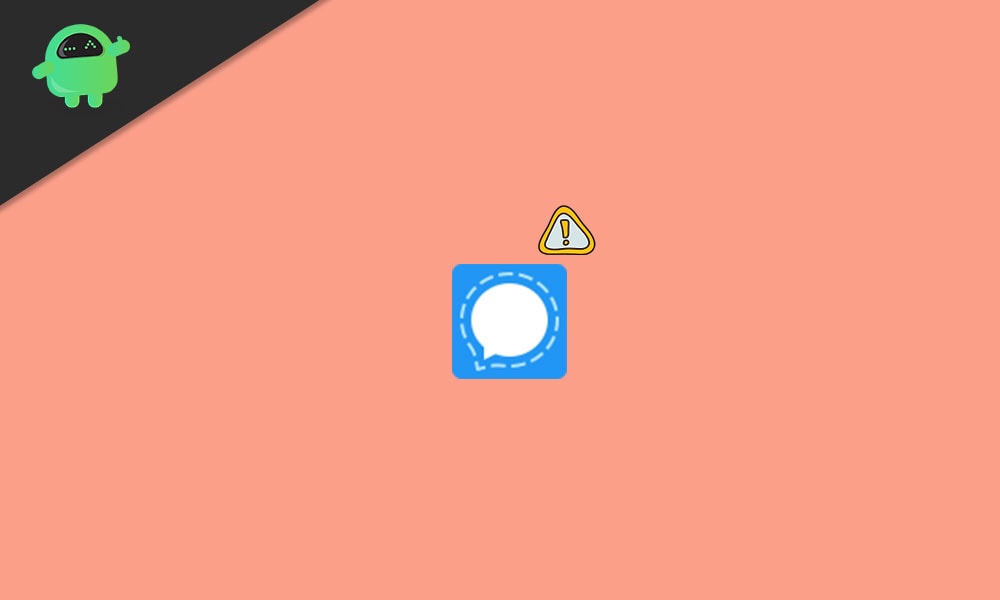 1. Not Receiving the Verification Code
First of all, make sure that you're properly connected to the internet before entering the mobile number and hitting the send verification code button.
It's also worth mentioning that if your device isn't within the mobile network range or coverage then it may receive delays or disconnections to receive SMS messages.
Even if you're not able to receive text messages for some unexpected reasons, make sure that you can receive a phone call to the specific mobile number.
Another big mistake most of the users do is that they sometimes enter an incorrect mobile number in a hurry and start reporting that they're experiencing Signal Login problems.
On some specific mobile devices as well as carriers, it can also possible that the incoming messages are blocked from unknown senders from the settings menu. Check for that too.
Don't do mistakes in entering the mobile number without putting the country code in the first section. But keep in mind not to enter the country code or any leading zeroes. For example, if you're using an Indian mobile number, it should start with +91 as a country code but separately.
Contact your carrier service provider and confirm if the DND (Do Not Disturb) service is activated in its full flow or not. Most of the carriers do not give you a number with an activated DND. This is something specific to the users and if a user opts for activating/deactivating DND, only then the service provider will do the job. Therefore, if you've opted for DND mode, make sure to deactivate it first, and then try signing in / up for Signal.
If you're using any of the carrier providers such as T-Mobile, Metro PCS, Google Fi (using T-Mobile), or other T-Mobile based services, then make sure to follow the steps below:

To receive the verification code by SMS: Call #611# and ask the representative to remove the "Shortcode Blacklist" for your account.
To receive the verification code by Call: Call #632# to turn off Scam Block.
For iOS Users: Go to iOS Settings > Tap on Phone > Try disabling the 'Silence Unknown Callers' option.
Google-Fi users can switch the underlying carrier. You can switch out the carrier using the dial-pad shortcuts below:

To see your current carrier info: ##fiinfo##
Switch to T-Mobile: ##fitmo##
Switch to Sprint: ##fispr##
Switch to US Cellular: ##fiusc##
Switch back to automatic: ##fiauto##
Specific for Android Devices
Check for the Signal app version update because if you're using an outdated one, then you may experience a couple of issues.
Enable all the Signal app permissions which are required to run the service properly on your Android device.

If in case, all the required permissions are already enabled, make sure to turn them off and on again then simply restart your phone to change effects immediately.

Try checking for the Google Play Services app update on your Android device from the Play Store. Although it remains silent in the background, it's quite important for your Android apps/games to run properly.
Disable the activated VPN app for a while if you're already using it. Sometimes it may occur multiple issues with the ongoing connections to the device and particular servers.

However, if you don't want to disable the VPN service then make sure to check if these particular options are allowed or not. If not, manually allow them *.whispersystems.org, *.signal.org, and TCP port 443.

If you've already tried too many attempts in a short period of time then just wait some time (such as 1 hour, 1 day, etc) and then try registering your mobile number again.
Make sure to check that you've enough free space on the (small) data partition of your phone and not the (large) SD card. This is also one of the common confusions among users to fill up the internal storage and keep external storage space free on older Android devices. Therefore, try to free up the memory by simply uninstalling apps that you no longer use.
If in case, your Android device has the free RAM or Storage space on the lower side then make sure to optimize the memory and storage from the device Settings. It may vary depending on the OEMs.

Additionally, ensure that the following steps are applicable while/before performing storage and memory optimization:

The Signal app is excluded from the list of automatically optimized apps when in the background.
Include Signal in the list of apps that are allowed to start automatically after boot.
Signal is enabled through specific steps on Huawei/Honor devices from Settings > Apps > Apps > Signal > Power Usage Details > App Launch > Set to Manage Manually > Enable Auto-Launch, Secondary Launch & Run in Background.
Signal and Google Play Services are enabled through specific steps on Xiaomi devices:
– Security > Permissions > Autostart > Allow
– Settings > All > Startup manager > Allow
If none of these methods worked for you to fix Signal Login Problems then make sure to contact Signal Support for additional help.
Specific for iOS Devices
Confirm that you're using the latest version of the Signal app on your iPhone. Just go to App Store and search for Signal. If there is an update available, you can see it and update it too.
Make sure to disable the VPN app or data monitoring app temporarily before retry to receiving the verification code.

Alternatively, you can also allow *.whispersystems.org, *.signal.org, and TCP port 443 in the VPN service so that it won't block the Signal service anyway.

Check your Messages app (iMessage) whether the 'Unknown Senders' inbox is having the registration code or not.

OR, simply disable this feature by going to iOS Settings > Messages > Filter Unknown Senders to check for the issue.

Enable all required permissions of the Signal app from the iPhone Settings menu > Signal. Here you'll find out a couple of options/access lists. Just enable the toggles according to your preference.
Well, have you tried registering process too many times in a while? Let's have some patience and wait some time (around 1 hour, 1 day, etc) before trying to register again.
These workarounds should help you to fix Signal Login Problems. However, if nothing works for you, try contacting Signal Support for further assistance.
Specific for Desktop
Signal Desktop application must link with either Signal Android or Signal iOS to start using it. So, there is no specific workaround available. However, you can try disabling the antivirus program on your Windows computer to check for the issue.
Meanwhile, try uninstalling and reinstalling the Signal desktop application from Windows Settings > Apps > Apps and features to cross-check if there is an issue with the app cache or not.
That's it, guys. We hope this guide was helpful to you. For additional queries, you can comment below.
Credit: Signal Support