The classic Modern Warfare trilogy in the popular FPS franchise Call of Duty is lovingly remembered. Critics and fans have praised it for its dynamic gameplay, realistic portrayal of combat, and memorable characters. And now, the 2019 reboot Call of Duty: Modern Warfare is winning hearts of gamers across the globe as well. Released on the Playstation 4, Xbox One, and Microsoft Windows, the game has received much acclaim for its sumptuous graphics and thrilling multiplayer feature. The Battle Royale title, Warzone, shares interesting cross-progression with Modern Warfare. Its launch has certainly helped to boost the sales of the latter as well.
As veteran players know, an important aspect of Call of Duty: Modern Warfare and Warzone is discovering a weapon compatible with your playing style. A unique weapon now available in here is the Confetti Killer – a powerful rifle with a characteristic confetti-flavored look. Apart from its intriguing appearance, this toy can help you blaze your way through some seriously sticky situations. Does that get the adrenaline pumping yet or not? Well, let's head on and find out how to obtain the Confetti Killer in Call of Duty: Modern Warfare and Warzone!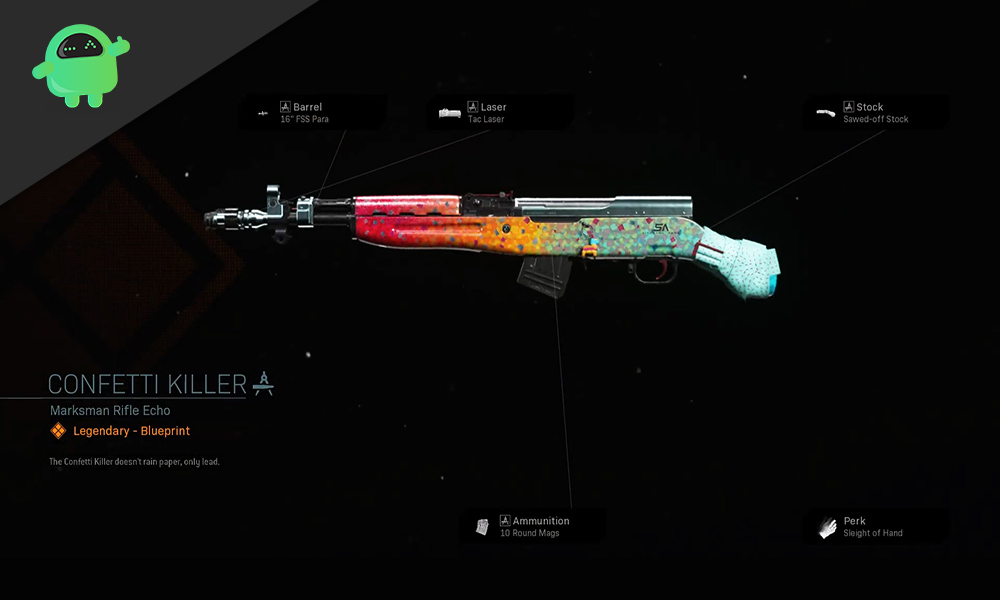 How to Unlock Confetti Killer Weapon in Call of Duty: Modern Warfare Warzone?
In CoD: Modern Warfare and Warzone, the Confetti Killer is an SKS marksman rifle that you can obtain as a part of the Surprise Weapon pack. All you need to do is head over to the store and purchase the Surprise Weapon Bundle from there. It will cost you 1200 CP. As an added bonus, you will also obtain the Beamish epic knife, Pollocks epic vehicle skin, the "It's A Celebration" piñata charm, and the Blossom Bomb spray. This Weapon pack was introduced along with the SKS itself during Season 3.
We should mention that the Confetti Killer does not provide any kind of different or bizarrely entertaining effects as its appearance might suggest. However, it is still one of the most well-rounded rifles in the game. You can advantageously use it with camouflage, thanks to its rather short muzzle, magazine, and stock. Of course, you can use it effectively, even in its original form. We recommend buying the Surprise Weapon Bundle for this fun and practical rifle. And of course, you will receive the cool bonuses listed above as well.
This guide was to help the players of Call of Duty: Modern Warfare, find and use the Confetti Killer rifle. After following our guide, they will surely get that.
GetDroidTips works seamlessly for you people day and night to offer the best iPhone Tips and Tricks, PC tips and tricks, Games and Android Tips and Tricks. So it does become your duty to subscribe to our YouTube Channel. Moreover, there, the benefit is yours. We are offering a $150 giveaway contest for all our subscribers who watches our videos there. Now signing off here, to prepare another best guide for you. You can also comment down below with your feedback and queries with your name and e-mail ID, and we will love to help. Happy shooting, soldiers!