The PS4's DualShock 4 Controller can first be used to pair to your Apple TV, and Apple has supported a wide range of game console on tvOS 13 if you love to play games on Apple Tv through Apple Arcade but wish to play a game using your wireless Controller rather quickly. Essentially you need to pair the PS4's DualShock 3 Controller to your Apple TV via Bluetooth. You can use your Playstation 4's DualShock 4 Controller to play games streamed from y our PS4 to Apple TV.
Likely, This is because apple last year introduced Apple Arcade, the Controller connectivity feature helpful for Apple Arcade service. The Consoler controllers with Bluetooth can be connectable because Apple Tv supports wireless connectivity. Whereas, It also depends on the operating system and other factors.
Wireless controllers supported on Apple Tv
Playstation DualShock 4 Wireless controller.
Xbox Wireless Controller with Bluetooth (Modem 1708).
MFi (iOS) Bluetooth controllers.
you can check the complete supported device here.
How to Pair Controller together with your Apple Tv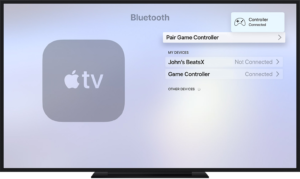 Starting with putting off and start pairing mode.
(DualShock 4: Press and Hold PS and Share button at the same time until the light bar begin to flash)
(Xbox Wireless Controller: turn on Controller, then press and hold the connected button for a couple of seconds)
On your Apple TV ( Apple TV 4K or Apple TV HD)
Open "setting" on Apple Tv and head over to "Remotes and Device," then choose Bluetooth.
Wait for an instant, and Apple Tv begin looking for nearby Bluetooth accessories
(Wait until Controller appear)
Now, Choose your Controller, and when it connects successfully, it notices you "Controller Connected briefly appears on your TV."
Note Apple Tv support a maximum of two Controller at once, So if it shows unsuccessfully, then unpair the previous Controller and tries again.
How to connect My Playstation DualShock 3 Wireless controller on Apple TV
Troubleshoot: If your Controller doesn't connect
If your Controller would not connect, then unpair it and so pair again. While DualShock 3 Wireless controlled pair but connection unsuccessful notified, Then press the center button of your Controller and wait a min to connect back to connect Playstation 4 Controller to Apple TV. There was some controller that doesn't support apple tv.
Hopefully, you Connected your Wireless controller to Apple Tv. Not to mention, Apple will continue to improve for a new immersive and seamless experience. Now, you'll be able to start playing games on your Apple Tv together with your Playstation 4's DualShock 4 Controller and Xbox Controller. Previously, People used to Buy MFI Controller to attach and play games on Apple TV.
There Were some Playstation DualShock 4 feature doesn't work like the Headphone jack, Motion-sensing, and Vibrating/Rumble. If your PlayStation DualShock 4 Wireless connect Playstation 4's DualShock 4 Controller connects to your Apple tv, then it again must pair with PS4. We believe, in an upcoming major update, they're going to fix this problem and convey more seamless connectivity. Also, Apple will expand support for the Controller for Apple TV.