Playstore is brimming with cool fun mathematical ages, which kids can learn and enjoy at the same time. To improve kids' mental strength, it is important for parents to introduce them to cool math games to play in 2020 to sharpen their minds. With such analytical games, children can get knowledge of counting and reasoning at an early age, which is great.
When it comes to learning, nothing can be best than an interactive learning app for Android. If we combine fun with knowledge, it becomes more interesting to learn. So in this topic, we have curated the best list of Math games that you can play to increase your mathematic calculation capability. Although if you look for Math games in the Play store, there are plenty of options. This list will help you to get the best of them.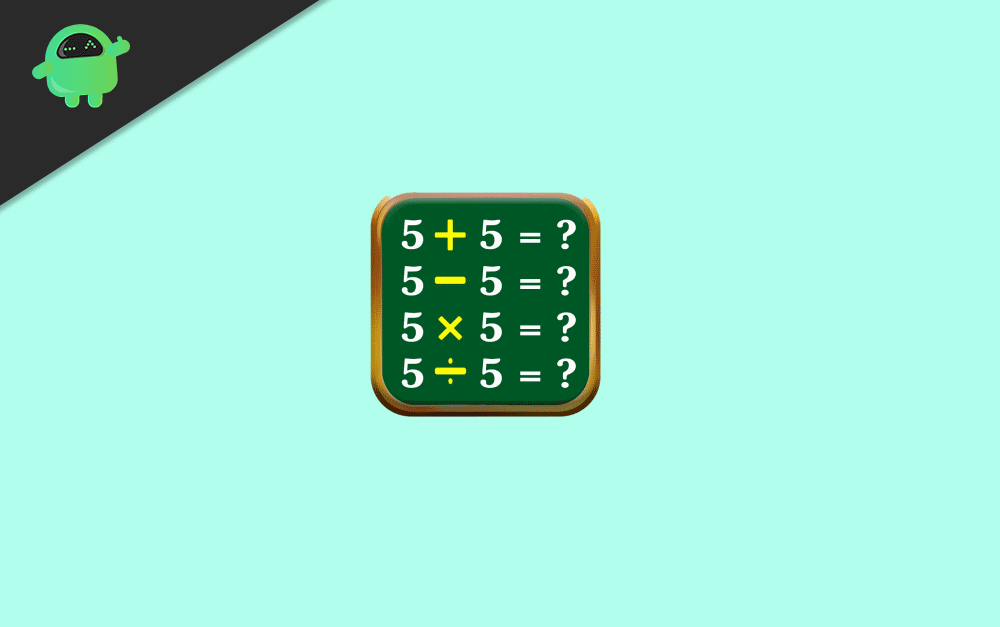 Best Math Games to play in 2020
The list is a bit large and in the order of their ratings and reviews. These match games will definitely increase your IQ and computational skills in a fun and easy way.
1. Sudoku.com
[googleplay url="https://play.google.com/store/apps/details?id=com.easybrain.sudoku.android"]
No list could be complete without the classic old game, the sudoku. Since the rules of sudoku are very simple, the game is suitable for both beginners and advances players. There will be a square number of blocks 9X9, which are sub squared to 3X3 blocks in which some blocks (few) will be filled with numbers. The rule is to fill the remaining blocks with numbers from 1-9 so that considering in a row, or column or within the 3X3 sub-square, no numbers can be repeated.
Speaking of this game, it features more than 10,000 sudoku puzzles to play with. It consists of four difficulty levels from easy to expert. The game also features a statistic analysis of time or difficulty level to track the progress. It also comes with unlimited undo for wrong moves.
2. Math Games- Mathematics
[googleplay url="https://play.google.com/store/apps/details?id=org.nixgame.mathematics&hl=en"]
This game provides time-based challenges that test our skills and ability to solve problems. The Game consists of problem-solving, algebra, arithmetic, and geometry-based problems. The game provides a fun and interactive way to learn maths. It comes with many game modes such as workout mode, where we have to solve a+b=, a*b= and such operations.
It also features a study mode and Math trick mode, which helps to improve calculation such as addition, subtraction, division, and multiplication. The study mode and Examine mode helps to practice the multiplication table real quick. We can also practice squaring and rooting operations with this game. The game also helps us in problem-solving skills and provides easier steps and methods to solve the problem.
3. Math Fire
[googleplay url="https://play.google.com/store/apps/details?id=alvakos.game.mathfire&hl=en_US"]
Math fire game hits you with problems in basic calculations such as addition and multiplication in time-based gameplay. The name fire suggests that the gameplay takes place fast where every second count. The difficulty is categorized into easy, medium, and hard, which is very straight forward. Other than that, the game has awesome music and sound effects, which can be turned off if you don't like it. The game lets you log in with Facebook for extra game features, such as sharing your accomplishments with friends.
The timer function in this game is nice and motivating. Every time you finish a challenge with-in time, a pot fills with water. If we fail to complete another challenge within time, the pot gives extra time we earned so far. And finally, if we could not complete even within the extra time, it will cost one life. Three lives are given for a game.
4. 2048
[googleplay url="https://play.google.com/store/apps/details?id=com.androbaby.game2048″]
This game is more of a casual type and simple. Since the gameplay, design, and everything is so simple and straight forward. The game consists of tiles with sizes of 3X3, 6X6, and up to 8X8 huge difficulty levels. The game is simple. We have to slide on the screen on up, down, left, or right directions, which move the tiles. When two tiles with the same number touch, it merges into its product (2X2=4).
The goal is to obtain a tile with the number 2048, and hence the name. The game continues even after obtaining the 2048, so you can see have far you can go with your skills. If you make a mistake move, you can have only one undo. So use it wisely, since there is no time limit and it only depends on the way you slide and merge. The game is fully based on making the right move.
5. Khan Academy Kids
[googleplay url="https://play.google.com/store/apps/details?id=org.khankids.android&e=-EnableAppDetailsPageRedesign"]
Khan academy is the voice of many parents for personalized learning. It offers a variety of topics, from scientific knowledge to maths. It does offer a vast educational content for maths. The app contents are from leading educators and instructors from the world. Since it was created by the experts' team, its offerings are best in class. The app is completely free to use. Anyone can set up and use the app without any worrying. There are no Ads within the app which causes distraction.
6. Math 24
[googleplay url="https://play.google.com/store/apps/details?id=com.smellymonster.games.make24&hl=en_US"]
Math 24 is a classic math game designed to help people of ant skill level to improve their mental maths skills and arithmetic capabilities. The game is suitable for anyone, be it an elementary school student or a graduate student. The game rule is simple. You will be given four numbers, from which you have to make 24 by making basic math operations such as multiplication, subtraction, division, and addition. There 15 stages of 300 well-designed levels to complete. The difficulty ranges from Baby to King of math. Moreover, it's a fun game to play. The theme of the game is problem-solving.
7. Math Riddles and Puzzles
[googleplay url="https://play.google.com/store/apps/details?id=com.BlackGames.MathRiddles&hl=en_IN"]
The game is based on geometric shapes and relationships with numbers. You will be given a set of geometrical figures and numbers. From that, you have to find out the missing number by comparing the relationship between the given numbers and the geometrical shape. This game focusses on testing our IQ level. The difficulty level increases as we progress further in the game, slowly. Hence the game is suitable for both kids and adults. The game helps to improve our logical thinking and problem-solving skills. To get the game for android device,
8. Toon Math
[googleplay url="https://play.google.com/store/apps/details?id=com.closeapps.mathrun"]
This game is a little different from other games we saw before. More like Subway surfers, you have to run through an endless route. On the way, you will be asked to solve math problems. Solving easy problems based on addition, subtraction, multiplication, and division will help you to earn stars. The story states that all our friends, in-game, are kidnapped and are taken to Halloween town. So, we have to run through the path in order to save them before midnight. Apart from that, the game contains good gameplay mechanics and decent graphics.
9. Mental Math Games
[googleplay url="https://play.google.com/store/apps/details?id=com.fivedaysweekend.math&hl=en"]
This game is a little advanced for kids. Since the app doesn't revolve around simple operations like addition or multiplication. The challenges require you to carry out advanced operations like Exponentiation, square root, etc, along with basic operations like addition and multiplication. If you are tired of simple challenges like 10+2=? Or 2×12=? etc, then this is the right game for you. You have to complete the given challenge and tap on the correct answer to the question before the time runs out. If failed, or the time runs out, you lose the game. Although you can also pause the timer 10 times per level. Ready to challenge your brain?
10. Math Games-Play mind
[googleplay url="https://play.google.com/store/apps/details?id=com.wdggames.playmind&hl=en_US"]
Math Games Play mind is fun to play math games for children. Hence the game requires basic addition, subtraction, multiplication, and division skills to play. Although the game features four levels of difficulty from easy to expert, each level has four sub levels. A drop of water falling from the top consists of a math question which we have to answer. As levels progress', the rate of water drops falling increases. As a result, the difficulty will also increase.
11. Prodigy Math Game
[googleplay url="https://play.google.com/store/apps/details?id=com.prodigygame.prodigy"]
Prodigy math game focusses on delivering game-based education to kids. Hence it delivers a unique learning experience with the help of video games. The players can earn rewards, go on a quest, and play with friends. The game is free to play. Although you can pay for a membership and gain exclusive rewards and content. Also, if you are a parent, you can set up a parent account and monitor your kid's progress and skill level as they play the game and level up. You can set goals for them and give them rewards as they accomplish them to encourage them.
12. Godlines Math Games
[googleplay url="https://play.google.com/store/apps/details?id=godlinestudios.MathGames"]
Simple and classic math game with basic operations to improve our maths skills. The player can also play online with friends in 2 player mode. You can configure your game as your need for practice or increase the challenge. The game is available in many languages, like English, Spanish, French, etc.
So, to sum up, these were the 12 best math games to develop our mental maths skills and problem-solving skills. There are many other games to check out. But this list will definitely give you heads up. Happy learning.