As we know, Craigslist is the go-to place for anything and everything you want. There is no doubt about the quality of service Craigslist provides. Starting from discussion forums, services, housing, furniture, and jobs, you can post all kinds of ads or search for anything you want. With such facilities under one roof, users still complain about some minor points on Craigslist.
Like recently Craigslist has stopped showing phone numbers on the ads. Well, this has shaken the user experience as they had to face a lot of trouble contacting the owner of the ad. As users argued about the same, it seems like the issue has been quite persistent and more like an intentional one. So, why is Craigslist not showing any phone numbers on the ads? Is there actually a reason behind this or is this just another temporary issue? To know more, read our article till the end to find out why.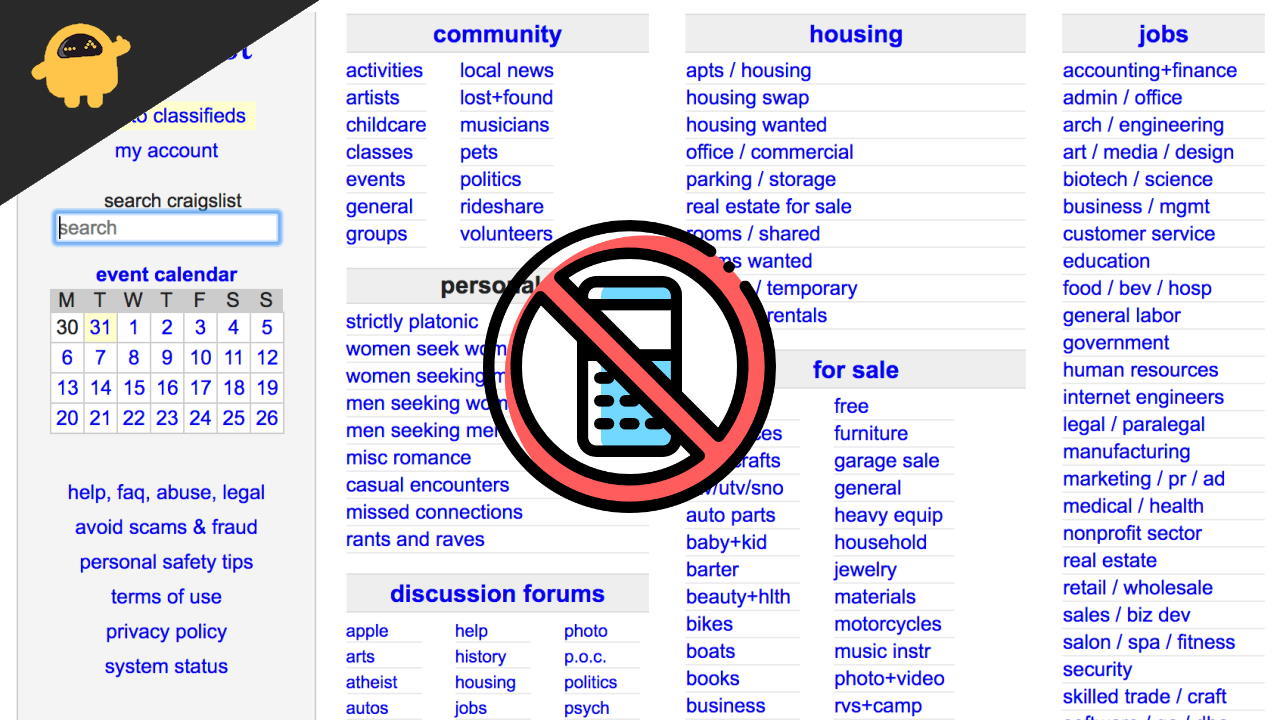 Why Does Craigslist Not Show Phone Numbers?
Craigslist certainly has made some intentional changes to the site lately. First of all, the phone numbers that are displayed on the ad contents are now hidden by default. Users who wish to view the number have to click on the 'Show Contact Info' option to look at it. Moreover, these phone numbers can now be reverse looked up via a Craigslist keyword search. However, the negative side here is, that they cannot be searched anymore through Google or any other search engine.
Unlike before, Craigslist has included a Reply and a Contact button for every ad. While the Reply button displays only an email, the Contact button might display either a phone number, an email, or just the first name of the person. But again the phone number in this case as well isn't searchable on Craigslist.
These recent changes were specifically made to save people from spammers or scammers. Especially phone numbers are the prime targets of people with such negative intentions. Once your phone number gets exposed to the wrong person, you will gradually start receiving masses of spam calls every day. In the worse situation, you might even get scammed without any of your knowledge.
Therefore, to save you from all of these, Craigslist has decided not to show its user's phone numbers on the site.
How To Contact Buyers/ Sellers on Craigslist?
Since Craigslist hides the user's email and phone numbers by default, it becomes a bit challenging to contact the buyers or the sellers. But as you start communicating with others on the Craigslist inbox, you can perhaps ask as many questions as you want until you are satisfied that the other person is a genuine one. Once, you come to believe that strongly, you can then think of sharing your contact details.
But again, be very clear with the objective of the other person and do not simply throw all your details without any thinking. If a person desperately asks for your personal email or phone number at the very start of the conversation, he/ she might have some harmful objective. As a result, you must talk thoroughly with the person before you take any step ahead.
Conclusion
Frauds, scams, and spams are very common on Craigslist. The real estate scams on Craigslist almost became worldwide popular. As a result, to protect users from falling for further scams or spams, Craigslist brought these changes to their site. It gives both the buyers and sellers to protect their phone numbers and other contact details from anyone on the platform. You can go through every in-and-out of a person before really sharing any of your details over there.
I hope, this article has cleared your doubts about why Craigslist is not showing phone numbers on the site. Let us know if you are having any other troubles and we will try our best to answer you.