There are different reasons why many users might not want to use the PowerPoint's notes feature. It could be for reminders, unnecessary notes slides, or even some extra information. Sometimes, though, we do not need to share our notes when sharing our slides.
We often add notes to our PowerPoint slides for our own convenience and to be able to communicate our message to our audience fully during our presentations, yet when we share this material. We don't want to share those. In the meantime, deleting the notes one-by-one is quite frustrating. So, Luckily, after investigating, we have found a method to delete all your presentation notes at once in Microsoft PowerPoint.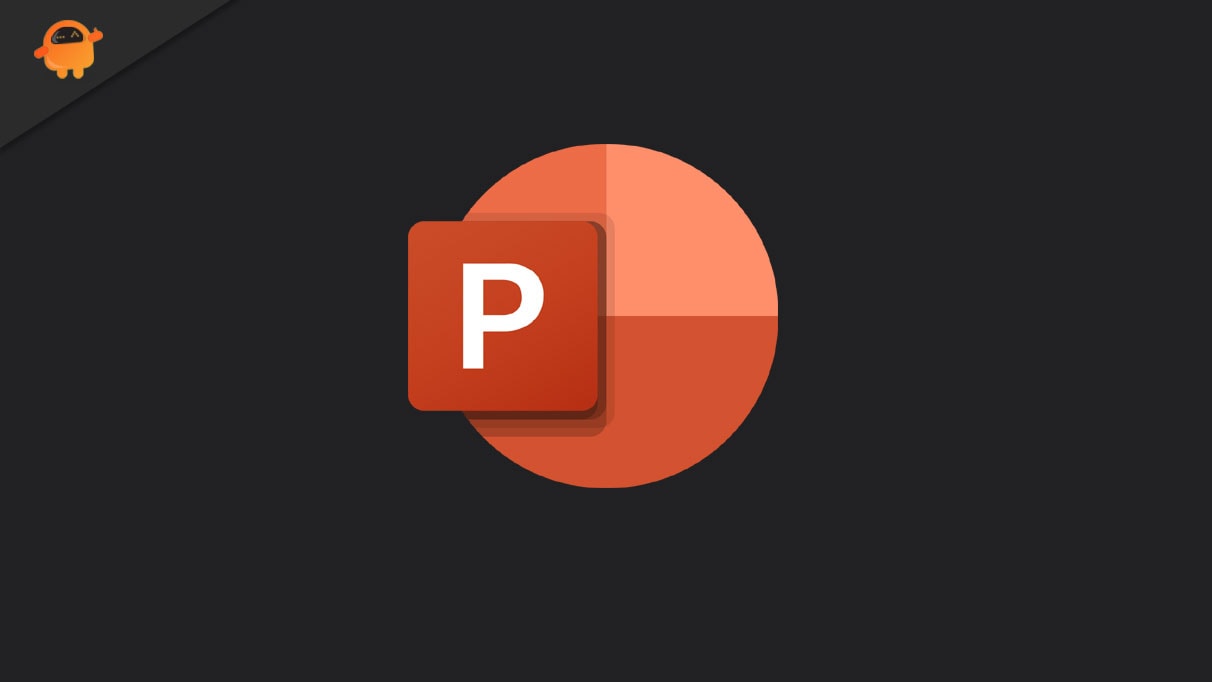 How To Delete All Presentation Notes at Once in Microsoft PowerPoint
If you are looking for a method to delete all presentation notes at once in Microsoft PowerPoint. Then, follow the methods we mentioned below to do so.
First of all, select the presentation notes that you want to remove and open them with the help of the Notes button located in the PowerPoint's status bar. Meanwhile, you can also do this by just clicking on the Notes button located on the View tab.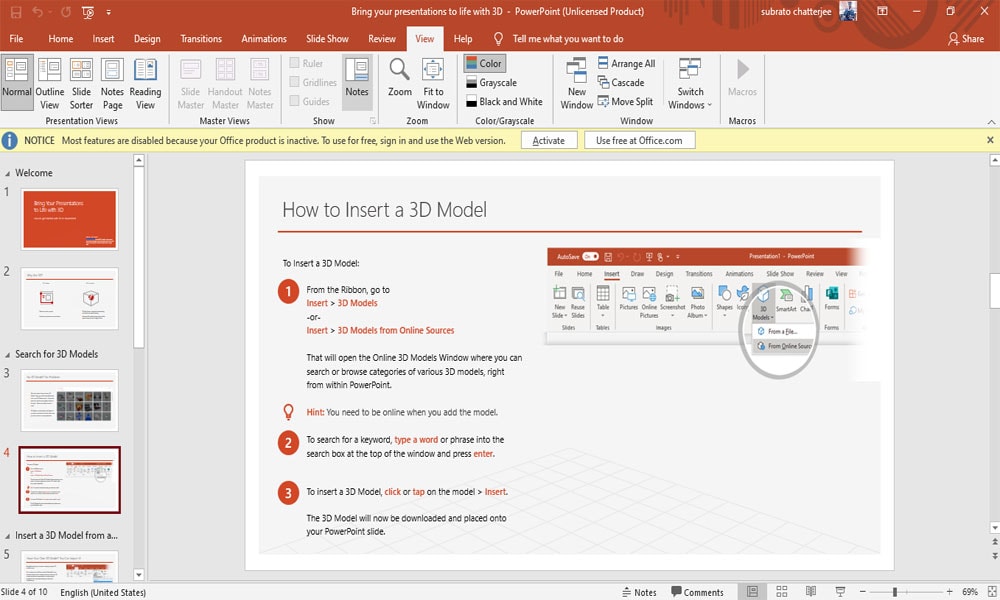 Now, head towards the slide that you wish to remove.
Then, select the Notes area, and delete the text.
Note:
If you have no time and want to delete it quickly, then press Ctrl + A simultaneously to select all and hit the delete button.
Well, doing this is absolutely ok as it can be time-consuming if you have a number of slides. Here's how to remove them all at once.
Initially, you need to click on the File option followed by Info.
Now, you'll notice that the slideshow that you have created before has presentation notes under the Inspect Presentation.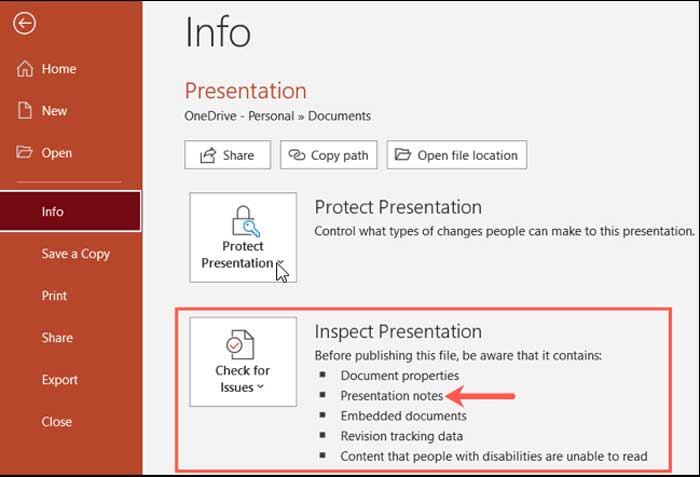 Now, hit the Check for Issues button from the drop-down box. Then, click on the Inspect Document.
Important:
There are many options inside the inspect document section, so remember this handy tool for those types of things for the future.
So, now checkmark the box located next to the Presentation Notes. Meanwhile, don't forget to uncheck the rest of the options. Then, click on the Inspect.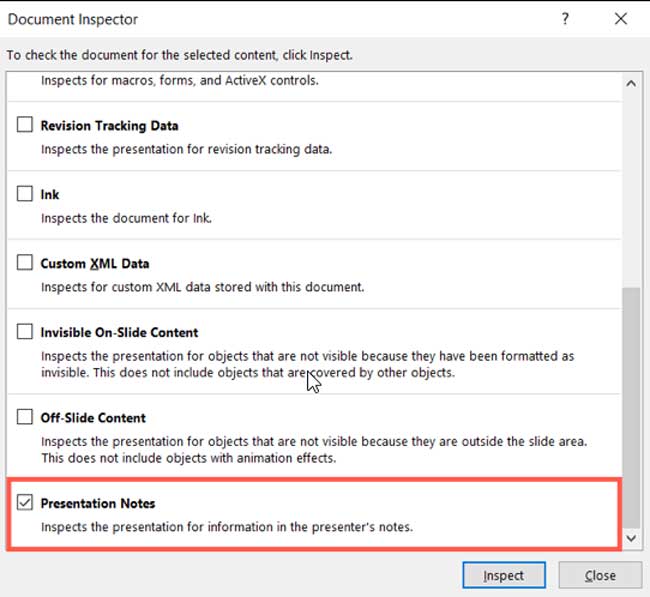 Now, wait for a while until it inspects the presentation and locates the presentation notes. Once done, click on Remove All option.
After that, your notes will be deleted without taking more time. However, once this process is completed, you can now click on the Close button to close the Inspect Document tool window.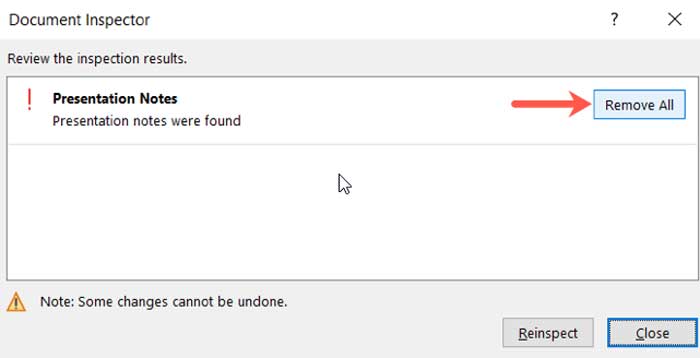 Now, in order to cross-check that if your notes get deleted or not. You can simply tap on the arrow located at the top left corner of your slideshow window.
That's all you require to know about how to delete all your presentation notes at once in Microsoft PowerPoint. We hope this guide helped you. Now, if you still find it difficult to delete your presentation notes. Let us know in the comment section. Also, if you are still not aware of our latest guide, click here to check them out.