Whether your business is big or small, you need all kinds of design work. For instance, you need attractive images for your website, template for an email newsletter, and other kinds of visuals that help in branding and marketing. The problem is, when you are a small business, then you may not be able to hire a full-time graphic designer. In that case, what you can do is use free or inexpensive design-related apps and software.
Here is the list of top 5 for Design-Related apps every small business should use: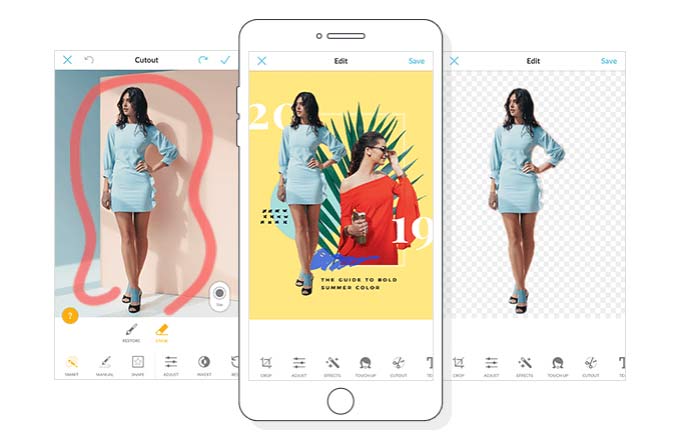 Tailor Brands
Tailor Brands is one of the most advanced and powerful graphic design programs in the market today and it's best known for its AI-powered logo maker. In fact, if it's only a premium logo that you seek, then you are better off with this tool. All you have to do is tell the program a little bit about your business, brand's name, and preferences for the design. It can understand your requirements just like a human graphic designer and deliver the results in a matter of seconds! Logo designing has never been this easy!
Tailor Brands can be used for free either as desktop logo maker or logo maker app. You need to pay only when you want to download the design.
[googleplay url="https://play.google.com/store/apps/details?id=logo.maker"]
Picmonkey
Picmonkey is another nifty mobile app that you can use to create all kinds of designs, edit photos, and touch up portraits. It isn't free but the features it offers are worth it. Besides, you can do a lot with the app including designing business cards, logos, ads, etc. and also access its premium design assets that include over 3,000 graphics, 200 fonts, and 100 textures!
Picmonkey is available as a 7-day subscription for free. Check it out here.
Snapseed
Snapseed is a free photo-editing app that's owned by Google. So, that should tell you something about the app's quality and performance. It is easily one of the top photo editing apps for Android and you can use it to refine and optimize all your raw photos on the fly. It has some of the most amazing filters viz. brush, healing, HDR, etc. and allows you to work on JPG and RAW files. It also offers support for all the basic features you would expect from a top-quality photo editing app such as image tuning, cropping, white balance, etc.
Snapseed is available for free. You can download it here.
[googleplay url="https://play.google.com/store/apps/details?id=com.niksoftware.snapseed&hl=en_IN"]
Animoto
Animoto is a simple but premium video slideshow service that you can use as an app or a web-based product. It allows you to edit and refine personal and marketing videos with various tools and features like color customization, access to over 3,000 commercially licensed music tracks, pre-built marketing storyboards, etc.
If you want an intuitive yet powerful video creation tool, then you will be hard-pressed to find something better than Animoto. Check it out here.
[googleplay url="https://play.google.com/store/apps/details?id=com.animoto.android.videoslideshow&hl=en_IN"]
VSCO
Marketed as the best app for mobile photography enthusiasts, VSCO is a photo editing app that specializes in the development of image processing tools for renowned products like Adobe Camera RAW and Adobe Lightroom. It has all the necessary tools you need for photo retouching. Plus, there are premium features like Fade, Tint, Skin Tone, etc. that can really make your photos pop.
Interested in checking out VSCO? Click here to download the app.
[googleplay url="https://play.google.com/store/apps/details?id=com.vsco.cam&hl=en_IN"]
So, there you have it- some of the best photo editing and graphics design apps that you can use on your smartphone for your business. All these apps are user-friendly, easy on the pocket, and incredibly powerful. So, install them today and see for yourself what they have to offer. Have fun!