There are a lot of objectives and optional objectives in Destroy All Humans. Out of them, the number of tricky ones isn't that bad. There are multiple tricky and complicated objectives that you'll come across as you progress through the game. Killing soldiers with grenades is one such objective in the game, which you'll encounter in the eleventh mission that gets you the Mandatory Option trophy.
If you're already at this stage in the game and are in trouble trying to get this achievement, then this guide will probably help you get through. Although this is one of those tricky objectives, it still isn't an impossible one given that you learn what's to be done. So without delaying much, we'll look right into how to kill soldiers with grenades in Destroy All Humans.
Destroy All Humans: How to Kill Soldiers With Grenades
What You Should Know
Like we already mentioned, killing soldiers with grenades is a tricky task. So this will probably take you a few tries before you can actually master the skill of doing this and succeeding every time. Although you have your psychokinesis to pick up a grande and toss at the soldiers, the tricky part is finding a grenade. If you need your psychokinesis to pick up grenades, then the first thing you need to do is make the soldiers throw grenades at you.
Step 1:
However, if you're engaged with the soldiers and fighting them without any cover, they likely won't choose to use grenade at you. In these situations, the soldiers will only plan for a gunfight. But since we need them to throw those grenades, there is a little something that we must do. First off, getaway. Get away from the soldiers and take cover. Please keep in mind that taking cover at a long distance will make the soldiers attack the radio towers. So, find a cover like a building or large obstacles close to the soldiers and then hide.
Step 2:
When you're close to the soldiers but behind a cover where they cannot physically spot you, they will start to throw grenades in your direction. Once they do throw them at you, you'll see the grenades lying on the ground in big circles in orange color. Once you do spot them, all you have to do is grab those grenades with your psychokinesis. When you have the grenade on your psychokinesis, aim at a soldier, and release its button to throw them at the aimed soldier. If the grenade hits the soldier, it will instantly blow off and kill the soldier.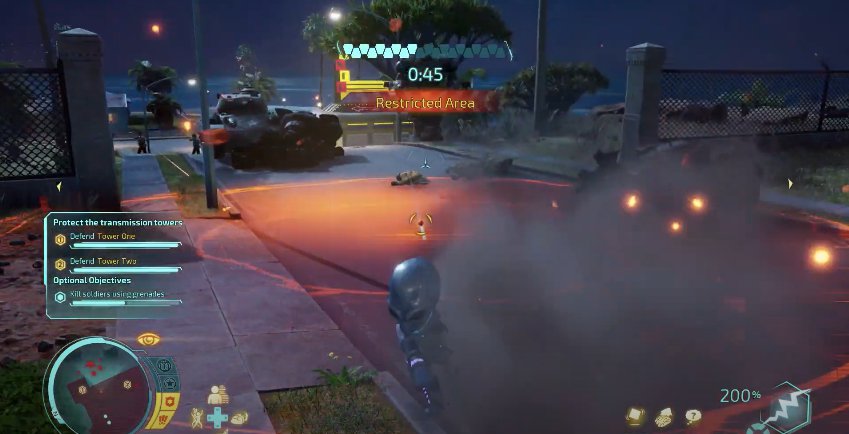 One key thing to keep in mind while attempting to check off this optional objective in Destroy All Humans is not to stray away too far from the soldiers. This makes them attack the radio towers directly and that'll put you in some serious trouble. As long as you're quick and under cover near the soldiers, you'll manage to pull if off perfectly. That said, we hope reading the article above has equipped you with some bit of information. Please let us know by commenting down below if you have any further queries regarding the same.
Also, check out our iPhone Tips and Tricks, PC tips and tricks, and Android Tips and Tricks if you've got queries for it or want help. Thank you!