As we know, taking things somewhat to the next level, Diablo Immortal never fails when it comes to introducing new challenges or quests. Apart from fighting and killing these demonic creatures from hell, these challenges are what makes things more interesting. Moreover, you also get various rewards for completing these quests and challenges. And fortunately, Elder Rifts is another great thing that might help you earn a lot of rewards throughout the gameplay.
In case you are not familiar enough, Elder Rifts are simply a crucial part of the game that helps you develop your character at a much faster pace. Moreover, it is also a great way to earn some legendary gems as well. However, most players seem quite concerned with the mechanism of Elder Rift. And so, we have brought this article to guide you through the Elder Rifts in Diablo Immortal. If you are to take a step forward into these dungeons, this is exactly what you need to know.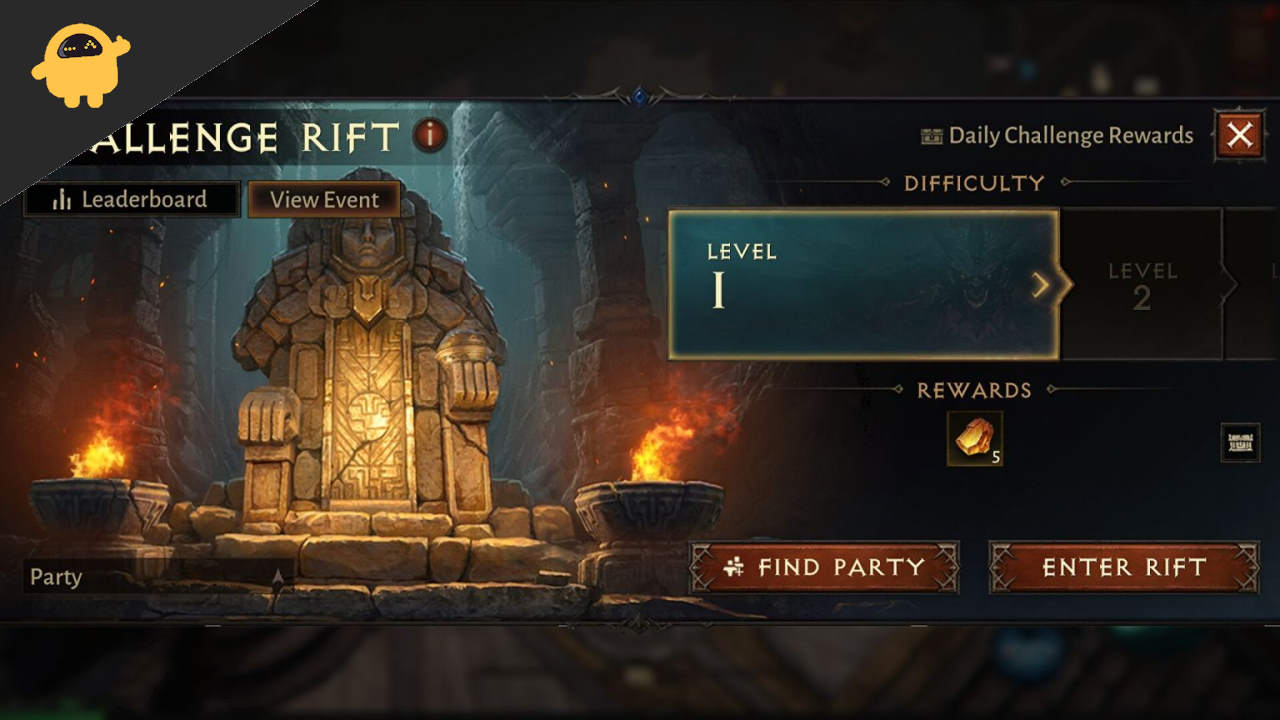 Diablo Immortal Elder Rift Guide: Solo or Group, Strategy, and Crest Guide
In this article, we will specifically target some of the most concerning issues raised by the players. Firstly, we will have a look at Solo vs Group Elder Rift, as most players are often confused about which one is actually better. This will be further followed by the various effective strategies to use in Elder Rift and a crest guide to give you an overview of the same.
Elder Rift: Solo or Group? Which one is better?
Well, the one thing players have been really concerned about is whether playing solo in Elder Rift has more advantages than playing in a group? Fortunately, it all depends on your motive behind playing the Elden Rift. If you wish to join a group and play competitive, definitely playing in-group is the perfect solution for you. On the other hand, if you want to rely on your own and accomplish something specific, then you can prefer playing solo as well.
However, if you think that playing in a group or solo will provide you with external benefits, then you are simply wrong. As of the information available now, there is no such thing as mentioned that playing in a group will provide you with more rewards. Although the complete information is not revealed yet, once it is available we will mention the accurate details.
If you choose to play in a group, you should know that only 4 people can play in groups. And within these 4 people, you need to have good coordination, and choose characters having different skills and abilities able to support each other in the worst scenarios. Since none of them are really going to be easy, make sure to choose the appropriate option depending on your playstyle and ultimate motive.
Diablo Immortal Elder Rift: Strategy
Now, as you go into the Elder Rift dungeons, your primary objective would be to clear the dungeons as fast as possible, get massive loot, and dominate throughout. Well, you will need highly effective strategies in order to fulfill your objectives. Here are a few of the basic ones that you will require all the way in your journey.
Teaming Up With Allies Of The Same Level
Usually, we think that teaming up with a player of a higher level would help us create dominance in the game. However, the same does not hold true for Elder Rift. Here, the level of challenges also increases along with the level of your character. Therefore, always team up with those of the same levels. You can either team up with your friends or from the ones of your clan. Just make sure they are of the same level as you and are cooperative enough in the game.
Equip Powerful Gadgets
Next, comes equipping the right gears and weapons. This will play a crucial role in deciding the fate of the battles. Therefore, depending on your playstyle, choose the appropriate gadgets. Having the right gears will help you finish the enemies and complete the Rifts faster as possible. Besides, the extra abilities will also help you survive longer in the game and farm more significant items.
Kill The Elites First
One of the best ways to complete these Rifts in Diablo Immortal is by killing the elites. These are the enemies that are mostly covered by blue light. Killing them earlier in the game will fill up the gauge faster than normal. This method is an idle one if your main objective is to complete these dungeons faster and pick up some crucial items.
Diablo Immortal Elder Rift: Crest Guide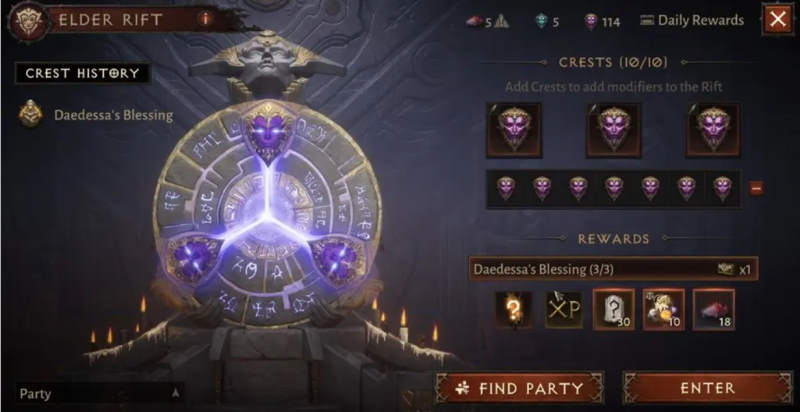 Once you are into the Elder Rifts, your primary focus would be to get amazing loots. And that's where crests turn out to be useful. Crests are certain items that play the role of increasing the drop rate of various types of rare items such as runes, gems, and much more.
Initially, when you open the Elder Rift menu, you will find three crest slots. Each player can add up to 3 crests in the slots, and based on them, you will find more items in the rifts. Now, there are two types of crests, the rare ones, and the legendary ones. The rare crest can only add a single modifier to the rift and that can either be positive or negative. A rare crest increases the drop rate of runes and if you are lucky you can even find a legendary item as well.
On the other hand, the Legendary crests can add up to 2 modifiers to the rifts. In this case, you will receive a positive and a negative one, and it also guarantees a legendary item as well. So, if that catches your attention, then here's everything you need to know about how to get crests in Diablo Immortal and use them effectively.
How To Get Crests In Diablo Immortal Elder Rift?
If you are looking for how to get crests in Diablo Immortal, well, there are quite a few ways to do so. Here, we will see each one of them in detail.
Purchasing Crests from Shops
Definitely purchasing crests from the shop seems to be the idlest way of getting them in the game. You can buy the Eternal Legendary Crests from the shops quite easily. Although it comes in exchange for a price paid in Eternal Orbs. You can consider Eternal Orbs as the premium currency in Diablo Immortal which you need to buy from the in-app purchases in exchange for real money. You can get one Eternal Crest at a price of 160 Eternal Orbs.
Participating in Shadow Wars
Another idle way to gather a good amount of crests is by participating in the Shadow Wars. If you are in a competitive clan, you can find great opportunities to win many outstanding rewards including a Legendary Crest as well. All you need to do is participate in these shadow wars and come among the top 10 clans. And that's pretty much it. But what's more interesting is the fact that these challenges happen every week. So, you don't have to wait for days or months looking for the next turn. You can pretty much play it every weekend and earn some handsome rewards and crests.
Purchasing Crests from the Merchants
You can also find merchants selling Crest in Diablo Immortal. In fact, they can be found closer to Elder Rift in Westmarch. However, you can only purchase the Eternal Legendary Crests from the merchants which will at a cost of the Eternal Orbs.
Purchasing Crest from Hilts Trader
The hilts trader can be found in the northern part of Westmarch. You can buy at most 2 crests from them per day and 1 Legendary Crest per month. Besides, they also have limited time offers from time to time. So, if you run lucky enough, you can even buy more crests from them.
Get Crests through Battle Pass
Apart from all the other methods, you could also use the battle pass in order to get crests and Legendary crests in Diablo Immortal. Interestingly, you can have it in both the free as well as premium tier. However, you cannot get a large amount of it from the pass or if you want it more frequently than you should prefer the other methods.
So, that's how you can get crests in Diablo Immortal. You can use all these ways in the way prefer to get as many crests as possible. Once you get a hold of them, you can further use them to leverage them to get more loot in the Rifts and collect more Legendary items throughout your gameplay.
Conclusion
Hopefully, that should give you an overall idea about the Elder Rift in Diablo Immortal. The Elder Rift is always a golden opportunity for players to get a hang of various types of extremely valuable stuff. After you choose whether to continue with a solo or group journey, you can accordingly follow the strategies and get as many crests as possible and complete the rifts faster to reach further in the game. Let us know if that was helpful and comment below for any further questions. We will reach out to you at the soonest possible.