If you are a gaming enthusiast, you will love playing games on Xbox for the best experience on the dedicated gaming console owned by Microsoft. However, the Xbox services are also available for PC with all its exclusive services. If you also own the Xbox gaming console or PC version or are planning to buy the latest series of Xbox X or Xbox S series, you might want to know about the Xbox game Pass. Xbox offers two types of game pass. The first is the Xbox Game Pass, and the next is Xbox game pass Ultimate. Here we know the difference between both game pass and offerings.
Most of us are confused with similar names, but both offer different services and vary in price. Also, you can switch after the completion of the subscription period. So without any further delay, let's dive deep to know better and help you decide which one is better for you.
Difference Between Xbox Game Pass And Xbox Game Pass Ultimate
Nowadays, every online service comes with a subscription plan in which they offer multiple features and exclusive content like Netflix, Amazon Prime, PS Plus, etc. Microsoft also opts for the same strategy to attract hardcore and casual gamers. Both Xbox standard and Ultimate plans almost offer the same thing, but the Ultimate version has some premium features. It's tough to choose between them, but the ultimate version of the Xbox game pass is slightly more costly than the standard.
At first glance, both game pass plans look the same and affordable for monthly fees, but the main difference is the extra features included with the game pass. However, Microsoft provides three types of game pass. The first one is for Xbox one, the standard version, the next one is for Xbox PC, and the last is the ultimate version.
Features of Xbox Game Pass And Xbox Game Pass Ultimate
The main feature of both game pass is to provide a huge library of games title per subscription period. If you subscribe to any of the Xbox game passes, you can download and play tons of games tittle available exclusively for Xbox. However, one more thing that requires you to play online games or compete with your friends is Xbox Live Gold that costs $ 9.99/month. If you are using the standard version of the Xbox game pass standard version, you have to buy it separately, but if you buy the Xbox game pass ultimate, you don't need to pay extra to use this feature.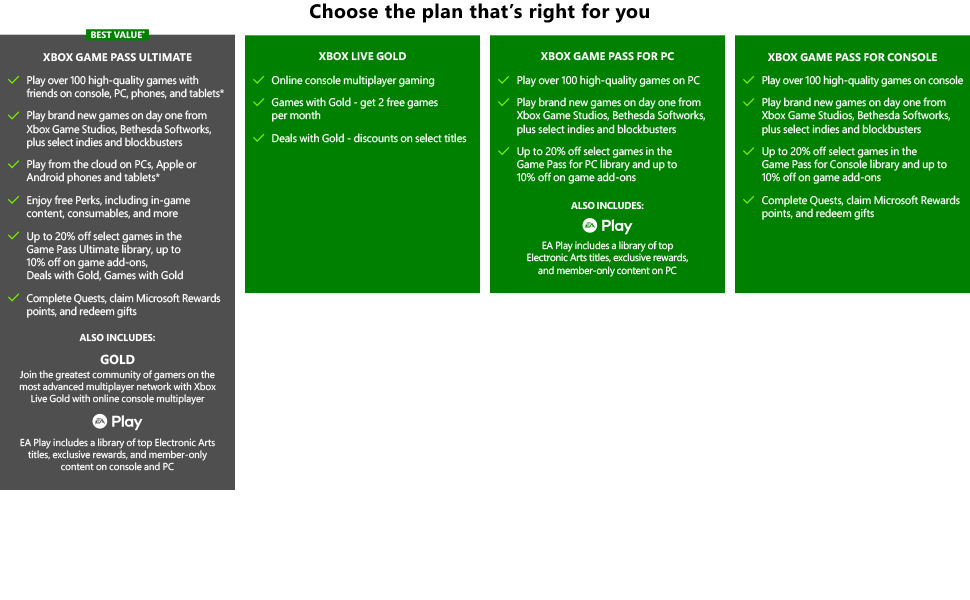 Moreover, the Xbox game pass ultimate includes Xbox Game Pass, Game Pass for PC, Xbox Live Gold, and Xbox game streaming in a single plan. Microsoft also added EA Play in the ultimate version of the Xbox game pass. EA Games is popular for its sports titles and Star Wars games. Now it will be added to your library for ultimate game pass subscribers. But it's officially released for the console and is yet to be released for the PC version. Also, if you want to purchase any game while subscribing to the ultimate game pass, you will get a 10% discount on every game title available in the Xbox store.
Pricing of Xbox Game Pass And Xbox Game Pass Ultimate
The plans of the Xbox game pass start from $ 9.99 per month. It's cheaper than a monthly plan Netflix. As we mentioned above that the base plan doesn't include the Xbox game pass for PC. You have to buy it separately at $ 9.99/month. Also, there is no discount on the price of the Xbox game pass if you purchase it for long terms, like 3-6 months or yearly plans. The game library is also different for PC and console. However, you will still be able to play 100+ games from the Xbox library, such as Xbox exclusive, indie games, and third-party hits.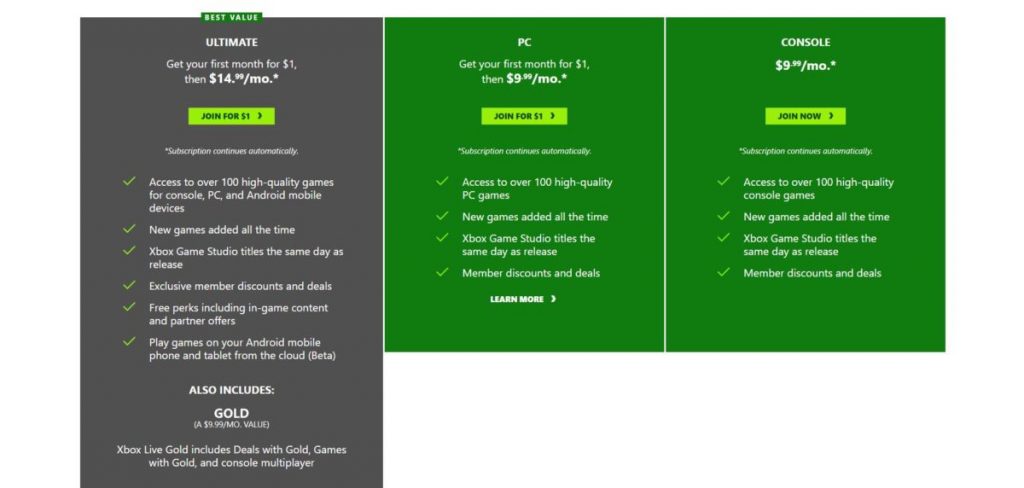 Xbox game pass ultimate is the all-in-one bundle that comes in just $ 5 extra from the standard version with extra benefits. It will cost $ 14.99/month and, apart from the above feature, includes a PC library, Xbox Live Gold, EA Play, and Cloud gaming. So it saves a lot of costs and provides the Ultimate feature as the name of the subscription. But, of course, if you are using a PC version of Xbox game pass, nothing will change much if you want to try cloud gaming across all your devices like Android, iOS, and PC.
Cloud Gaming in Xbox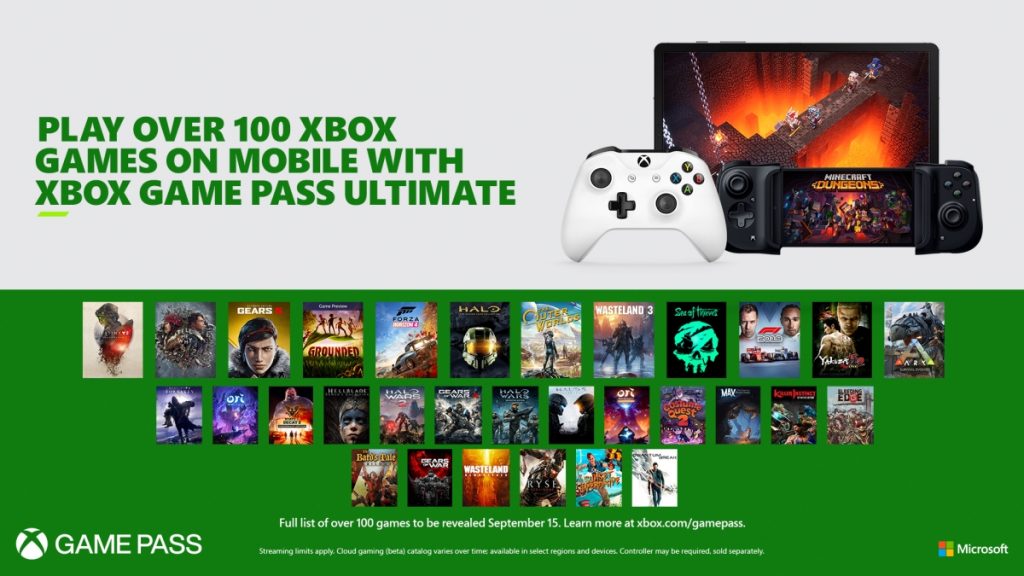 One of the major benefits of the Xbox game pass and the Xbox Game pass ultimate is the cloud gaming feature. However, it's still in the beta phase, but you can still use all its features. Cloud gaming is the future as it allows you to play the game across all platforms without downloading the game on that device. So now to playing a game on Xbox doesn't require and big console. You can access it from anywhere to any device like PC, iOS, or Android.
Also, you can play the game on your smartphone or PC with the standard Xbox controller. Hence the cloud gaming is yet to launch officially on other platforms. You can use it earlier with Microsoft, but as it is in the Beta phase, the resolution quality is limited to 720p-1080p, and it will update soon for high resolution.
Final Verdict
However, both the Xbox gaming pass has a different user base, and both provide a lot of benefits to its user. But, if money is not a matter, we recommend you go for Xbox game pass Ultimate for its features and benefits. If you use Xbox in a single console, the Xbox Live gold membership and the cloud gaming feature are icing on the cake. We hope that now you will get a clear picture in your mind to choose the plan according to your use, not for the money.
The standard version also provides a great feature to start with and if you are a PC user, choose the Xbox game pass PC because it doesn't require the Xbox Live Gold membership to play online. Still confused, then write your query in the comment box. We are here to provide you with the answer with examples. For more exciting tech information, bookmark our website.