Google has announced Android 9.0 Pie last year with some exclusive features like Swipe Gesture Navigation, Adaptive Battery, Adaptive Brightness, Digital Wellbeing, App Timer, App Slices, etc. The Digital Wellbeing app or feature is one of the most popular features on Android Pie. The app offers system restrictions or limitations to keep track or control over phone usage or app usage. The user can simply control any app using addiction by setting a time limit for a day.
Unfortunately, some of the Pixel devices only got the feature when it was launched. Then some of the non-Pixel devices were got eligible to use this feature including Android One powered devices. Still, so many Android Pie running non-Pixel devices haven't received the feature yet due to compatibility or limitation issue. Here in this guide, we will share with you the steps to get Digital Wellbeing features on any Android (Non-Pixel Devices).
Get Digital Wellbeing features on any Android
In order to use the Digital Wellbeing like features on any of your Android device running Android Lollipop version or higher, you can simply use a third-party app called ActionDash. It's developed by the ActionLauncher team who has already provided a popular Action Launcher app. The ActionDash app works similar to the Digital Wellbeing.
It has the same kind of usage details and dashboard to keep tracks of the device usage for a full day. The app needs some of the permissions and then it will show you how many apps you have used with precise time spent, notifications count, screen unlock counts, which app has been used mostly, etc. You can additionally set the timing limit for a specific app to get rid off the addiction towards that app. It will simply block the app whenever you reached the time limit. However, you can remove or change the time limit as well depends on your need.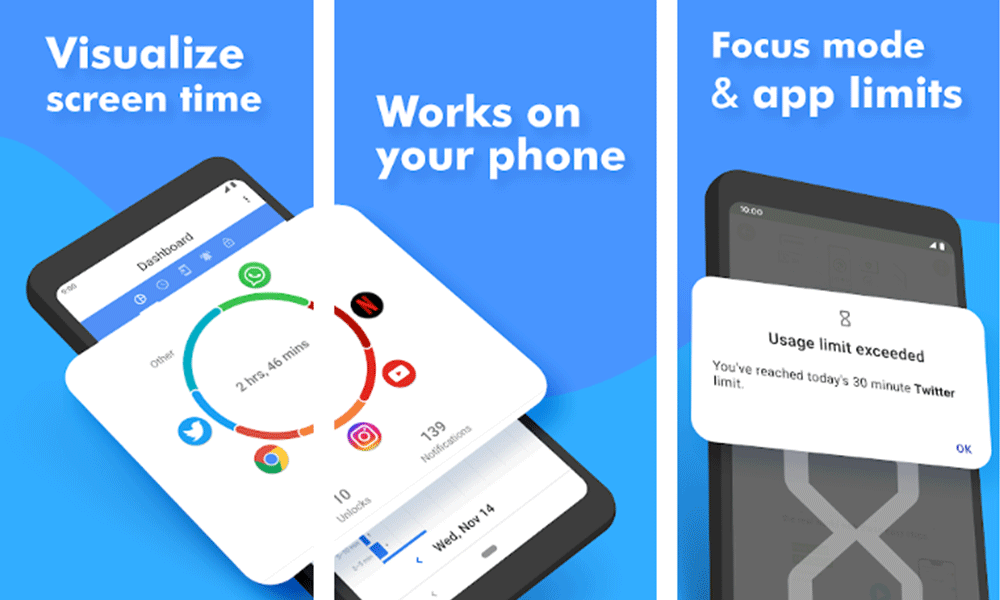 Whereas, the official Digital Wellbeing app works only on Android Pie running devices. Still, if you're using a non-Pixel device and runs on Android Pie, you may not get the feature most probably. Therefore, using a third-party app won't let you down. The simple but very informative UI dashboard will let you know everything you want with your usage.
ActionDash App Details:
ActionDash app shows a dashboard of the usage pattern and timing over apps via Pie chart system. Seems good and informative.
It provides an overview of the app usage, both weekly and daily basis with time spent on each app which is added in the list.
It also provides you the number of app launches in a week or in a day. Will come in handy for most of the users.
The details for notifications received based on a daily or weekly basis.
You will get details of the screen to unlock counts as well in order to understand your usage pattern or addition towards your phone. [Most useful for those who unlocks their device every time but doesn't receive that much of calls/messages/notifications in a day]
Additionally, the user can choose the settings depends on the usage pattern. The app also offers the Dark Mode feature as well.
Download and Install ActionDash App from Play Store:
[googleplay url="https://play.google.com/store/apps/details?id=com.actiondash.playstore"]
The app also comes with the option for ActionDash Plus which can be upgraded if you find this feature very useful for you. The premium version of the app offers advanced customizations, an ad-free user experience, full in-depth usage statistics, data backup, and more.
Just Install this app from the Play Store. (Link is given above)
Launch the app and set the options according to your preference. The simple UI and options will be easy for you if you're using it for the first time. Doesn't require any extra effort.
That's it.
Hope this guide will help you a lot and you have successfully installed the Digital Wellbeing feature on any of your Android devices easily. If you have any queries, feel free to write down in the comments below.