Google has always been focusing on improving the usability of the Android operating system greatly. They always came up with new updates including better features everytime. All the added features are made to increase the reliability and make the whole system something easy to use for all users. But with a lot of users around the globe, Google cant be sure that a new feature will be loved by everyone. There will always be some users who feel a new feature as something they don't need. Google knowing this trend had made most of the features as an optional one, which can be easily disabled by a user. One such new feature is the notification dots, also known as badges. In this guide, you will learn to disable notification dots on Pixel 2 and Pixel 2 XL.
Notifications have always been an important part of smartphones. With a lot of apps multi-tasking at the same time, there is a great probability that you getting missed out on a new addition to the app. To avoid this, many improvements in case of notification have been added to Android through the years. One such latest addition is the notification dots. These are small badges that will appear on the app icon itself if you have an unread notification. In this way, it will help you never miss out on a notification. But there can be users who might not like this badges appearing on their home screen. For such users, Google had made an option to simply disable the notification dot any time. The steps to disable notification dots on Pixel 2 and Pixel 2 XL are given below.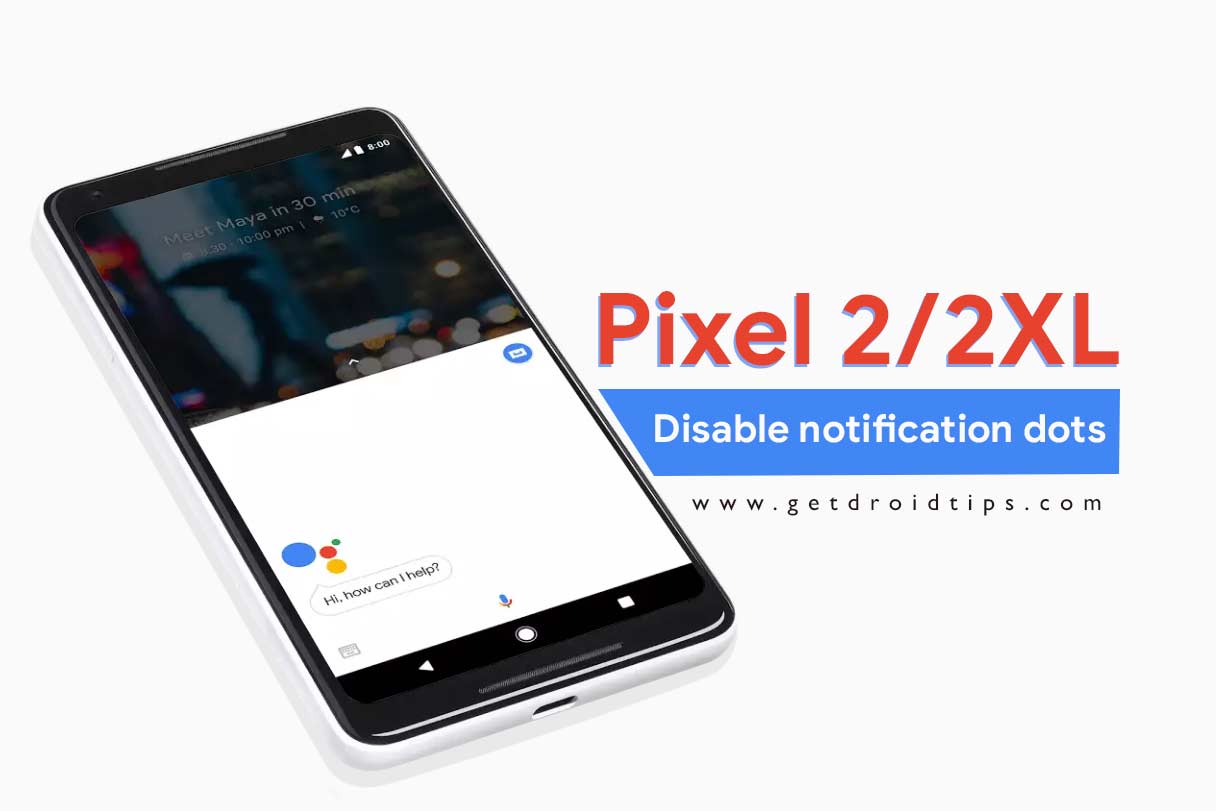 Steps to disable notification dots on Pixel 2 and Pixel 2 XL
Long press anywhere on the home screen (choose an empty space without icons or widgets)
Tap on the gear icon on the bottom to go to home settings
Tap on notification dots
Tap on allow notification dots to disable it
You can at any time follow the same steps to enable the feature back on.
I hope this guide was useful in understanding how to disable notification dots on Pixel 2 and Pixel 2 XL. If any queries or feedback, please leave a comment below.
More Related Post
Find More Pixel 2/2XL Tips and Tricks from the link given below. Take full advantage of your phone to make it has your electronic robot.
[su_button url="https://www.getdroidtips.com/tag/pixel-2-tips/" target="blank" background="#31528e" color="#ffffff" size="6" center="yes" icon="icon: cloud-download" text_shadow="0px 0px 0px #fa6512"]Check Out Pixel 2 Tips[/su_button]