DLL files are one of the most important files that a Windows system needs to run its apps. People like us who used to play a lot of games have faced the DLL file missing error on Windows. In those times we mostly tried to download the missing DLL file from some sketchy website and then again we see another file missing and the cycle continued.
In the recent versions of Windows, the Windows system comes inbuilt with all the required DLL files. However, a lot of us still face issues with missing DLL files with our Windows 11 or 10 devices, and we will be talking about how to fix them in some easy steps. So, if you are facing issues playing your favourite game that you have downloaded, make sure you go through all the possible methods.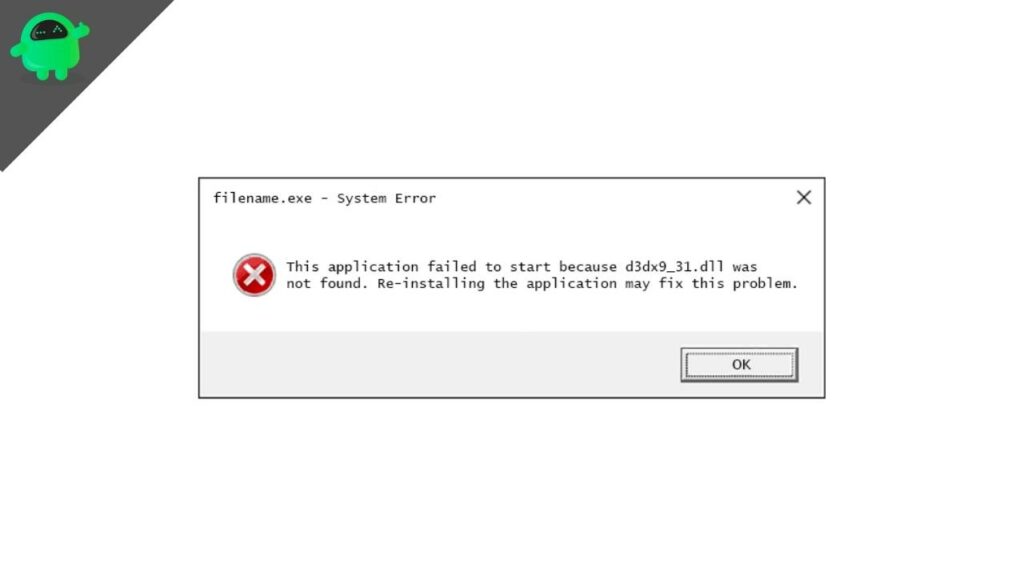 How to Fix DLL File Missing Error on Windows 11/10
Fix 1: Restart Your Windows 11/10 PC
Most of the time your operating system restores some of the required missing files while it restarts. It mostly happens in the checking phase which is done by the BIOS system. Although there is no surety that it will fix missing DLL files, this will definitely help the Windows system to re-index all the files and chances are after indexing all the files will be visible in the system. It should fix the issue if there were any indexing issues, however, if restarting doesn't help, go through other solutions below.
Fix 2: Reinstall Your Game or Application
Sometimes there might be an issue with the game or application itself that you are trying to run. Having said that, you should always use Paid/Genuine Games and Software and download them from their Official Websites. If you have the Genuine copy installed, and still facing the DLL file missing error, you should reinstall the program and install it again.
Here's how to reinstall program on Windows 11 or 10:
First, click on the Start Button and search for Control Panel.
Once the program is found, open it by clicking on it.
Then click on "Uninstall a program" and find your newly installed program.
Select the program and click on "Uninstall" on the header. Then simply follow the instructions.
Once you are done uninstalling the program, install it again from the .exe file or use any app store.
After it is installed, open it to check if the DLL file missing error persists or not.
Fix 3: Reinstall Your Device Drivers
DLL files are part of the DirectX Runtime Library offered by Windows. However, Windows might not feature all the required DLL files and hence it is required to install device drivers to compensate for this issue. Most PCs come with a particular GPU, sound system, display, etc. So, different brands include DirectX inbuilt with their device drivers which are then eventually used by a program. So, reinstalling your device drivers or upgrading them to the latest version should probably fix the issue.
Reinstalling your device drivers are same as the abovementioned steps. But keep in mind that you have to download the particular driver from the vendor's website e.g. NVIDIA/AMD for Graphic Card drivers, or Realtek for Audio Drivers. Also, make sure to download the correct and latest version to avoid any possible errors.
Fix 4: Install DirectX End-User Runtime
Although the previous step should probably fix the DirectX issue. But if it doesn't, now you have to manually download DirectX from Microsoft's website. Click on this link to head over to the official website. Now just click on the Orange Download Button and it will start downloading the program.
Once the download is done, start installing the program. Make sure you have a working internet connection as the setup downloads required files from the internet in the runtime.
After you have finished installing, open the program again and check if there is any error regarding any DLL file or not.
Fix 5: Keep Your Windows System Updated
Microsoft releases updates for its operating systems every now and then to fix security issues or any possible bugs. However, chances are that Microsoft can also push fixes for the missing DLL files with their updates. So, always make sure to keep your Windows updated to the latest version.
Here's how to update your Windows 11 or 10:
Open the Settings app and click on "Windows Update" (for Windows 11) or "Update & Security" (for Windows 10).
Once the next page opens, Windows will start checking for updates automatically and start installing them.
After the updates are downloaded, once prompted, restart your PC.
After the update is done, try opening the same program again and see if it still has any issues or not.
Fix 6: Run The "sfc /scannow" Command
The System File Checker, popularly known as "sfc" is the one which helps Windows check for any possible missing files. This is helpful not only when you are facing a DLL file missing error, but also when any other issue occurs just because it can not find any particular system file. The "sfc /scannow" command searches the Windows system and finds any missing files and fixes the issue by itself.
Here's how to run the command:
Press the "Windows + X" buttons together. When the power menu appears, click on "Command Prompt (Admin)" and agree to any popups.
When the Command Prompt opens up, type "sfc /scannow" and pres enter. Make sure you follow the syntax properly.
Wait for some time till the command does its operation and when it is done, try opening the program again that is showing the error.
Conclusion
The "sfc /scannow" command is the best possible way to fix the DLL file missing error on Windows and it mostly fixes the issue too. However, if by any chance it fails to work for you, then you can try reinstalling the Windows System itself with a genuine one. Of course, download the disc file from Microsoft's Official Website to avoid any errors. However, if you have solved the issue with some other trick, make sure to let us know in the comments below which will help us and others too.