In this tutorial, we will show you how to downgrade Oppo Find X2/X2 Pro and rollback from Android 11 to Android 10. The latest Android update is now gathering pace. After a few delays due to some unavoidable circumstances, Pixel devices were the first ones to get a taste of the Android 11 beta updates. While there's no surprise factor involved in this, but what was indeed surprising is the fact that other OEMs were quick to adopt the said update as well.
In this regard, the latest flagship devices from OnePlus (OnePlus 8 and 8 Pro), the Vivo iQOO 3 (4G/5G), and a bunch of other devices all joined this update bandwagon. Likewise, Oppo was quick to announce that it will be also be releasing the Android 11 beta update for Find X2/X2 Pro. As promised, both these Oppo devices have just received the said update, based on ColorOS 7.2.
There is a slew of goodies that the latest iteration of Android has bought with itself. However, the thing is it is still in the beta stage and there ought to be a few bugs. Therefore, if you have installed the beta package but wishes to get back to the earlier stable build, then you have landed at the right place. In this guide, we will show you how to downgrade or rollback from Android 11 to stable Android 10 build on your Oppo Find X2 or its Pro variants. Without further ado here are the required instructions.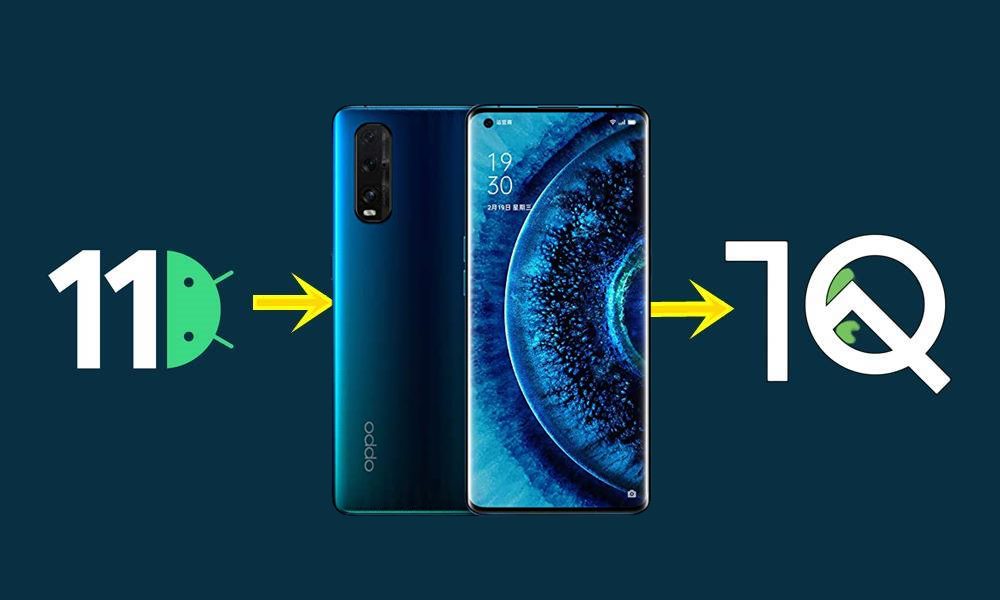 Android 11 Beta: Should you try it right now?
Well, there is denying that Google has bought some pretty impressive and noteworthy features. These include Separate Notification Channels, Bubble Conversations, Media toggles in Quick Settings. New Additions to Power Menu, New Features in Recent Menu, Location Permissions, and New Screenshots UI. To be fair, this is just the tip of the iceberg. For the complete list, please check out our comprehensive guide on Android 11.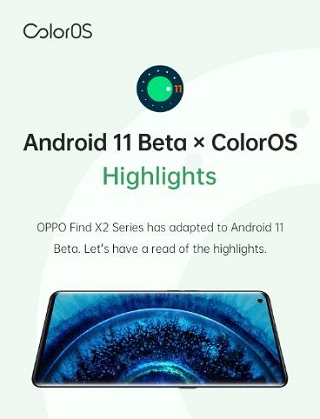 So this brings us to an important question, should you try this beta build right away or wait for the stable version? Google follows a specific schedule when it comes to releasing Android upgrades. The first phase, known as Developer Previews, is limited to the Pixel devices and are mostly aimed for the developers. After around 3-4 developer builds, the beta packages make its way.
This time, many OEMs come forward, optimized it for their respective customized OS, and then release for the interested users. But there's the thing, although it has been released after the developer builds, it isn't stable to be used as your daily driver. There are still quite a few bugs and stability issues associated with these beta packages. Even the Android 11 beta update released for the Oppo Find X2 and X2 Pro had a few bugs, as mentioned below:
Find X2/X2 Pro Android 11 Bugs List
Making a video call using a test machine would fail and the other party's image could not be displayed after you answer a video call. This can be addressed by restarting your phone.
Your phone would not detect a simulated 4-pole earphone jack and audio would play through the speaker.
Charging using the CDP charger would fail.
Keeping these bugs in mind, we would suggest you stay with the stable Android 10 build unless you are ready to trade the stability with the latest Android upgrades. On that note, if you have already installed the said build but the bugs and stability issues have become quite difficult to deal with, then here is what needs to be done. In this tutorial, we will show you how to downgrade or rollback from Android 11 to stable Android 10 build on your Oppo Find X2/X2 Pro. Let's begin.
Rollback from Android 11 to Android 10 on Oppo Find X2/X2 Pro
The rollback process will wipe off all the data on your device. So before you proceed with the instructions, it is recommended to take a complete backup beforehand. Once that is done, download the Android 10 stable build for your device from the below section.
Warning
Before we begin with this procedure, I would strongly recommend you to create a backup of your device storage and all your files stored on your device. Moreover, it is advised to follow the steps mentioned in this post very carefully to avoid permanent damage or to brick your device. If anything goes wrong the author or GetDroidTips is not responsible for it.
Rollback Firmware for Oppo Find X2/X2 Pro
Download the rollback package corresponding to your device from the links given below.
Installation Steps
Here are the required steps to rollback or downgrade to ColorOS 7 based on Android 10.
First off, download the Android Q firmware package and copy it to your device's internal storage. The package varies depending on different phone models. Find the corresponding packages for different models as follows:

– CPH2023: CPH2023PU_11_OTA_0730_all_4b9m0wV9ioC8_roll-back-pu-findx2.ozip
– CPH2025: CPH2023PU_11_OTA_0730_all_4b9m0wV9ioC8_roll-back-pu-findx2pro.ozip

Next up, find the firm package in File Manager and tap on it.
You will now be alerted of data erasion. Tap Next. You will then be prompted to back up data. Again tap on Next to reply in affirmative.
Finally, confirm the rollback. You will need to restart your phone after the rollback is finished.
That is it. These were the steps to downgrade or rollback from Android 11 to Android 10 on Oppo Find X2/X2 Pro. The first boot will take up some time, which is completely normal and nothing to worry about. Furthermore, you might have to set up your device from scratch as a data wipe has taken place. So login to your Google account and proceed with the on-screen instructions. Having any issues with the aforementioned steps? Do let us know your queries in the comments section, Rounding off, don't forget to check out our iPhone Tips and Tricks, PC tips and tricks, and Android Tips and Trick section as well.