From this post, you could download the latest version of the Android SDK Platform Tools. We have provided the tool for Windows, macOS, Linux, and Ubuntu operating systems. Follow this guide to get yourself acquainted with its feature, usage, and some of the common commands that you could execute using it.
Android ecosystem is always regarded as the epitome of customizations. The reason for the same stands simple- being open source in nature, it offers a plethora of tweaks and modifications. In a general sense, you would have already tried out some custom launchers, icon packs, themes, and other UI changes. But these are just the tip of the iceberg. There is a plentitude of other customizations possible. These include the unlocking of the bootloader of your device, replacing stock recovery with a custom recovery like TWRP, flashing an ocean of mods, frameworks, ZIP, and IMG files, among others.
Also Read: WebADB: Run ADB from Your Web Browser (Chrome, Edge, or Any)
Likewise, there's also a possibility to flash a new kernel and overclock or underclock the CPU power. Along the same line, rooting is another pretty famous tweak that users like to try out. The latter gives you administrative privileges and allows for modification to the system partition. But for all of these to be effectively carried out, there is a pretty important prerequisite. Your PC should be having the Android SDK Platform Tools installed. Until and unless you have it installed onto your PC, chances are you won't be able to carry out any of the abovementioned tweaks. But why does this happen? Let's check out. After this, we will also check out its usage and will share the said build for Windows, macOS, Linux, and Ubuntu systems.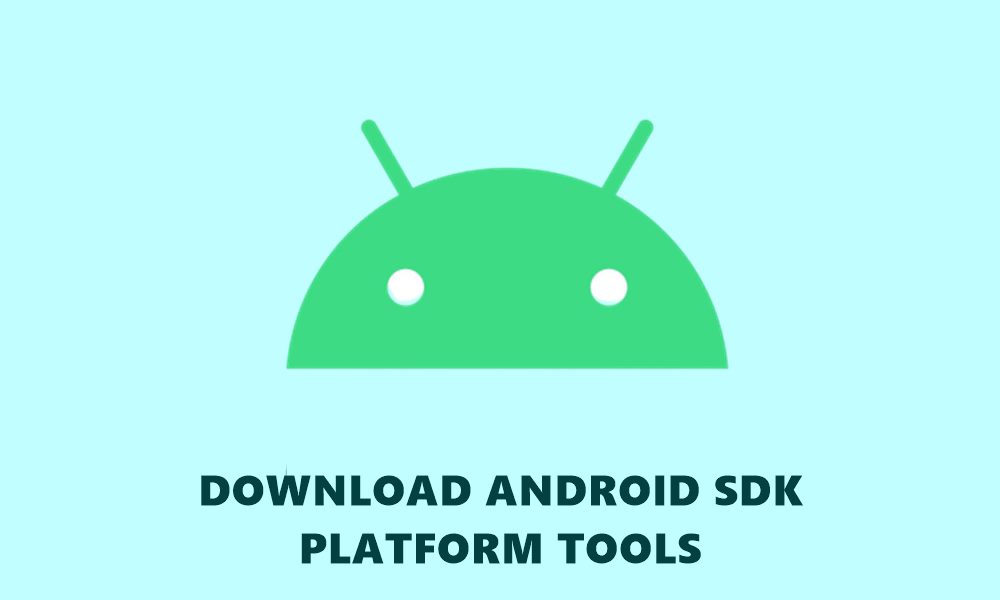 The Need for Android SDK Platform Tools
One pretty important thing to discuss is why you will be needing this tool. Well, consider it like this. When you connect your device to PC to transfer files, images, and videos you need the device-specific USB Drivers installed. If they aren't installed, your PC will simply refuse to identify the connected device or would show it as an unrecognized device. Similar is the case with these tools, although its usage goes a step further. These tools aren't needed when you connect your device to a PC for file transfers. Rather, the need for these tools arises when you are about to carry out ADB and/or Fastboot commands.
Your device will only be identified by the PC in fastboot or ADB mode if these tools are installed. There exist a plethora of commands that you would need to carry out the abovementioned tweaks. Well, the first and foremost requirement is an unlocked bootloader. Unless you do so, you wouldn't be able to try any higher-level customizations. But even to unlock the bootloader, you will need to have the Android SDK Platform Tools installed. Apart from that, here are some of its other pretty important usage:
Booting Device to Bootloader/Fastboot
Using the ADB and Fastboot binaries, you could easily boot your device to bootloader or fastboot mode. Just enter the adb reboot bootloader command and that's it. The best thing about this code is that it is universally applicable to all Android devices.
Booting to Recovery
Booting your device to a custom recovery like TWRP or the stock recovery is also possible just by this single line of code: adb reboot recovery
Checking ADB and Fastboot connection
To make sure that your device has been successfully booted to ADB or Fastboot modes, you could easily execute a single line of code, granted you have installed the Android SDK and Platform Tools on your PC. Type in adb devices to check for ADB connection or fastboot devices for Fastboot connection verification.
Unlock Bootloader
As already mentioned, the fastboot oem unlock command opens the gate to a plethora of customizations.
Flashing ZIP Files
You could also flash the ZIP files like the TWRP installer using the fastboot flash recovery recoveryname.zip
Booting IMG Files
Likewise, booting your device via IMG file also becomes quite an easy process. We usually do so while booting TWRP Recovery to any A/B partition device by using the fastboot boot recovery.img
Rebooting Device
Furthermore, you could directly boot your device to Android OS from the fastboot mode using the fastboot reboot command.
To be fair, these are just some of the commands being used on a normal basis. There exists tons of other ADB and Fastboot commands that you could/would come across while dealing with these customizations. But not a single code will be executed successfully if you don't have the Android SDK Platform Tools installed on your PC. So with this, we guess by now you might have got a pretty strong idea as to the need and importance of this tool. Let's now proceed ahead with the download links as well as the usage instructions for this tool across various platforms.
What's New in Version 30.0.5 (November 2020)
31.0.3 (August 2021)
fastboot

Support flashing vbmeta_vendor.img for fastboot flashall / update.
31.0.2 (April 2021)
adb

Support forwarding to vsock on linux.
Fix bug in adb track-devices where devices over wireless debugging wouldn't immediately receive updates.
Implement preliminary support for mDNS device discovery without a separately installed mDNS service. This is currently disabled by default, and can be enabled by setting the environment variable ADB_MDNS_OPENSCREEN to 1 when starting the adb server.

fastboot

Don't fail when unable to get boot partition size.
Derive device locked state from property instead of parsing the kernel command line.
Download Android SDK Platform Tools
You could now download and install the Android SDK Platform Tools for your operating system from the below links:
For Windows:
For macOS
For Linux
How to Install Android SDK and Platform Tools
Once you have downloaded the ZIP package from above, extract it to a convenient location on your PC. However, it is highly recommended that there shouldn't be any spaces between the names of the folder. For example, C:\GetDroidTips\platform-tools is the correct example, but C:\Get Droid Tips\platform-tools isn't. Moving on, once you have extracted the folder, you should see the name as platform-tools. Here is how that folder looks in the case of Windows.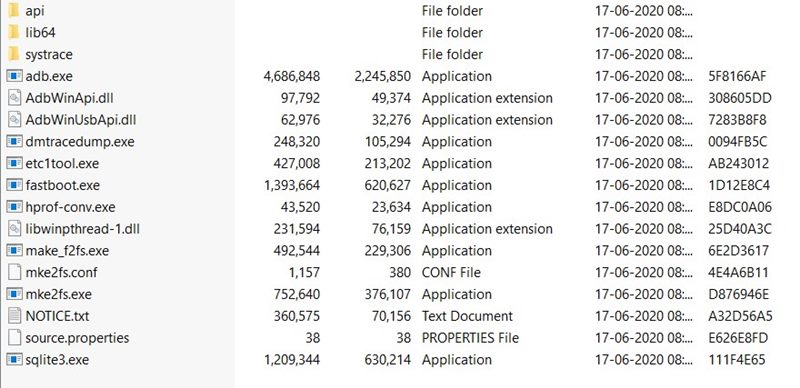 Now to execute any ADB or Fastboot commands, there are two requirements, one on the device side and other on your PC. First lets' check out what needs to be done on your Android device. After which we will shift our attention to the PC side.
STEP 1: Mobile Requirements- Enable USB Debugging
So that your device gets recognized by your PC in the Android Debugging or ADB mode, you will have to enable USB Debugging. Here is how it could be done: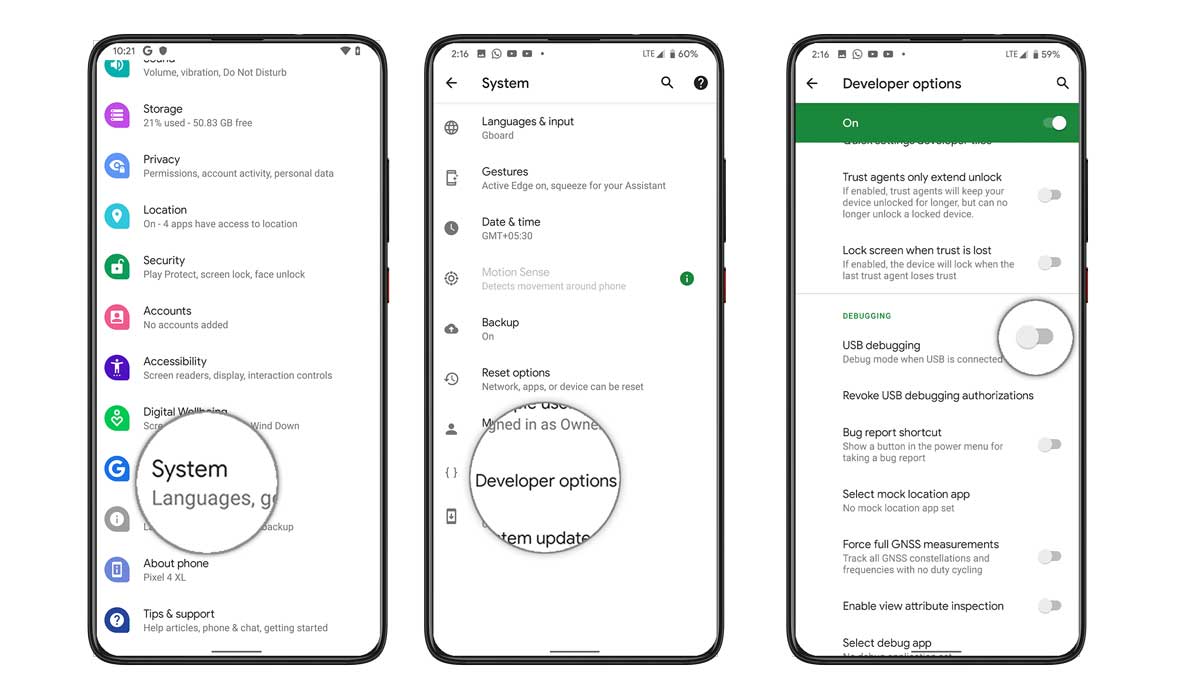 Head over to Settings on your Android device.
Navigate to About Phone and tap on Build Number 7 times.
Then go back to Settings > System and tap on Advanced.
You should now see the Developer Options. Within that, enable the USB Debugging toggle.
Now connect your device to PC via USB cable and move over to the next section.
STEP 2: PC Requirements- Entering Commands
There are two ways of entering commands on your PC, either via Command prompt or through Windows Power Shell. Let's check out both the methods.
Executing Commands via Command Prompt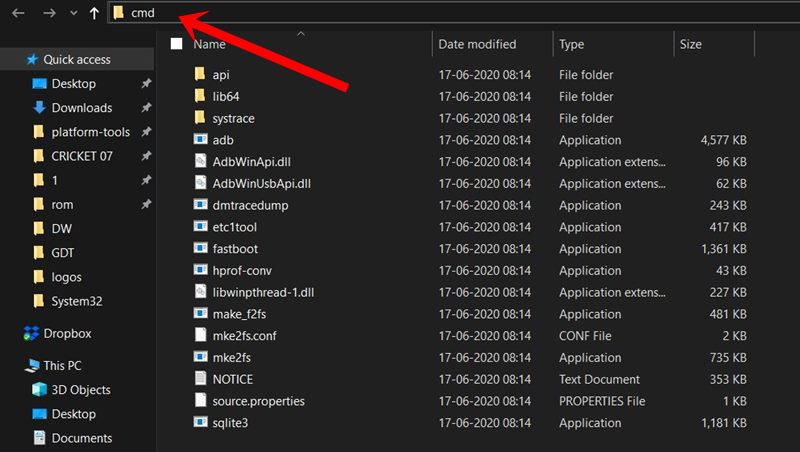 If you wish to take the CMD route, then here is what needs to be done:
Head over to the platform-tools folder on your PC.
Inside that folder, type in CMD in the address bar and hit Enter.
This will launch the Command Prompt. Now just type in the desired command and that is it.
Entering Commands in PowerShell Window
Head over to the platform-tools folder on your PC.
While pressing the Shift key, right-click in an empty area inside the platform-tools folder.
From the menu that appears, select Open PowerShell window here (in Windows 10) or Open command window here (in earlier builds of Windows).

Type in the needed commands and hit the Enter key to execute them.
However do keep in mind that if you are using PowerShell window, you might have to prefix ./ before each command. So to avoid any confusion, many users prefer to go ahead with the Command Prompt window itself.
STEP 3: Identifying your Device in ADB or Fastboot Mode
Now that you have enabled USB Debugging and opened the PowerShell or Command prompt, here is how to begin with the ADB commands.
Type in the below command and hit Enter

adb devices

You should now see a prompt on your device, asking for USB Authorization. Tap on Allow and if it's your PC, you should also tick mark the "Always allow from this computer" option, as shown below.

Once that is done, you should now see an alphanumeric string followed by the adb keyword. This signifies that your PC has successfully recognized your device in ADB Mode.
For fastboot mode, type in the below command and hit Enter:

adb reboot bootloader

Now enter the below code and if you get the alphanumeric code followed by the fastboot word, the fastboot connection has been successfully established.

fastboot devices
That is it from this guide. We have provided the Android SDK Platform Tools download links, the installation steps, and some of the pretty important ADB and Fastboot commands. If you have any queries concerning any of the above-mentioned steps, do let us know in the comments section. Rounding off, here are some iPhone Tips and Tricks, PC tips and tricks, and Android Tips and Trick that you should check out as well.