Xiaomi has a number of users and an active developers group. Because of this, Xioami users get the latest unofficial updated, app ports and exclusive Android scripts. This time, Xiaomi smartphone users are getting the latest Google Camera port for Xiaomi Poco F1, Mi 8, and Mi Mix 2S. The best part about this port is that it doesn't require root or bootloader unlocking. So users who don't have root access can also use this port to enjoy the latest features from Google camera app.
Download Google Camera Port for Xiaomi Poco F1, Mi 8, and Mi Mix 2S – Works without Root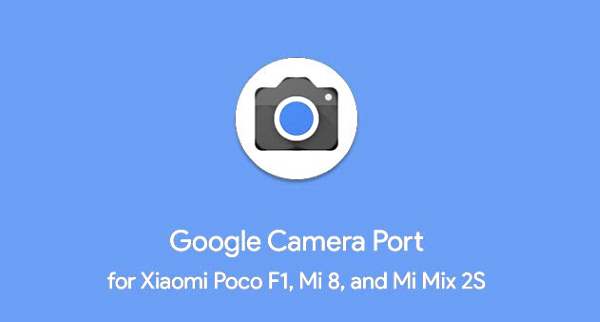 Google camera mod is one of the best third part camera ports you can use. It enables all the flagship features like HDR+, Portrait mode on a single lens, Lens blur etc. These features will work on every device as long as its using a Qualcomm Snapdragon processor. However there's a catch, to use the latest Google camera mod on Xiomi device, it must support Camera2 API. The good news is that the latest Xiaomi devices come with pre-enabled Camera2 API. So users with no technical details will be able to install this app without any issues. This Google camera port will work on all Xiaomi devices running Snapdragon 710 and Snapdragon 845 chipsets. Which means it will fully support Xiaomi Poco F1, Mi 8, and Mi Mix 2S.
About this Google Camera Port
Google camera app has been ported to many devices before but it was never successful on Xiaomi devices. This is because Xiaomi uses a different set of camera libraries which Google uses. After a ton of efforts from a Ukranian 4PDA forum member B-S-G, Google camera app was ported to Xiaomi devices. Not only that, this camera mod is universal which means that it will work on every Xiaomi device.
It all started when the developer received Xiaomi Mi 8 and he was quickly able to port the app to run on Xiaomi framework. Since the latest devices from Xiaomi such as Poco F1 and Mi Mix 2S, this port works pretty well on them too. However, some of the features are still not available on these devices. Maybe more work is needed to be done to completely port all the features form Google camera APK.
Also read: Did Nokia launch the Nokia 7.1 Plus with Waterproof IP rate?
Following are the features that work without any problem:
Portrait Mode in Front and Rear camera – This works better if the device hs dual camera. However, the results are satisfactory even with single camera lens devices.
HDR+ Mode – This mode takes 3 consecutive shots in different exposures and combines them as well. This gives a high dynamic color range to pictures.
Video Recording – Basic video recording.
And, below are the features that do not work, at least for now:
Download Google Camera Port for Xiaomi Poco F1, Mi 8, and Mi Mix 2S
If you also want to try the latest Google camera app port on your Xiaomi device then you can do so by downloading the mod APK.
Note: Just make sure your device runs on Snapdragon chipset. Otherwise, it will crash the camera application. This might result to faulty camera interface as well. Process on your own risk.
Also read: Download Huawei Mate 20 Stock and Live Wallpapers
This APK file is originally provided by B-S-G over at the 4PDA forums. You can get more info about the APK from this XDA thread.
How to Install Google Camera Port on Xiaomi Poco F1, Mi 8, and Mi Mix 2S
Installing the app is easy. As Xiaomi devices comes with Camera2 API enabled, users don't have to unlock the bootloader or root. They just need to install the APK in a traditional way.
However, before that, you need to enable developer options. To enable developer options to follow these steps:
Open phone settings and navigate to Settings ->Additional Settings -> Privacy.
Check install unknown apps. This will allow APK installation from all sources besides play store.
Installing Google camera port for Xiaomi devices:
Download Google Camera Port APK file from the links given above.
Navigate to the location where the APK file was downloaded/transferred.
Tap on the 'MGC_5.1.018_MI8_V1b .APK' OR 'MGC_5.3.015_MI8_V1a.APK' file depending upon the version you downloaded.
tap install and wait for few minutes.