Do you own an HTC smartphone and you like to mingle around with it.? Mingle in the sense, perform various customizations and try to know various information about your device. Then you must be aware of performing stuff like bootloader unlocking, entering fastboot mode, flashing a stock or custom recovery, flash ROM zips, etc. For performing all these tasks you may be using separate tools. So, to make your life easy we bring you the HTC Smart tool. With this one tool, you can perform all the above-mentioned tasks on your HTC smartphone. This software is exclusive to use with HTC devices. Habeeb Kambreth is the developer of this free-to-use tool, so props to him for his hard work.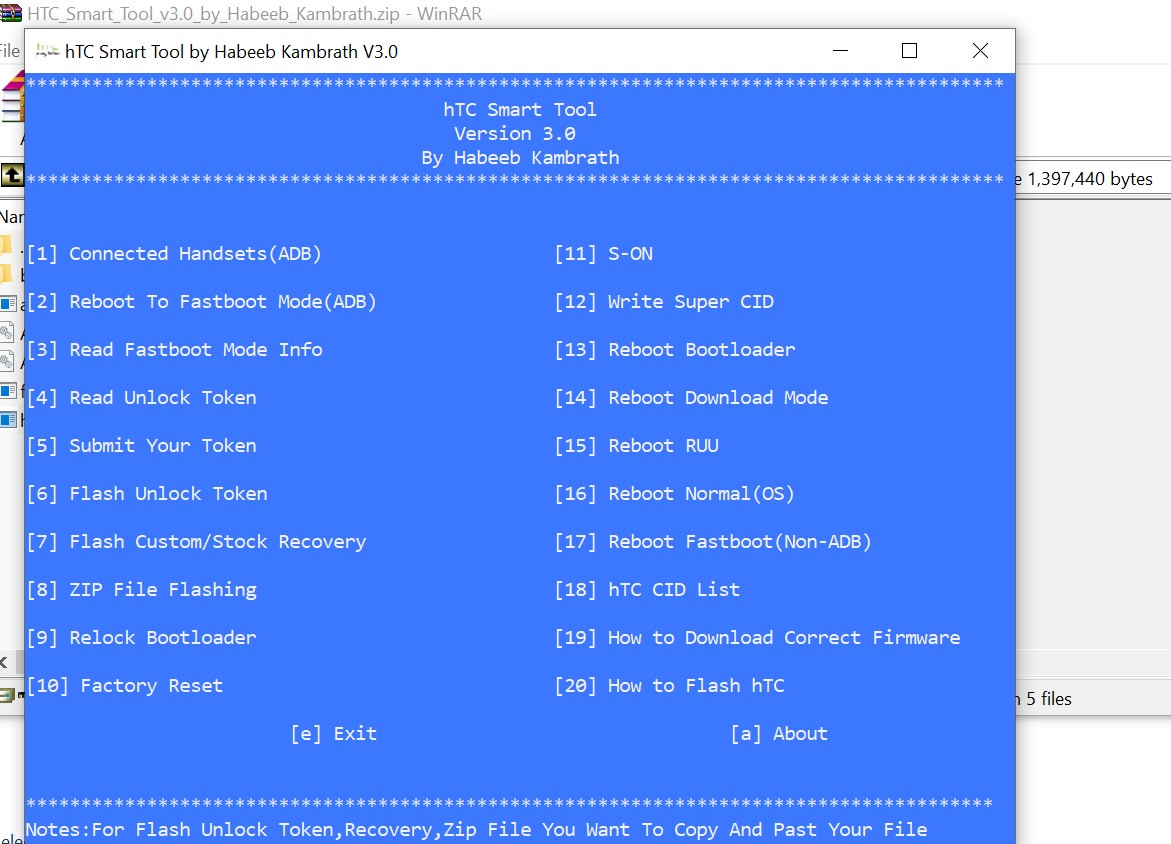 In this post, we have put up all the available versions of the HTC Smart tool for you. So, check it out. It's easy to install and use. This software is exclusive to run on Windows OS only. Speaking of which if you happen to run Windows XP/7/8/8.1/10 etc (both 32-bit and 64-bit), then you can easily use this tool for HTC smartphones.
What Features does the HTC Smart Tool pack.?
Now, let's discuss the various useful features of this tool by developer Habeeb Kambreth.
Flash unlock token
If you wish to unlock the bootloader of the phone, then you can simply use this tool to read the unlock token instead of performing any process to generate it manually.
Reboot to Fastboot mode
Forget the traditional way of using phone buttons to enter the fastboot mode. All you need to do is use the HTC smart tool to perform this task.
Flashing stock and custom recovery
Simply download the stock or custom recovery zip file for your respective device. Copy and save it in the installation folder of the HTC smart tool. Then use the tool's function to perform this flashing of the stock/custom recovery.
Check the connected Devices
With this tool, you can check the number of active devices connected to the PC.
Relock Bootloader
Keeping the bootloader unlocked may create various issues. So, it is always recommended to relock the bootloader, in case you are unlocking it for any customization purpose. Use this tool to get this work done easily.
Flash zip files
Zip files may refer to ROMs, apps, any applications that you may want to install on your device. However, your HTC device needs to be rooted in order to perform this particular task.
Download HTC Smart tool
Here is the download link for all the versions of this software.
Download HTC Smart Tool v3.0
Download HTC Smart Tool v2.0
You May Also Like,
Installing the HTC Smart tool
Step-1 Download the software (latest version recommended) from the above link
Step-2 Open the zip using WinRAR.
Step-3 Scroll for the .exe file present at the last of the folder.
Step-4 Double click on the file to open it.
Note
As the tool mentioned in this guide makes use of Android exploits, your PC Anti-virus may detect them as viruses. You can ignore them and continue to work with the tool. It will not be an issue.
Disclaimer
GetDroidTips will not be responsible for any damage to your device while or after you use this guide and the tool provided here-in to perform any modification to your smartphone. Perform any modification on your phone at your own risk.
So, that's all folks. If you are into customizing your HTC devices, then grab the HTC smart tool which will come in handy to perform various customization related tasks on your phone.