Almost a majority of people use Android smartphones. There are many aspects of the Android which the user may require to use or know the corresponding information of his device. This includes resetting the device, entering recovery mode to flash software, etc. There are more. You can check for ADB and fastboot, extract the device information and format the phone. Now, usually, we see various separate tools which can perform these tasks. What if there is one stand-alone tool that will do all these functions.? So, in this post, we bring you this tool called the Alfahd Android Tools. This software can perform multiple tasks related to a smartphone including the ones we mentioned above. So, you can think of this as a one-stop solution for all the tasks.
We have put up the download link of Alfahd Android Tools. Installing it too easy. We have got the latest version of the software. We have also included the previous. So, at one place you will get all the versions of this Android tool. You must keep in mind that this tool will only work on a PC/laptop running the Windows OS.
This tool is a freeware developed by XDA developer alfahd. So, props to him for his hard work on this.
Features of Alfahd Android Tools
Let's check out in detail what all tasks this tool is capable of doing.
You can entirely wipe out user data and perform a factory reset. However, to do this via Alfahd tool you need to root your phone
Your device can enter the recovery mode via ADB.
Also, you can access Fastboot using this tool.
On this tool use the command format userdata to format your phone.
Access the Download Mode.
Check for fastboot mode.
Reset your device by the bootloader.
You can get the main device info.
break the pattern lock.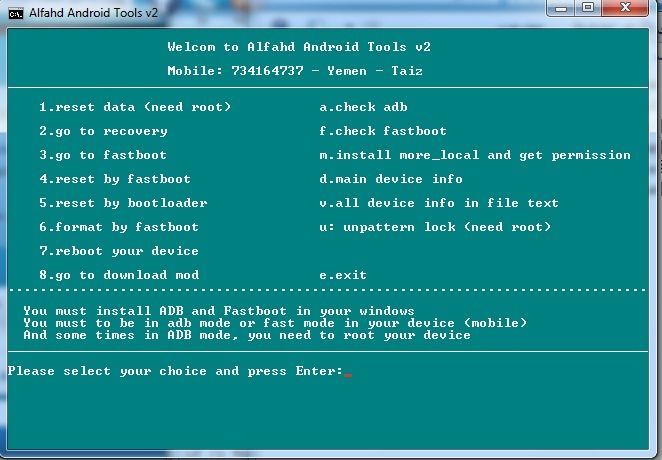 Download Alfahd Tool [All Versions]
Here is the download link of this all-in-one tool for your Android device.
You May Also Like,
If you think whether your Android smartphone will support the alfahd tool, then stay assured. All the smartphones from any manufacturer can easily support the Alfahd Android Tools.
Like we said, this tool can run on a system that uses Windows OS. Windows XP/7/8/10/Vista(both 32-bit and 64-bit) supports this software.
So, if you are someone who spends a lot of time tinkering your android device and you require an all-in-one tool for your device to perform various tasks, then get the latest version of Alfahd Android Tools. We hope that this guide was useful to you. If you have got any queries do let us know in the comments section below.