Jurassic Universal Android Tool is a well-known standard tool which offers an easy way to remove Android PIN/Pattern lock, factory reset, IMEI serial number, read partition code, etc. It's just like the Android Multi-Tool but offers more functionalities for Android users. You can even read or remove Gmail ID from your Android device. Here in this article, we will share with you the link to download this tool and provide the features as well.
It has six tabs in the interface which offers different kinds of options to do. Such as Service Tab, Editor Tab, Memory Tab, Misc Tab, Apps Tab, and Droid Explor3r Tab. Apart from the options mentioned above, it also offers editing build-prop file, editing script.bin, SN changer, read CPU info, etc. Additionally, the tool also provides options like APK extractor, read battery data, storage backup, apps & games installer, and more. Check out the detailed feature list from below.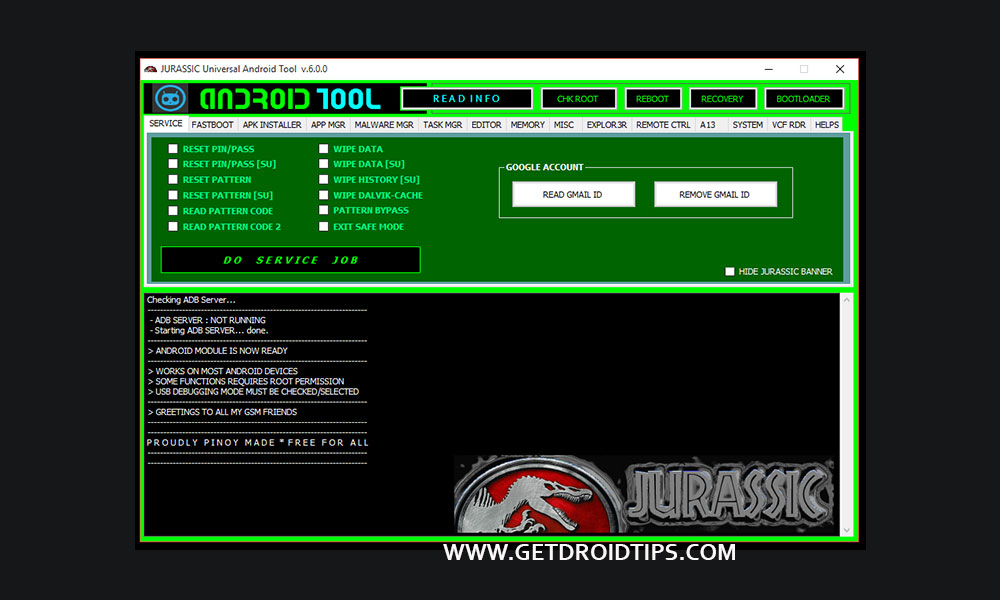 Jurassic Universal Android Tool Features:
There are six tabs available in the Jurassic tool from which each and every tab offers plenty of different kinds of services or functionalities. Let's take a look.
1. SERVICE TAB
Reset user code
Reset pattern
Read pattern code
Code sender
Wipe data (factory reset – ADB)
Wipe data (factory reset – FASTBOOT)
Delete history
A13 Tablet Root
2. EDITOR TAB
Build-prop editing (flashing of modified build.prop requires root on some devices)
Script.bin editing (A13 devices)
SN Changer for A13 Devices (FIRST IN THE WORLD!!!)
Boot animation flasher
APK Extractor (only can see inner files)
3. MEMORY TAB
Read memory info/status (system/data/sdcard-internal/external)
CPU info – Read
Read module-info
Read battery data/wipe battery stats
Read/check device partition
4. MISC TAB
Backup – SD Card files, CAMERA files, Installed apps
Dump A13 Firmware
Integrated Android flasher for allwinner and rockchip CPU's
IMEI Rebuilder – A10-A13 chips, Rockchip, and MTK (requires root access)
5. APPS TAB
Apps and games installer
ZIP Manager
List installed apps (not working on some devices)
Uninstall installed apps
6. DROID EXPLOR3R TAB
Explore the inside of your android device, just for fun, beta mode.
Software Installation Information:
For Windows 7/8/Vista Users:
Install this software on your Windows PC where UAC will not affect it (install this software in your drive D partition)
For Windows XP Users:
Before installing this software, please install the .Net Framework 2 or higher at first, if you haven't done already.
Then install this software anywhere in your PC.
Download Link:
Jurassic Universal Android Tool (Latest V6.0.0) | Download