EMUI is one of the most popular and widely used custom skin or UI for Huawei and Honor devices based on Android OS. As we know that Android is an open-source platform therefore, most of the smartphone OEMs develop their own custom skin or UI especially for their devices. Huawei Technologies Co., Ltd is a Chinese Multinational Technology company that has developed EMUI skin. EMUI (Emotion UI) offers plenty of customizations, functionalities for the Huawei and Honor device users. It also offers themes, wallpapers, lock screens, and more. Here you can Download MIUI 11 EMUI Theme for Huawei Devices [EMUI 9.0+].
Huawei has recently started rolling out the latest EMUI 10.0 for a couple of devices. It's based on Android 10.0 (aka Android Q). But there are most of the Huawei and Honor devices still running on EMUI 9.0 or EMUI 9.1 based on the Android 9 Pie version. A couple of days ago, Xiaomi has also launched the Android 10 based MIUI 11 skin for the Xiaomi and Redmi devices. The new MIUI 11 EMUI theme has been developed by one of the EMUI Themes Forum Members.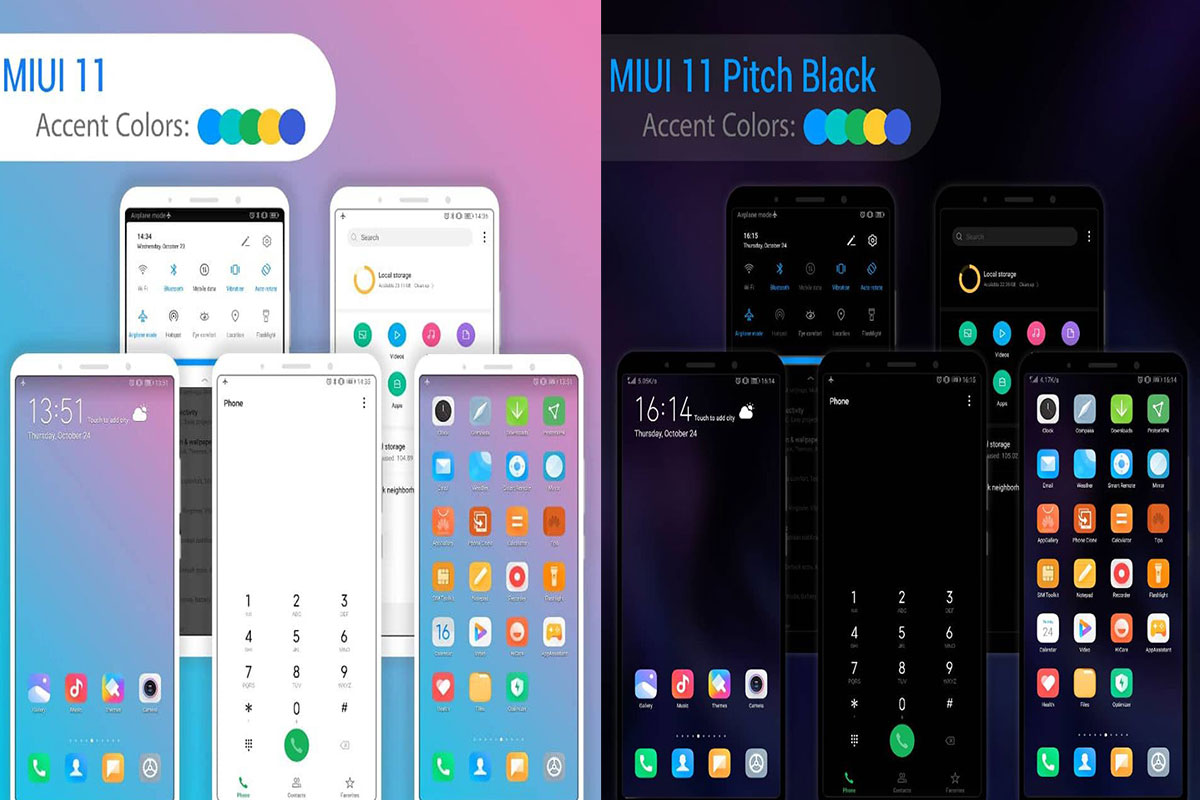 MIUI 11 EMUI Theme for Huawei Devices [EMUI 9.0+]
The theme comes in two background color options like Light Background and Pitch Black Background. Whereas, there are five different accent color options for the theme which you can easily switch and set your preferred one. Both the themes will work on any Huawei or Honor devices running on EMUI 9.0 or EMUI 9.1 skin.
The EMUI theme looks and feels just like the Xiaomi MIUI's official theme, icons, and UI. If you're a fan of Xiaomi phones or MIUI skin or just want to change the look on your EMUI device, check this article. However, it's worth mentioning that due to the popularity of dark themes everywhere, the MIUI 11 Pitch Black – EMUI 9.1/9.0 Theme isn't available for free. You can buy the dark theme at Rs.140 from the Google Play Store.
While the Light theme is available for free and it offers similar MIUI based icons, dial pad, home screen, notification bar, and the status bar as well. Hopefully, the upcoming updates will include more new features and visual changes to the theme. If you want to taste out any of the mentioned EMUI themes, check out the Play Store link below:
Download MIUI 11 EMUI Theme
Make sure that your Huawei or Honor device is running on EMUI 9.0 or 9.1 version in order to work the theme properly.
[googleplay url="https://play.google.com/store/apps/details?id=zoha.themes.miui11free"]
[googleplay url="https://play.google.com/store/apps/details?id=zoha.themes.miui11pitchblack"]
Steps to Apply the EMUI Theme
Visit the Play Store link from above and install the preferred theme on your device.
Next, go to the Huawei Theme Store and search for the recently installed theme.
You will see the installed theme there. Open the EMUI theme and apply it.
For better results, you may restart your device to take effect completely after applying.
That's it.
We hope this article is useful to you. Feel free to ask in the comments below for any queries.