There are many times when a new software version for your smartphone is released OTA (over-the-air), but it has not been pushed by your carrier and you have to wait for some time while others are enjoying the latest OTA update. You might depend on discussion and help forums where someone is likely to drop a link to download the OTA zip file, but that can take long sometimes. If you're using a Motorola smartphone and you wish to get the link to the latest OTA zip file for your carrier, this article is for you. In this guide, I'll show you how to download Motorola OTA link generator tool.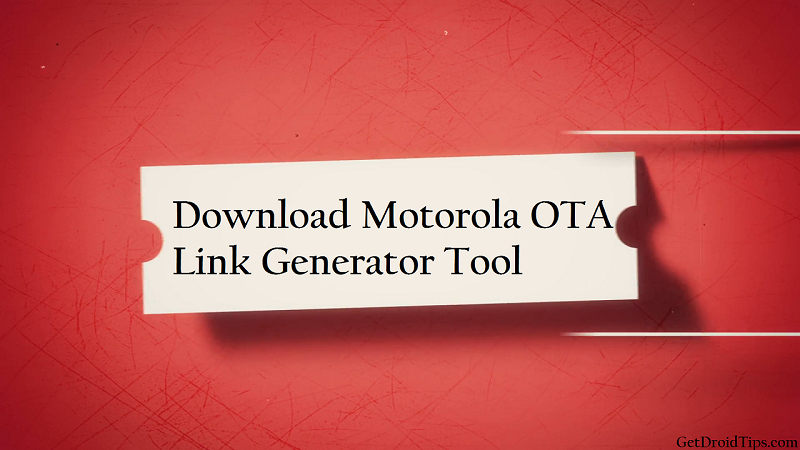 The Motorola OTA link generator tool is a third-party software tool developed by XDA Recognized Developer, erfanoabdi to help users of Motorola smartphones quickly get the latest official software updates for their smartphones even if they aren't with the phone at the moment. It's not something you can really download; the Motorola OTA link generator tool is actually a web application that you can visit anytime on your browser. With it, you have the added advantage of not having to add any extra load to the list of applications on your smartphone.
Devices compatible with Motorola OTA link generator tool
The Motorola OTA link generator tool supports all Motorola Devices. This includes the Moto X, Moto G, Moto E, Moto Z, Moto M series, and others.
What You Need
For this tweak, you'll need to get some information about your Motorola device either from the bootloader interface or from the build.prop file. Therefore, you have to know how to boot into bootloader mode on your particular Motorola device. You also have to root your device and install a root file editor like ES File Manager in order to edit your build.prop file and get the needed information.
After rooting your phone,
Install ES File Manager from the Google Play Store.
Launch the application.
In the app menu, navigate to Settings >> Root Settings.
Check the Root Explorer and Mount FileSystem boxes.
Return to the main page and navigate to the root folder of your internal storage.
Navigate to the system/ path, find the build.prop file and tap on it. You can open it with ES Note Editor or any other text editor you prefer on your device.
If you're using the bootloader, boot your Motorola device into bootloader mode and run the following command in Fastboot:
fastboot getvar all
Motorola OTA Link Generator Tool – How to Use
In order to use the Motorola OTA Link Generator Tool to get the link to the latest zip file for your Motorola device, you need to get the phone's
Model;
Software Version; and
Carrier.
In the build.prop file, you can get these three parameters under the
ro.product.model;
ro.build.version.full; and
ro.carrier
fields respectively. In the bootloader, the same fields apply when you run the above command in fastboot. Just look for the parameters and note their values down.
Next, visit here to use the Motorola OTA Link Generator Tool. Simply enter the details gotten in the appropriate fields and click Get it.