Spreadtrum Communications, Inc., (now as Unisoc) is a Chinese fabless semiconductor company from China that produces chipsets for mobile phones. Pandora Tool is also provided by Spreadtrum Inc., which is a software application designed for the Windows platform. It helps mobile phone users to adjust the RF (Radio Frequency) parameters easily. It supports two modes to connect phones as Calibration Mode and Normal Mode. Here in this article, we will share the links to Download Spreadtrum Pandora Tool on Windows (All Versions).
It's a very portable app that runs on your Windows without installing it and offers a very simple easy-to-use interface. The tool offers multiple modes to connect your device with the computer. Whereas, by connecting your device to this tool, you will get more device information. Such as baseband chip version, IMEI1 & IMEI2 number, SN1 & SN2 Address, Bluetooth Address, Wi-Fi Address, etc. Most importantly you can adjust the RF parameters of your phone via this tool.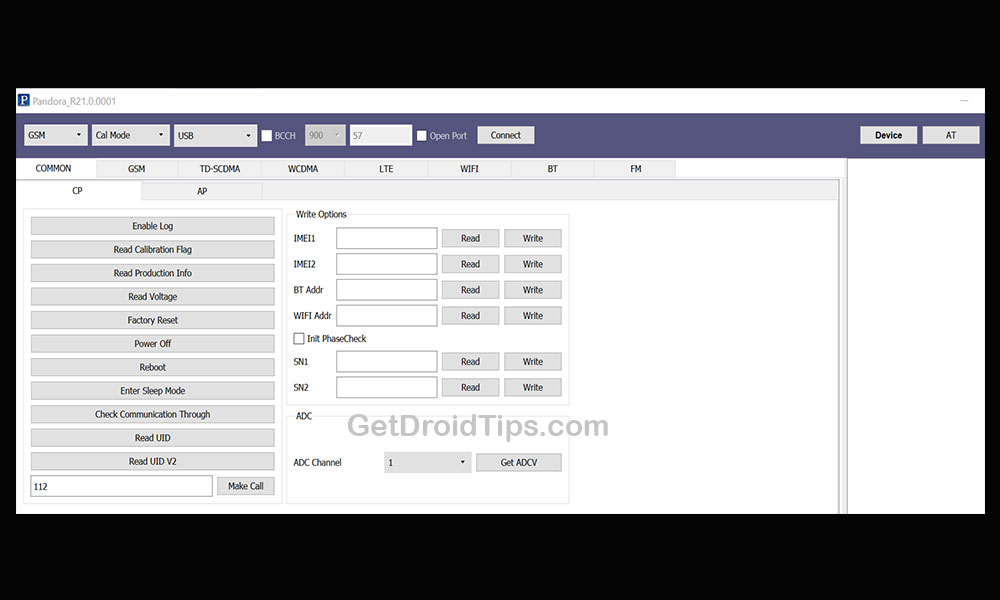 Check out the useful features below.
Pandora Tool Features:
Portable App:
The tool comes as a portable app which doesn't even require to install on your Windows PC/Laptop. You can just download and extract the app on your PC and use it freely.
Multiple Modes:
The tool offers two different modes for connecting your Spreadtrum device like the Calibration Mode and Normal Mode. The Calibration Mode connects the phone to the computer via a USB cable where V-BUS is disconnected first and then user have to power on the device to test it out. In Normal Mode, turn on the device normally and connect to PC for testing.
DUT Interface:
The DUT interface comes with plenty of useful options which is not limited to the Chipset Type, Port Type, and other options. It also Auto Read common information of the device and provides connect button automatically.
Device Information:
The tool helps you to get the complete information of the connected Spreadtrum device. Additionally, it includes the baseband chip, IMEI1 & IMEI2 number, SN1 & SN2 info, Bluetooth info, Wi-Fi info, etc.
Now, let's take a look at some of the important notes which you should know.
Important Notes:
Backup: Take a complete backup of your device data before using this tool. This tool will calibrate the Spreadtrum phone. During this process, your device data may be removed completely.
Compatibility: It's compatible with all the Windows versions. Such as Windows XP / Vista / 7 / 8 / 8.1 / 10 versions. It supports both the 32-Bit or 64-Bit system OS versions.
Credits: Pandora Tool is created and distributed by Spreadtrum Communications, Inc. Therefore, all credit goes to the company for sharing this awesome tool for free.
Download Pandora Tool - All Versions