Valorant is an upcoming tactical first-person shooter video game developed and published by Riot Games. The game has been abruptly captivated the attention of all the players in the world of competitive gaming. We have been discussing guides on Valorant quiet long ago. Now again, one of the users has asked us how does the Econ Rating works in the game. So this though, can be in the minds of most of the users out there.
As we know that the game is not yet launched for the universal public yet and is available to certain regions only. Riot Games has pushed a patch update that enabled global rankings as well as Econ in most of the regions. Now the doubt comes naturally what is that feature and how does it work. So if you are one of those users who is thinking, then you have come to the right place. Let's get started with our Econ Rating guide for Valorant without wasting any time.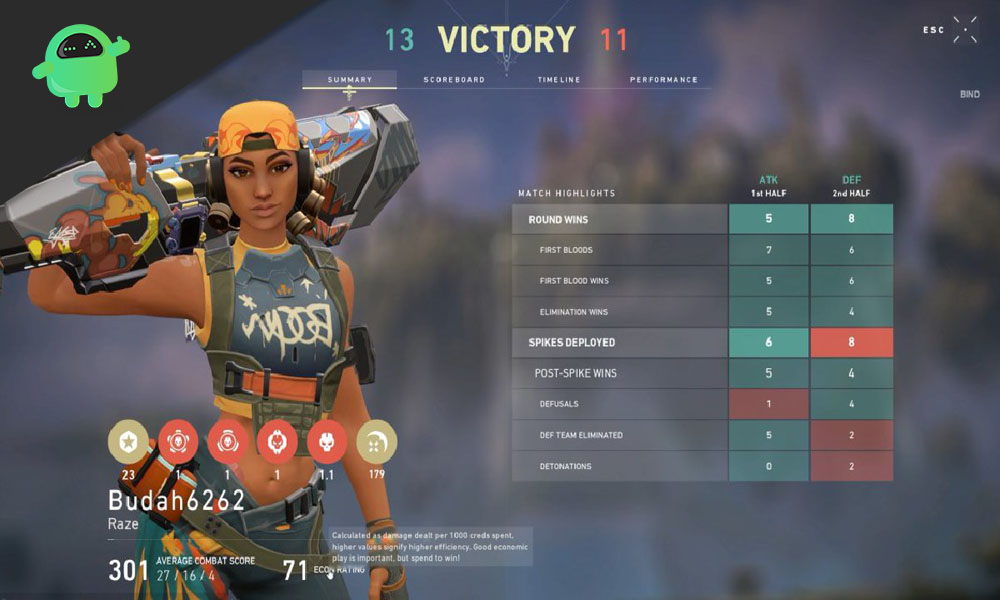 How does Econ Rating work?
Econ Rating simply means Economy Ratings. If you look at your game stats after finishing a game, you will usually find that thing now. In the basic definition, the amount of damage you did per 1000 credit you spent in the game is the Econ Rating. Let us assume you spent 2000 credits and dealt total damage of 200, and then your Econ Rating will be 200. It is a simple ratio. Moreover, it does not have much implication in the game. It is just to acknowledge yourself with the gameplay alongside providing full details.
You can find your Econ Ratings for one of the past matches by going to the career options in the main menu. Then you can click on any of the previous games you have played, and there at the bottom, you will find the Econ Rating. However, we can say that higher values signify higher efficiency, but good economic play is essential as well. One more thing to note here is a player can have a very high Econ Rating although had played the match very safely without supporting anyone. So only the Econ Rating does not matter in the overall efficiency of the player. You can only judge his performance with Econ Ratings.
Wrap-UP
This guide was to help the players of Valorant understanding Econ Ratings. After following our guide, they will be able to higher up their Econ Ratings by understanding the strategy. We hope this guide helped you. If you have any queries or feedback, feel free to comment down below with your Name and E-mail ID. Likewise, check out our iPhone Tips and Tricks, PC tips and tricks, and Android Tips and Tricks for more such tips and tricks. We urge you to participate in the $150 giveaway by subscribing to our YouTube Channel.