Not all shots can be perfect, especially when using your bare hands and your mobile device. But always, you can simply edit them afterward and make it more appealing. But you'll need some tools for editing the photos.
Luckily you don't need to install any pricy third-party app to crop the photo or to adjust the brightness. Many people don't realize that they can edit Photos with iOS Photos App on their iPhone or iPads. You just cannot expect any professional-level results, although for adjusting some simple aspects, its a perfect option.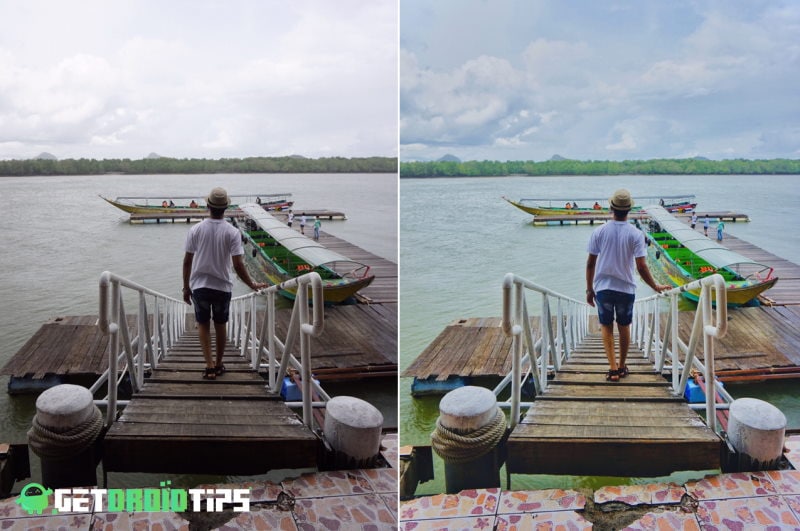 How to Edit Photos using iOS Photos App
First, open the image you wish to edit on the photos app. Now tap on "Edit" towards the top right corner. You will be presented with a series of options to tune and edit your image. Let's see them now.
Editing features
Here are the features that the app provides for editing your photos. There are many options available, and they are categorized into three categories inside this app.
Cropping and rotation adjustment.
Color effects or Filters.
Light and color fine-tuning.
Now let's see them one by one.
Cropping and Rotation adjustment
Here you can crop your photos to suit your requirement. Especially when posting into social media, you should adjust and crop the photos so that the photos look good. For instance, when uploading photos to Instagram, you need to crop the photo to a square (1:1) ratio
Cropping

Just tap on the Crop icon. You can either manually adjust the crop, or you can select from preset ratios by tapping on the icon to the right. You can select the cropping ratio as you wish. But for Instagram, its recommended to use a square ratio whereas, for Twitter and Facebook, you can choose the 16:9 ratio.

Rotation and perspective

Similarly, you can adjust rotation, perspective, and straighten your photos using the icons available for each of them. Just tap on them, adjust the slider using your finger. You can adjust each of them individually and obtain a perfect photo.

Flip

Also, you can flip your photos. For instance, texts in selfies will be flipped (inverted horizontally) normally. But you can flip it back to normal it using this option.
Color effects and filter
If you don't like to spend too much time editing and adjust colors, you can simply apply color filters from here. There are a variety of filters available to choose from, like mono, tonal, etc. But they don't bring out exact results as expected. But you can give it a shot. Just tap on the filter(color) icon and slide through a variety of filters and apply the one you like.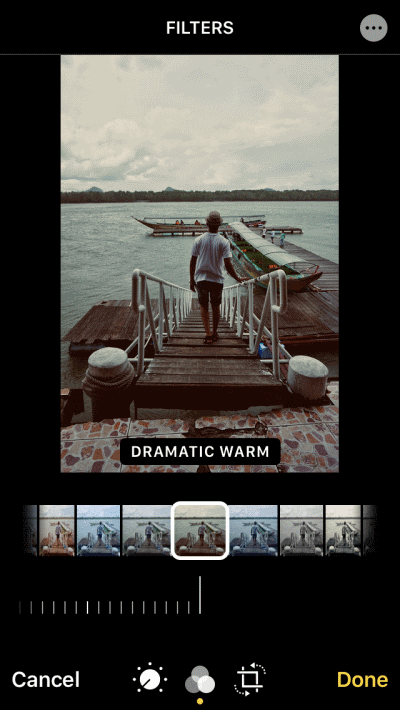 Light and color fine-tuning
This is where you can fine-tune your image perfectly. There are many aspects you can experiment with from brightness contrast to saturation. You just have to invest some time to try and find out the best tweak that suits the picture you're editing. But were going to breakdown each category and what that does to your picture.
Auto adjust

This feature automatically applies the best settings and tweaks to your picture. Hence this picture helps to save time. However, you can fine-tune each effect applied to your picture later to match and get perfect results.

Exposure

Exposure can be used to brighten or darken your picture overall. For instance, if you have a snowy picture that is too bright, you can reduce the exposure a bit on the negative side (left side and reduce the brightness of the picture).

Brilliance

Brilliance makes your picture more or less vibrant. You can slide to the right side to increase vibrance and to the left to reduce it.

Highlights

Highlights deals with the lighter parts of the image, i.e., the whites. Adjust the slider accordingly to adjust just the whiter parts of the image—for instance, light from a street light.

Shadows

Similarly, you can adjust the darker parts of the image, i.e., the blacks. Especially when dealing with photos that have shadows, this option will come in handy.

Contrast

Contrast helps to adjust the Darkness, brightness, and highlights of the image at once. In some cases, this option will bring out some interesting results.

Brightness

You can adjust the overall brightness of the image using this option. Although this option looks similar to exposure control, this targets towards adjusting mid and low brighter areas of the image, leaving the higher range.

Black point

Some images will have darker objects. For instance, an image through a window taken from the inside of the house. Such cases require to bring out the best of black color. This is the option to tweak in that case.

Saturation

Similar to Brilliance, but it controls the vibrance of colors. Slide left or right to adjust the vibrance of colors in the image. At the same time, a negative 100 value will produce a black and white image.

Vibrance

Some colors will get muted in the image. You can use this option to increase or decrease the vibrance of such colors.

Warmth

This option increases the temperature of the image. If you slide to the right, you can set the image to a warmer color. Sliding to the left will bring out a cooler image.

Tint

You can apply greenish or magenta tint over the image. This will help to enhance or completely change the color of the image.

Sharpness

If your image looks a bit blurry, you can simply increase the sharpness of the image. But this setting requires a high definition picture with no shake.

Definition

Similar to sharpness, this also targets at improving the crispness of the picture.

Noise reduction

Sometimes there might be some pixels of unknown color all over the image. This is called a noisy image. In such cases, you can use this tool to reduce noise from the picture and obtain a more clean image.

Vignette

On portraits, you can apply the vignette effect to darken the sides of the image to highlight what's in the center. You can choose a white vignette or a black one. But I prefer the black one. You can also adjust the radius of this effect to cover more or less space.
Conclusion
As you can see, you can Edit Photos with iOS Photos App. There are many options available to edit your photos. But you just have to spend some time finding out the best combination to get the best results.
For most of the cases, you can get better results from the auto-adjustment. You can also use the markup tool to highlight within your photo. For example, you can highlight screenshots and share them. There are also scale options to draw a straight line.